Young green sea turtles are particularly prone to eating plastic. ©RICHCAREY/ISTOCKPHOTO
Spring 2022
Turtle Troubles
New research from Padre Island National Seashore highlights the toll that ingesting plastic is taking on green sea turtles.
Padre Island National Seashore sits at the confluence of powerful currents that swirl around the Gulf of Mexico. It means that a lot of what's afloat out there eventually washes up on the long, lonesome beaches of this South Texas park, which stretches out along the coast  for 66 miles. But while the unusual finds — a pygmy sperm whale, a deep-sea-dwelling eel, a golf cart, a kilo of cocaine — make headlines, the bigger concern for staff is a lot less exciting, and a lot harder to deal with. Every receding tide leaves behind a technicolor band of plastic trash.
"Marine debris has been a huge problem for the park since I arrived here in 1980," said Donna Shaver, the longtime chief of the park's sea turtle science and recovery program. "It was so prevalent that the park was known back then as much for the trash on the beach as for anything else." The trash — more than 90% of it plastic — is an eyesore and a health hazard for visitors. Now, research from Shaver and her colleagues is painting a clearer picture of the toll all this debris is taking on green sea turtles, one of the five species of marine turtles that frequent the park's beaches and nearshore waters. They found that nearly half of the green turtles recovered by the park's biologists since the late 1980s have eaten plastic — and the problem seems to be getting worse.
Ailing or dead sea turtles regularly turn up on the beaches here, the victims of boat collisions, disease or natural causes. Park staff try to rescue and rehabilitate live turtles and otherwise dissect or at least collect the carcasses that aren't too badly decomposed. For over 30 years, Shaver's team has recorded detailed biological information about the animals' health, diet and mortality, and has also kept the debris they found in the turtles' entrails. Meanwhile, so much trash has ended up in the Gulf of Mexico that the coastal waters there now carry some of the highest concentrations of plastic in the world. This endless stream of plastic bottles, bags, buoys, fishing line, nets and crates will get smashed into smaller pieces over time, but may never completely decompose, said Caitlin Wessel, Gulf of Mexico regional coordinator for the National Oceanic and Atmospheric Administration's Marine Debris Program.
NPCA AT WORK
With 10% of the country's coastline under its care, the Park Service has ample reason to be concerned about plastic washing up on shore. But trash isn't just an issue at coastal parks, said Sarah Barmeyer, senior managing director of Conservation Programs for NPCA. Staff and volunteers throughout the National Park System spend a lot of time picking up plastic that people leave behind, and then there's the cost of hauling waste from remote parks to the nearest landfill. "Park Service staffing continues to decline, yet we're increasingly expecting park staff to be waste management experts on top of everything else," Barmeyer said.
In partnership with Subaru, NPCA is piloting a program to reduce landfill waste, including single-use plastics, starting with three pilot parks. By educating visitors, adding more water refill stations, and working with park concessionaires and retailers in gateway communities to promote refillable bottles and find packaging alternatives, the program has reduced plastic waste at Grand Teton, Yosemite and Denali national parks by about 40%. And last year, NPCA sent a letter cosigned by 300 organizations to Interior Secretary Deb Haaland urging the Biden administration to eliminate single-use plastics at every national park. It's programs and policies like these that'll really start to make change, Barmeyer said.
Studies have shown that plastic has been ingested by more than 700 marine species worldwide, but "not a whole lot is known about plastic ingestion by species in the Gulf of Mexico. Are our turtles eating plastic? Is it bad for them?" said Daniel Choi, a wildlife biologist who came to Padre Island on a grant in the summer of 2020 to try to answer these questions. Choi, Shaver and another Park Service biologist named Christian Gredzens recently published the results of that research in the journal Marine Pollution Bulletin, reporting on the prevalence of plastic in the intestinal tracts of green sea turtle carcasses from Padre Island dating back to 1987.
A couple of times, Choi got to help out with hatches, watching as hundreds of baby turtles scooted across the sand and hurled themselves into the pounding surf. But for every hour spent on the beach witnessing natural miracles unfold, Choi logged many more alone in a lab, staring intently at cold piles of turtle guts. Armed with scissors, tweezers and prodigious patience, he hunted for tiny bits of plastic among masses of decomposed tissue and partially digested seaweed. Once extracted from its surrounding goop, each plastic piece was rinsed, dried, weighed, measured in three dimensions, classified by type and color, logged, and stored for possible future study.
While Choi did his fair share of dirty work for the project, he's quick to point out the thousands of hours of collection, dissection and record-keeping by hundreds of people over more than three decades that made the study possible. Altogether he compiled data on 464 green turtles picked up over the span of 32 years, making this one of the largest studies of marine turtles and plastic debris ever conducted. Plastic sheets — likely bits of bags and plastic wrap — were the most commonly ingested type of plastic, but Choi also found fragments of bottles, foam and fishing line. One juvenile turtle had 114 pieces of plastic in its digestive tract, and another turtle was carrying around more than 11 grams of trash when it died.
The smallest turtles were likeliest to have plastic in their guts. This could be attributed in part to the fact that green turtles in the Gulf of Mexico spend their early years foraging in "convergence zones" far offshore. Dense mats of sargassum seaweed collect in these eddies, but the currents also bring in a lot of plastic. "Whether they mean to eat it or not, there's so much of it in their environment that they can't help but eat it," Choi said.
By comparing plastic ingestion from turtles collected between 1987 and 2019, this study opens a window into how the plastic has affected the population over time. "Probably the most significant finding was that the number of turtles eating plastic has doubled since the 1980s," Choi said, from 30% of the carcasses recovered in the late '80s and '90s to 65% of those collected in 2019. "We don't have a super clear idea of why this number increased," he said. "Is it because there's twice the amount of plastic, or that today's turtles have different foraging habits, or is it a difference in the currents and winds? Is it that the plastic from decades ago is now broken down to a size that turtles can eat?"
In marginally less bleak news, the researchers didn't find evidence that any of the turtles in the study had succumbed to the plastic they'd eaten. "That's huge, and not entirely expected, given that in a lot of other regions, scientists have found turtles killed by plastic," Choi said. Elsewhere, turtles have turned up dead with gashes in their intestines from sharp plastic fragments, or fishing line tangled in their stomach. Or so much plastic can accumulate in a turtle's system that it crowds out actual food, so it starves with a full belly.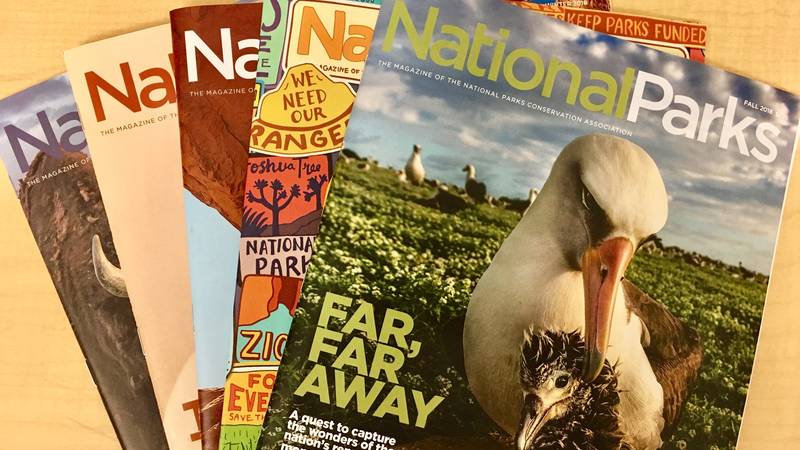 Subscribe to
You can read this and other stories about history, nature, culture, art, conservation, travel, science and more in National Parks magazine. Your tax-deductible membership donation of $25 or more entitles…
See more ›
Just because they don't show signs of acute injuries doesn't necessarily mean the Gulf's green turtles are escaping unscathed, said Gredzens. Could eating plastic hamper their growth or slow down their reproduction? Are they absorbing the chemicals in the plastic they eat, and if so, is that making them sick? "Our study wasn't designed to look at the effects of plastic," he said, "but I would hope that it spurs someone to look into that."
Shaver said research like this is essential to reforming environmental practices around the Gulf. Back in the '80s and '90s, for instance, she used data from a smaller study to convince local oil and gas producers to stop tossing hard hats, barrels and polyethylene sheets into the Gulf. She hopes the latest research will help change consumers' plastic-buying habits and inform policymakers and manufacturers about the ongoing hazards these materials pose for marine wildlife.
"We need to keep working with industries, cruise vessels, fishing boats and the general public, as the young generation comes of age," Shaver said. "Let's all work a little bit harder on this problem, because our data shows we haven't solved it yet."
About the author
Julia Busiek

Author

Julia Busiek has worked in national parks in California, Colorado, Hawaii and Washington state. She lives in Oakland, California.