Women have always been a part of our national parks, even when they weren't widely recognized for their contributions. This two-part series for Women's History Month highlights 14 women who broke barriers in their fields.
1. Ynés Mexía, 1870-1938
Denali National Park's first botanist
Ynés Mexía was living proof it's never too late to start over: After losing one husband to illness and a second to divorce after he bankrupted her family's business, Mexía moved to San Francisco for a fresh start in 1909. She joined the budding environmental movement, going on excursions with the Sierra Club and Redwoods League to Yosemite and what is now Redwood National and State Parks.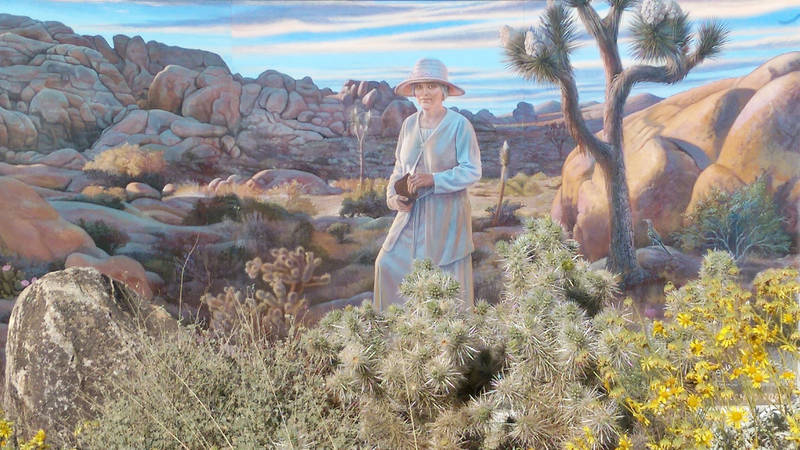 Blog Post
From Joshua Tree to Great Sand Dunes, these 10 special places are protected today thanks to their female champions.
See more ›
At the age of 51, she enrolled in science and natural history courses at the University of California, Berkeley, and uncovered a passion and talent for botany. She became the first Mexican American woman working professionally as a botanist and began traveling on specimen collection expeditions, first with groups of fellow scholars, then on her own, after realizing she could cover more ground solo. She explored 3,000 miles of the Amazon River in two and a half years, shocking people along the way who had never seen a woman do this kind of work before, let alone on her own.
Mexía traveled widely for the rest of her life, collecting 145,000 plant specimens over two decades and discovering 500 new species, 60 of which are named for her. During the summer of 1928, she was the first botanist at Denali National Park, where she conducted the first significant survey of its plants, collecting 6,100 specimens. Rangers had to transport her three-foot-high stack of pressed samples via dog teams to the nearest town.
"In all my travels I've never been attacked by a wild animal, lost my way or caught a disease. … I don't think there's any place in the world where a woman can't venture."

— Ynés Mexía
2. Florence Bascom, 1862-1945
First woman to work for the U.S. Geological Survey
Florence Bascom's 1893 graduation from Johns Hopkins University made national newspapers. She was the first woman to earn a doctorate from the university, despite the college president's adamant opposition to co-education. She was forced to sit behind a screen in a corner during classes so she wouldn't distract her male classmates.
In a time when most female geologists focused on analysis and drafting charts, Bascom was determined to perform fieldwork, and in 1896, she became the first woman to work for the U.S. Geological Survey. It was in that capacity that she traveled to the area of Maine we now know as Acadia National Park, where she was the first professional female geologist to survey Mount Desert Island.
"I have always claimed there was no merit in being the only one of a kind. … I have considerable pride in the fact that some of the best work done in geology today by women, ranking with that done by men, has been done by my students."

— Florence Bascom
Bascom prioritized mentorship of other women. She built the geology program at Bryn Mawr College and insisted her students conduct fieldwork — and receive physical education credit while they were at it. Her students went on to make names for themselves as prominent geologists, and in 1937, eight of the 11 women who served as fellows of the Geological Society of America were Bascom alumnae.
3. Betty Reid Soskin, b. 1921
The country's oldest national park ranger and a long-time advocate for telling a fuller history of World War II
Before she wore the famous flat hat, Betty Reid Soskin wore plenty of others: She was an antiwar activist, musician, business owner, community advocate, political aide and mother of four before she became a park ranger in her eighties. She helped shape the narrative at the then-new Rosie the Riveter/World War II Home Front National Historic Park, motivated by her own experiences of segregation during World War II and beyond.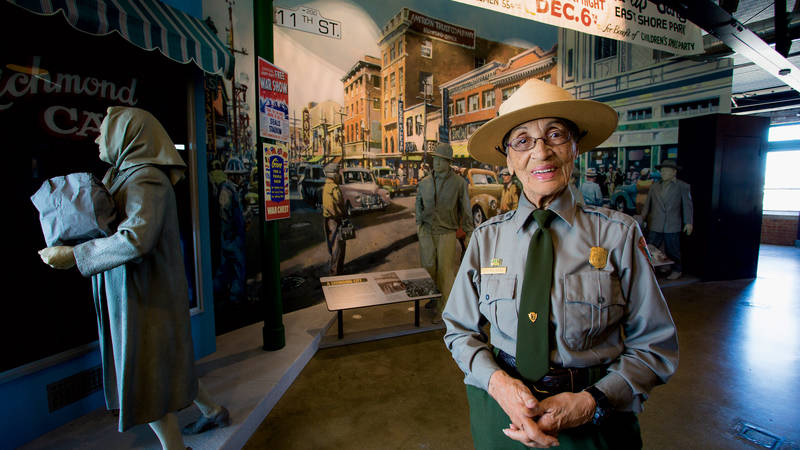 Magazine Article
Learning about the last century from the oldest ranger in the National Park System.
See more ›
By sharing her personal story with visitors, Soskin shines a light on a half-million Black women who worked homefront jobs. Park administrators credit her with preparing the site to share nuanced, in-depth stories from the time, especially those typically omitted from mainstream histories.
Soskin turned 100 last year and is officially the oldest active National Park Service ranger — and one of the most famous ones as well. President Barack Obama gave her a special commemorative coin in 2016 for her service to the country.
"What gets remembered is a function of who's in the room doing the remembering." — Betty Reid Soskin
4. Charlotte Hill, 1849-1930
Amateur naturalist whose discoveries uncovered the archaeological significance of Florissant Fossil Beds National Monument
Charlotte Hill didn't receive formal training, yet she helped reveal one of the most significant fossil sites in the world: the area we now know as Florissant Fossil Beds National Monument. In 1874, at age 13, Hill married her 27-year-old husband, and together they homesteaded in Florissant, Colorado. When she wasn't tending to her seven children, Hill filled her time collecting fossils — though the 1880 Census listed her occupation as "keeps house" and her husband's as "collects specimens."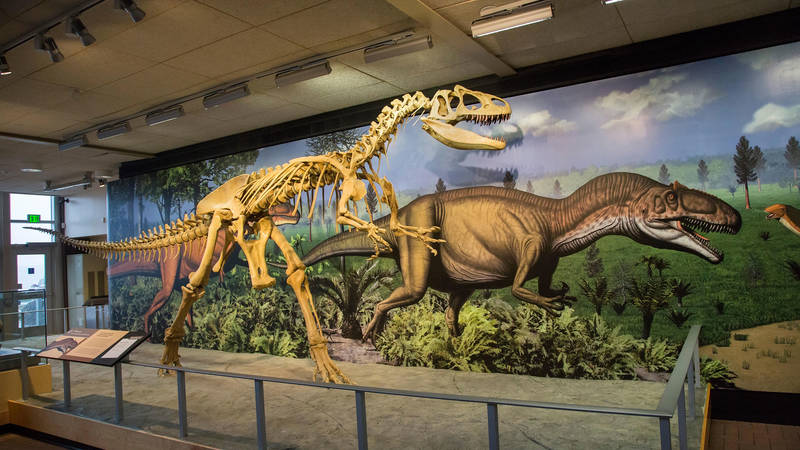 Blog Post
Cool creatures from the past and where to see them
See more ›
In 1877, Hill guided visiting scientists from Harvard and Princeton around the area; the scientists later recalled the impressive scope of Hill's well-preserved personal fossil collection. She fed the visitors and shared part of her collection with them, and while scholars today suspect her contributions weren't completely credited in the expedition report, several other collections do acknowledge Hill as the collector. One of Hill's most famous finds, the butterfly fossil Prodryas persephone, is now housed at a museum at Harvard, and others are preserved in the Smithsonian Museum of Natural History.
Hill and her husband's ranch became part of the national monument in 1969, and in 2009, the park site recognized Hill's contributions with a monument, unveiled on her 160th birthday.
5. Yenyen Chan, b. 1972
Advocate for stronger representation of Chinese history in Yosemite National Park
When Yenyen Chan first served as an intern at Yosemite in the 1990s, she knew there was a significant story going untold. Chan returned to the Park Service in 2003 as an interpretive ranger, and in 2006, she started researching the Chinese immigrants who shaped Yosemite's history and helped make it the park visitors know and love today.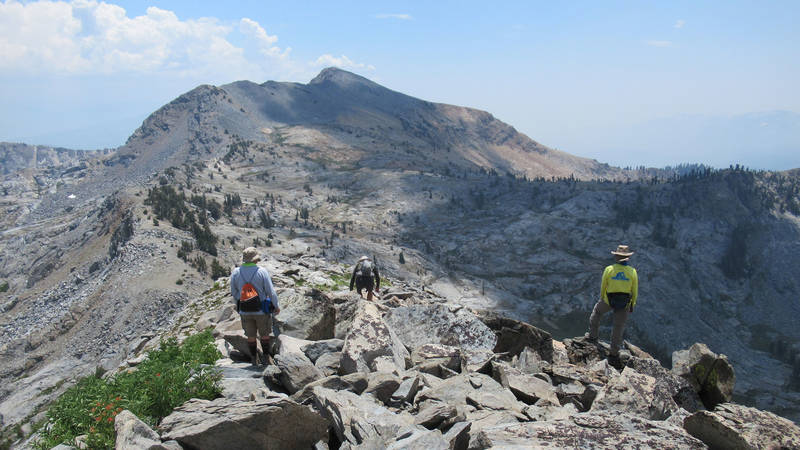 Blog Post
A group of seven men trekked for miles through smoky skies and sweltering heat to reach the top of a mountain honoring a man who influenced the history of our…
See more ›
The Yale-educated Chan dug into National Geographic and university sources to understand the lives and work of Chinese people in Yosemite from the 1850s through the 1910s. The gold rush of 1848 attracted Chinese immigrants to the state, among many others, but gold was scarce and competition was fierce. In 1850, California passed the Foreign Miners' Tax, which charged noncitizens hefty monthly fees to mine in the state and effectively pushed Chinese workers out of the business. Chinese laborers looked for other types of work, laying impressively long roads in startling conditions (such as the 23-mile Wawona road, which ascends over 4,000 feet, built during the winter of 1874-75) and cooking — often as head chefs — in hotels and restaurants.
Chan published her research and produced educational videos for the Park Service, along with her usual ranger talks and programs. She also leads an annual group hike with the Chinese Historical Society of Southern California to Sing Peak, named for Tie Sing, who served as a cook on the Mather Mountain Party, a 1915 expedition that built political support for the creation of the Park Service. Chan's research and advocacy laid the groundwork for a new exhibit at Yosemite opening in April 2022: a restored Chinese laundry building, highlighting Chinese history and contributions to the park.
"I felt a sense of pride that Chinese immigrants had this significant role in Yosemite. I also felt that this was an untold story that maybe even most Yosemite history buffs did not know."

— Yenyen Chan
6. Susan Pricilla Thew, 1878-1968
Photographer and conservationist whose book on Sequoia National Park convinced politicians to triple its size
More than a decade before Ansel Adams inspired Congress with his photographs of the Sierra Nevadas, Susan Pricilla Thew's writing and photography swayed Congress to triple the size of Sequoia National Park. Advocates had tried to expand the park for 36 years, but it wasn't until Congress saw her photos — the largest and most complete record of the region at the time — that they were finally convinced.
"If you are weary with the battle, either of business or the greater game of life, and would like to find your way back to sound nerves and a new interest in life, I know of no better place than the wild loveliness of some chosen spot in the High Sierra in which, when you have lost your physical self, you have found your mental and spiritual re-awakening."

— Susan Priscilla Thew
Thew moved to California with her father in 1918 and was captivated by the untouched wilderness of the Sierras. Over the course of several summers, Thew covered hundreds of miles with just one companion and a small packtrain, photographing as they went. Though she didn't have training or experience, Thew made up for it with outsized ambition. In 1926, she published her photographs in "The Proposed Roosevelt-Sequoia National Park" which she distributed to Congress.
She remained an active conservationist throughout her life, collaborating and traveling with her botanist husband Hugh Parks, whom she married in 1927.
7. Maggie Tabuce Howard, c. 1870 – 1947
One of the first American Indian women to give cultural demonstrations at Yosemite National Park
Long before the advent of selfie sticks, tourists at Yosemite National Park photographed Maggie Tabuce Howard, one of the first Indigenous women to give cultural demonstrations at the park. Howard insisted camera-wielding tourists ask politely for a photo and pay her as they captured her basket-weaving techniques and got a glimpse into the culture of American Indians in the Yosemite Valley.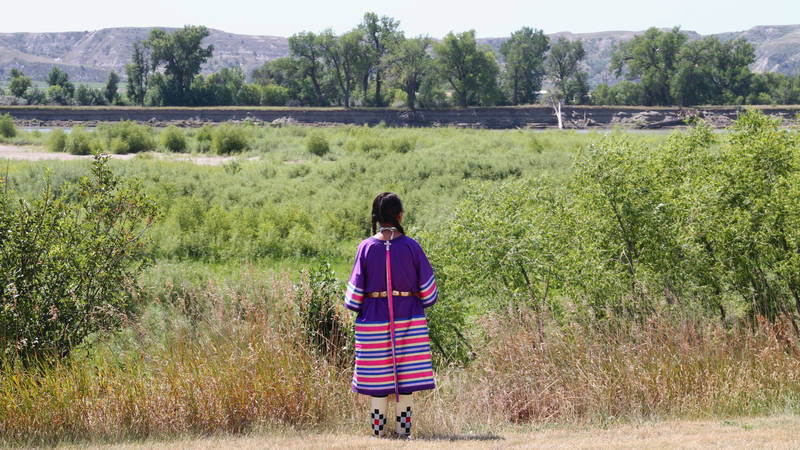 Blog Post
Honor Indigenous history at these 15 sites where visitors can learn about the extensive connections tribes have with today's national parks.
See more ›
Howard was part of the Mono Lake Paiute people, and she traveled to the Yosemite Valley every year with her family to trade and gather acorns, a reliable form of year-round sustenance. One year, a severe storm left Howard injured and unable to travel back over the Sierras, so she stayed, and started working as a housekeeper and cook at the Sentinel Hotel. She began giving cultural demonstrations at the park in 1929, answering visitor questions, sharing how to prepare acorn meal, and weaving baskets called "hikis." Her demonstrations took place in a reconstructed "Indian Village" and during annual Indian Field Days celebrations, when she and other interpreters assumed stereotypes for the entertainment of tourists. Howard was reliant on tips and sales from her baskets, as the park did not compensate her.
Howard was one of the first Indigenous women to give demonstrations at the park, and her legacy has persisted: Her baskets remain part of the Yosemite Museum collection, and photographs and film of her work continue to educate visitors and scholars.
Need more amazing women in your life? Next week, meet seven more trailblazers, including an entrepreneur at the Grand Canyon, a free-spirited conservationist at Indiana Dunes, and the first woman to wear a National Park Service badge. Part two will post on March 8, International Women's Day.
Stay On Top of News
Our email newsletter shares the latest on parks.
About the author
Vanessa Pius

Social Media Manager

As Social Media Manager, Vanessa advances NPCA's mission through creative storytelling and engaging the organization's online community.