50 years later, the Blue Lake Act marks a critical shift for Indigenous communities and their lands.
Today is the 50th anniversary of the Blue Lake Act, signed into law by President Richard Nixon, which returned 48,000 acres of sacred, traditional land to the Taos Pueblo Tribe of northern New Mexico after a 64-year struggle.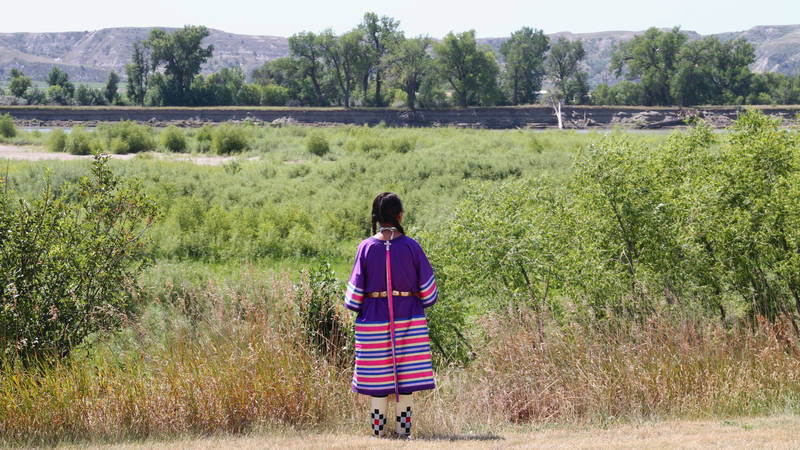 Blog Post
Honor Indigenous history at these 15 sites where visitors can learn about the extensive connections tribes have with today's national parks.
See more ›
Blue Lake lies high in the Sangre de Cristo Mountains at the top of the Rio Pueblo de Taos, whose waters run through the traditional Pueblo village 20-some miles downstream. It is a very sacred place to the tribe — the location of their emergence from a previous world into this one and the site of pilgrimages and other traditional activities. But the land itself is just one part of why that day was so momentous to Indigenous peoples.
According to John Echohawk, executive director of the Native Rights Fund, the Blue Lake Act marked the rejection of the federal government's policy of forced assimilation for Native Americans, ushering in a new era of self-determination. By allowing people of the Taos Pueblo Tribe to govern their own land, Blue Lake's return became one of the most important events in the history of the U.S. government's relationship with American Indian people.
"Now, we can freely go where we want to go on our lands and not have to worry about getting arrested or prosecuted," said Taos Pueblo Councilman Gilbert Suazo in a recent story by Taos News.
This was not always the case. In 1906, President Theodore Roosevelt declared the land part of the U.S. National Forest System, ignoring the tribe's long-held rights and violating a treaty with Mexico that promised the U.S. would honor all existing land claims when it took possession of New Mexico, along with a huge swath of the Southwest, in 1848. Some tribal members literally dedicated their lifetimes to the long struggle to regain this land, and it is a testament to their commitment and tenacity that they were ultimately successful.
Although Blue Lake was never part of a national park, all national parks are, of course, created from land that once belonged to Native Americans, and this legislation has had an ongoing impact on National Park Service relationships with sovereign American Indian nations. Just a few years after the return of Blue Lake, the federal government passed the 1975 Grand Canyon Enlargement Act, which returned 185,000 acres of land to the Havasupai and granted the tribe exclusive use of 95,000 acres of traditional lands within the park.
NPCA did not agree with the return of these lands at the time, calling it a "Havasupai land grab." While embarrassing in retrospect, the fact that NPCA took this stance in 1975 speaks not just to the dominant attitudes of the time, but a tension that is at the crux of all public lands. Our national parks are a revolutionary concept that gives ownership of America's most inspirational places to all people — but this visionary system only exists because the federal government stole these lands from their rightful owners and forcibly removed and slaughtered millions of people who were once the stewards of these places.
Anyone who loves public lands — and also cares about social justice — must reckon with these coexisting truths. Returning lands to Indigenous communities and supporting co-management of national park sites in ways that allow tribal access and traditional uses are important steps in this reckoning.
A more recent example of the federal government honoring Native American stewardship was the creation of Bears Ears National Monument in 2016. A coalition of five Southwestern tribes — the Hopi Tribe, Navajo Nation, Ute Mountain Ute Tribe, Ute Indian Tribe and Pueblo of Zuni — led the campaign to create the monument, and President Barack Obama designated it under the Antiquities Act, setting aside 1.35 million acres of federal land in one of the most culturally rich landscapes in the country. Home to ancient cliff dwellings, sacred lands and lush wildlife habitat, Bears Ears is a national treasure. Its buttes, cliffs and canyons include more than 100,000 Native American archaeological and cultural sites, some dating to 12,000 B.C.E.
Stay On Top of News
Our email newsletter shares the latest on parks.
When President Donald Trump slashed protections for this monument in 2017 and reduced its size by 85%, millions of Americans spoke out against this assault on Native land, and NPCA has worked to support the Bears Ears Inter-Tribal Coalition ever since to have these protections restored. Making Bears Ears whole again is one of NPCA's single biggest priorities for the incoming Biden administration.
Fundamental injustice is written into the story of America's public lands. Although we cannot change this history, we can remember places like Blue Lake, celebrate the hard-earned victories of the Taos Pueblo and Havasupai Tribes, and make it part of our advocacy to honor and help restore the connections between tribes and parks and tell the whole story of how our treasured public commons came to be.
About the author
Ernie Atencio

Southwest Regional Director, Southwest

Ernie Atencio fell in love with parks and wild places at a young age and has spent most of his career working in and for those places.