Has the long-troubled relationship between Grand Canyon National Park and local indigenous people entered a more harmonious era?
On a chilly October morning at Grand Canyon National Park, I climbed the 85 stone steps of the Desert View Watchtower. The 70-foot-tall observation building on the eastern end of the South Rim was designed in the early 1930s to resemble 1,200-year-old Puebloan stone towers, and currently, it is the chief attraction at the Desert View interpretive site, other than the canyon itself. From the top floor, I took in expansive views: the yawning chasm, the Colorado River, and pink and ochre landforms softening in the distance. Here, at the edge of the precipice, my nerves hummed.
I descended to the second-level "Hopi Room," where interior murals painted in the same colors as the land glowed in the hazy light of the viewing windows. Mary Colter, the architect who designed the tower, arranged for renowned Hopi artist Fred Kabotie to create murals depicting deities and richly symbolic scenes of Hopi history. In one area, the deity Muy'ingwa holds corn; in another, the first Hopi to navigate the Colorado River returns from his travels.
There's a history that the Kabotie paintings don't show, however: the relations between the park and local tribes. This history has been complicated and rife with conflict from the beginning. But in the past few decades, there has been a gradual shift, and these days, park and tribal groups are working together closely to repair strained relations. A project at Desert View, which includes preservation of the watchtower, new facilities and new ways to involve local tribes, is a centerpiece of this ongoing effort. Just two weeks before I visited, conservators finished cleaning the murals, concealing water stains and repairing cracks. They hired Kabotie's grandson Ed Kabotie, a Tewa-Hopi musician and visual artist, to help.
"It's not just an interpretive opportunity. It is really a generational opportunity for changing relationships and also changing economics," said Janet Balsom, an adviser to the park's superintendent. "If we do this right, it really could set the stage for a very different future. Hopefully it's going to be the beginning of many projects like this in other communities, parks and federal lands."
National parks, like federal agencies at large, are mandated to consult with local tribes when decisions affect them, but such consultations can be cursory. Grand Canyon is among a small group of parks that are going deeper, said Ernie Atencio, NPCA's southwest regional director, by "really engaging in meaningful relationships with tribes that care about and are connected to those landscapes." At Glacier Bay National Park & Preserve in Alaska, for example, park officials and Huna Tlingit recently built a tribal house, a project 20 years in the making. And in 2008, Washington's Olympic National Park signed an agreement with eight tribes to protect resources collaboratively. At Grand Canyon, Balsom's hiring as an archaeologist in the early 1980s was a major turning point; she became the park's first dedicated tribal liaison around 1989. Staff members now work with 11 Native American groups.
"The Grand Canyon is home to many people," Kabotie said. "And everybody has a different relationship to it." Havasupai, Hualapai, Hopi, Zuni, Navajo, Yavapai-Apache and five Southern Paiute groups all have ancestral ties to this land. Numerous aboriginal peoples lived at the canyon before it became parkland; they cultivated crops, grazed animals and gathered food, minerals and fuel here for many centuries. Ancestral sacred sites abound in the park, and several tribes, such as the Hopi, believe they first emerged into this world at specific locations here. To this day, tribal members collect plants and minerals and conduct ceremonies in the park.
But as Anglo American miners, settlers and the U.S. government claimed the area in the 1800s, tribes were forcibly removed. Using executive orders, military action and treaties signed under duress, officials relocated indigenous people to nearby reservations, three of which border the park today. In the first half of the 20th century, rangers dismantled and burned Havasupai camps that were still within the park boundaries. (Although there is no private homeownership in the park, some Havasupai still live in housing the Park Service built for them in the 1930s and upgraded and enlarged in 2010.)
Not long after federal agents were pushing out indigenous people, Colter was designing park buildings that heavily drew on Native American aesthetics. She was influential in hiring Hopi masons to help construct the watchtower out of local stone and forged a friendship with Kabotie. Although "built in the Indian spirit," as Colter put it, the tower, at times, has had an uneasy relationship to the cultures it aimed to celebrate. For example, in the watchtower's Hopi Room, Kabotie created a sand painting for its central altar. This ceremonial artwork made of colored sands was not destroyed afterward according to traditional Hopi protocol but rather, was preserved under glass for decades. "A lot of that cultural knowledge is very sensitive and isn't meant to be publicly displayed or talked about," said Lyle Balenquah, a Hopi archaeologist and jeweler. In addition, the Fred Harvey Company, a park concessioner and Colter's employer, opened a souvenir shop in the tower's ground floor "Kiva Room," which Colter had intended to be a rest area. The shop, which grew over time, sold some locally made Native American items but also peddled inauthentic wares made overseas.
The idea to preserve the watchtower and highlight indigenous people and cultures at Desert View emerged from Grand Canyon National Park's Inter-Tribal Working Group, which formed in 2013. "It was meant to give tribes direct access to the superintendent to voice their own concerns," said Jennifer O'Neill, the park's partnerships and planning coordinator. "One of the topics that we kept coming around to was the ability for the tribes to tell their own stories." On January 1, 2015, the park took over management of the tower from the concessioner Xanterra, a successor to the Fred Harvey Company. "It became the perfect opportunity," O'Neill said. Park staff dramatically reduced the size of the gift shop and began the mural conservation. Since the summer of 2015, the park has hosted indigenous artists and cultural specialists at the tower, where they give art demonstrations, speak with visitors and sell their work. In 2018, the sand painting and altar materials were removed and returned to the Hopi, as the tribe had long desired.
"Now when I go in the watchtower, it's a very welcoming and inviting space," said Balenquah, a participant in the cultural program. Jonah Hill, a Quechan and Hopi silverwork artist and printmaker, said he likes to set up his worktable and equipment in the big picture window facing west. "When I look at the canyon, I'm visualizing where our people came from," he said. "It's cool to have authentic art like the murals representing the tribes and a connection to what Grand Canyon is."
The Grand Canyon Conservancy (one of several nonprofits that support the park) donates funds to pay the artists, but several told me the money, while welcome, is not what motivates them to participate. "At the end of the day, my main reason is to educate," said Navajo weaver Gerard Begay.
Mae Franklin, a planning team member from nearby Cameron, Arizona, in the adjacent Navajo Nation Reservation, met me at the tower to discuss the group's larger vision for Desert View. She and other tribal representatives have contributed to a new design for the facilities surrounding the tower. The plan includes a visitor welcome center, interpretive exhibits and spaces for tribal partners to prepare food and congregate privately. The team is hoping the work will be done within a year.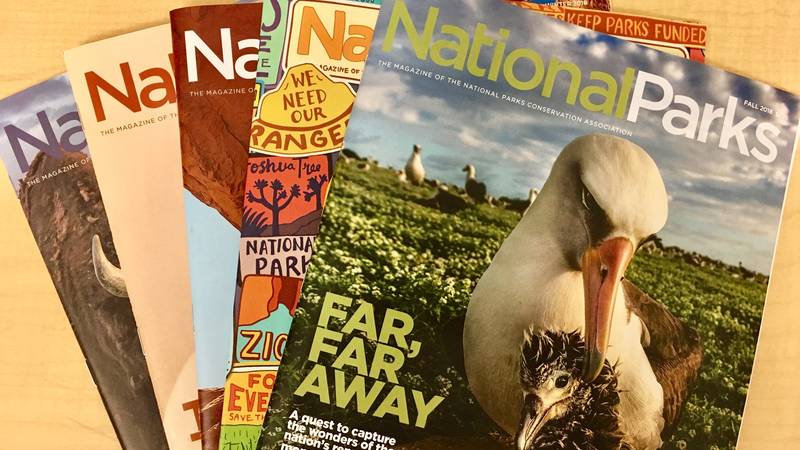 Subscribe to
You can read this and other stories about history, nature, culture, art, conservation, travel, science and more in National Parks magazine. Your tax-deductible membership donation of $25 or more entitles…
See more ›
Franklin and other tribal members would also like to increase tourism to their lands. Of the 6 million annual visitors to this park, Franklin said, about a quarter drive through her small Navajo community just 33 miles away from Desert View, but they rarely stop. Ideas for addressing this include stationing tribal representatives at the planned visitor welcome center to sell recreational permits and bus tours to nearby reservations. Other goals for Desert View include expanding employment opportunities, such as trail maintenance and interpretive work, for Native American youth.
"To have the National Park Service's management winds shift to be inclusive in telling our stories, not just here and there sprinkled throughout the park, but in the way we want, is a good thing," Franklin said. "I think that a lot of people are waking up to the fact of what happened to the tribes in the settlement era. Now we get to rewrite those histories to move forward — and tell people that we're still here."
About the author
Laura Allen

Author

Laura Allen is a writer and a museum professional. Her work has taken her to Alaska, the Everglades and beyond. She is based in New York.