COURTESY OF ALISON TAGGART-BARONE/NPS
Spring 2020
In Other Words
Reimagining park brochures for blind visitors.
Two neatly arranged rows of folded park brochures line the wall of Michele Hartley's office, hanging from lengths of photo display wire like laundry on a clothesline. Their familiar black-and-white title bars bear the names of nearly 100 national park sites, from African Burial Ground National Monument in New York to Yosemite National Park in California. For Hartley, the brochures are neither keepsakes from visits past nor inspiration for trips yet to be planned. Rather, they are works in progress — print brochures being reimagined as brochures for the blind.
"One of the most common pieces of media that everyone gets in a park is a brochure. People take them home. They're souvenirs," said Hartley, the accessibility coordinator at Harpers Ferry Center, the media center of the National Park Service. "If you're blind or have low vision, you don't get that one piece of information that everyone gets that's a snapshot of the park, that tells you why it's special, and tells you where you can go and what you can do. So, we needed to work on that."
In her role with the Park Service, Hartley strives to ensure that the products she and her colleagues create — from wayside exhibits to printed materials — are available to and usable by people with disabilities. In 2014, those efforts took a big step forward with the inception of the UniDescription Project, or UniD, a collaboration between the Park Service and the University of Hawai'i at Mānoa focused on using mobile technologies to improve accessibility. Their first order of business: revisiting those iconic brochures.
Since 1977, when acclaimed designer Massimo Vignelli introduced the so-called "Unigrid" system, national park brochures have been standardized, with a layout that is both instantly recognizable and highly usable — at least by sighted visitors. Though Braille versions of many of the brochures have been created, they serve only a small and declining segment of the population. For UniD, the key to the evolution of the brochure is audio description, a translation of visual materials into audible ones. It is to people who are blind or have low vision what captioning is to people who are deaf or hard of hearing.
But how exactly do you bring silent park brochures to life? With scant academic literature on the topic and no established system for creating and sharing audio-described content, the group had to start from scratch, said Brett Oppegaard, UniD's principal investigator and an associate professor at the University of Hawai'i School of Communications.
"We spent most of the first year of the project just deconstructing the brochures and determining their purposes as communication artifacts," he said. "At the time, it seemed like a fascinating challenge in technical communication. Later, I realized it also was a major issue of social justice, in which some people are being privileged and others disenfranchised in relation to our public resources, such as national parks."
UniD — pronounced like "unity" — initially set a goal of creating a few dozen audio brochures. But when Google stepped in with additional funding in 2017, the scope of the project grew. To date, UniD has created audio brochures for nearly one-quarter of the 419 national park sites, all free and available to the public online and via a downloadable app.
Ultimately, the project's aim is to foster a culture of accessibility by bringing audio description into the mainstream. Anyone is welcome to register and access UniD's online resources and tools, including information on best practices for audio description, easy-to-use templates and instructions for creating audio-described materials. The system converts written descriptions to spoken text, and with a few keystrokes, an audio-described brochure can be saved and published to a number of formats, from websites to mobile apps. (Not just anyone can publish a park brochure, however; those permissions reside with UniD.)
Still, the process of translating image-rich park brochures — a voluntary effort on the part of each participating park unit — can be time-consuming, which presented a challenge. Oppegaard addressed this by instituting what he dubbed "descriptathons." Modeled after the hackathons held by software developers, these virtual gatherings bring together participants from around the country for brief but intense periods of work that include training, collaboration and friendly competition. Dozens of volunteers from the American Council of the Blind, which joined the project in 2017, serve as judges, rating and ranking the descriptions of visual material to ensure that they are objective, clear and brief — detailed and vivid without venturing into subjective interpretation that could color the listener's perception.
UniD's fifth and most recent descriptathon in August attracted staff representing more than two dozen park sites, mostly across the Southeast. Those audio-described brochures are slated to be field-tested by blind and low-vision users before coming online this year.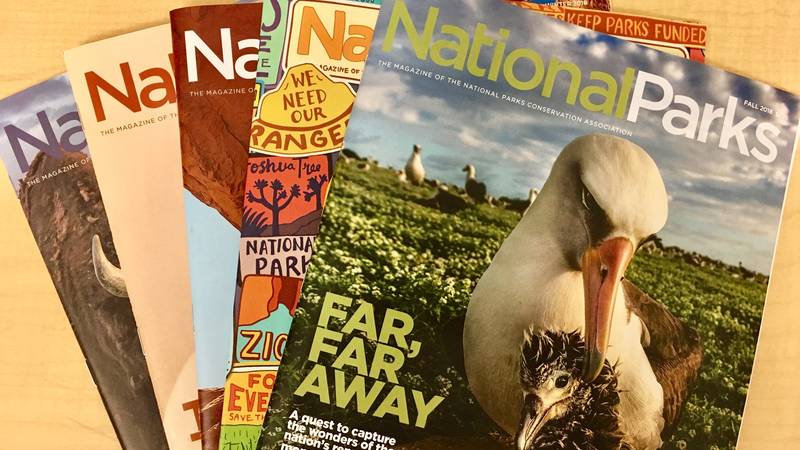 Subscribe to
You can read this and other stories about history, nature, culture, art, conservation, travel, science and more in National Parks magazine. Your tax-deductible membership donation of $25 or more entitles…
See more ›
Sajja Koirala, a University of Hawai'i doctoral student and research assistant for UniD, conducted a 2017 focus group with people who tried out the brochures at Yosemite National Park. "I heard over and over how this audio-described brochure made the visit more enjoyable for blind and visually impaired individuals," she said.
Koirala, who is blind, has firsthand knowledge of how helpful the brochures are. In the past, when she's visited park sites, she's always relied on her husband to read printed material to her. But before traveling to Denali National Park last year, she downloaded the UniD brochure. "We were able to plan the trip together. The conversation became animated, we were both talking at the same time, and I felt like an equal contributor to our itinerary," she said. "When we visit parks with audio-described brochures, it's a different story."
---
Listen to an Overall Brochure Description:
Listen to a Brochure Image Description:
IMAGE: Mono Lake Paiute Family

IMAGE DESCRIPTION:

A faded black and white photo from 1902 or 1903 is captioned, "Trade routes crossed the High Sierra." and is credited to the National Park Service. It is a close-up Paiute family photo of five posed in front of their horse or mule. The picture was taken as the family visited Yosemite Valley from the Mono Lake region on a two week trip to collect acorns. From left to right, a native woman of indeterminate age stands squarely facing the camera in a full length white dress with dark polka dots. Her prominent cheeks are in the light and lips are barely upturned. In her arms, she is holding an infant.. The child is enveloped in a dark plaid blanket, the girl's chubby fists gently balled up in front.

Beside the woman stand two preschool age children in nearly-matching plaid dresses. Although she is posed to face the camera, the girl on the left's head is tilted toward her mother, her mouth is slightly frowning and her hand clings to the woman's skirt. It is unclear whether she is impatient or shy. The girl on the right, who is slightly taller, primly clasps her hands in front of her.

On the right, the father stands in a confident easy pose with his weight on his left leg and his right hand rising to grasp the saddle horn of his horse. He wears a pale felt hat with a wide brim and decorative hatband that shades his eyes. He has a loose white, long-sleeved shirt and long pants.
About the author
Todd Christopher

Senior Managing Director, Digital & Editorial Strategy

Todd guides NPCA's content strategy and leads the team that produces our website, magazine and podcast. He is also the author of The Green Hour: A Daily Dose of Nature for Happier, Healthier, Smarter Kids.