© CAL VORNBERGER/ALAMY STOCK PHOTO
Winter 2020
Harlequin Hardships
Why is the Western population of Harlequin ducks declining?
Glacier National Park wildlife biologist Lisa Bate stood at the edge of Upper McDonald Creek last spring, frustrated. Just upstream, preening on a rock, was a female harlequin duck with a geolocator on her leg. If Bate could recapture that bird and retrieve the geolocator she and her team had placed the previous year, they could learn some crucial information about the migration routes of Glacier's harlequin ducks.
But the creek was not cooperating. Recent rains and the spring melt had turned the narrow stream into a torrent, an unending avalanche of water crashing through the boulder-strewn channel. "Just getting to the water meant fighting through the willows, and with the water up so high, just one slip meant that you could get swept out and die," Bate recalled. This harlequin duck would keep her secrets for a while longer.
Many bird lovers consider the male harlequin duck one of the most beautiful birds in North America. The duck is boldly patterned like the jesters it's named after: It is navy blue with chestnut flanks and thick white streaks. Harlequins are found everywhere from Russia to Iceland and on both North American coasts. They migrate but don't follow the north-south migration patterns of many bird species. Instead, they breed inland near mountain streams during the summer and spend winter months on coastal seas, often hundreds of miles away.
Each habitat presents its own set of dangers for the Western population of harlequin ducks. During the winter months on the ice-free Pacific coast, harlequins may be shot by trophy hunters or caught accidentally in fishing nets. High in the Rockies, logging activity is degrading the clear mountain streams favored by breeding harlequins. In addition, climate change has roiled those waterways, which are increasingly volatile.
These perils are taking a toll on the bird's Western population, which has suffered an annual decline of 1% to 2% since the 1990s. That's why scientists are working to better understand known threats and identify additional ones.
Glacier is one of the best places in the country to see harlequin ducks — more than a quarter of Montana's breeding harlequin population nests along the park's Upper McDonald Creek — but getting a good look is never easy. Unlike most ducks, which breed on or near calm lakes and ponds, harlequins spend the summer breeding months diving into the rapids of mountain rivers to scour the bottom for insect larvae. They are incredible swimmers and manage to move upstream beneath the rapids "like an underwater sailboat," said Sean Boyd, a research scientist who studies sea ducks for Environment and Climate Change Canada, a department of the Canadian government.
Nimble in the water but clumsy and vulnerable on land, harlequins choose to make their nests close to the water's edge, often within 3 feet. The proximity means that the nests can be washed out if the stream swells, a phenomenon that is becoming more common as the climate changes, according to a recent study that looked at the effect of stream flow on harlequin breeding success in Glacier. Weather patterns affect nesting harlequins in other ways. This year, summer rains arrived later than usual — right after the chicks hatched. Bate believes that many hatchlings died because they were not old enough to keep themselves warm while soaked, which contributed to a lackluster breeding season. "Harlequins are a boom or bust bird," she said, "and right now it's mostly bust."
John James Audubon himself called harlequins "remarkably shy and vigilant" and noted that the bird "plunges into the water the moment its keen eye catches a glance of you." Their wariness can be a curse in Glacier, which has seen a surge in visitors during the nesting season recently, Bate said. With more contact between humans and harlequins, female ducks are struggling to keep their chicks nearby, making them more vulnerable to predators. Bate and her team educate the public and monitor how traffic, roadwork and other human disturbances in Glacier interfere with the nesting season, enforcing seasonal closures or restricting access to certain areas when necessary.
Despite the increase in visitation, Glacier is one of the few places in the West that has maintained a steady population of harlequin ducks. Outside of protected areas, mining, logging and hydroelectric dams have disrupted water flow and increased the amount of silt in streams, making them inhospitable to harlequins. Researchers blame extractive industries for harlequins' extirpation from former breeding grounds in Idaho and Colorado.
Boyd, the Canadian scientist, studies harlequins wintering in the Salish Sea — the body of water that separates Vancouver Island in Canada from the mainland and includes Puget Sound in Washington state — and has identified a number of threats affecting the population, including trophy hunting, an increase in recreational boaters and paddleboarders, and growing numbers of bald eagles. When the ducks arrive on their wintering grounds, they undergo a complete feather molt, rendering them flightless for weeks and making it easier for eagles to prey on them.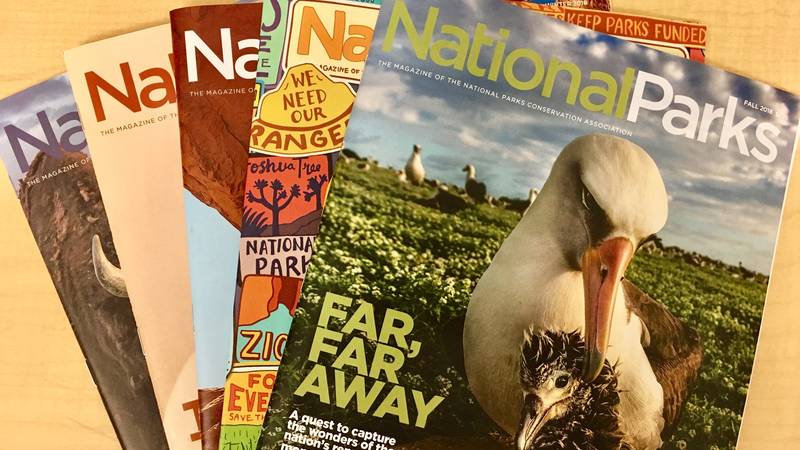 Subscribe to
You can read this and other stories about history, nature, culture, art, conservation, travel, science and more in National Parks magazine. Your tax-deductible membership donation of $25 or more entitles…
See more ›
Hope for harlequins may lie in their ability to adjust. Boyd has found that some male harlequins are adding an extra stop before they arrive at the Salish Sea or are flying farther north to molt, although it's unclear whether their migration pattern is changing on account of the eagles. In Glacier, Bate and her team are seeing some harlequins nesting farther away from the water's edge and having more success raising their young as a result. This past summer, at least 25% of the females selected nest sites above the high-water mark. One female was found this spring nesting nearly 400 feet up a cliff face. Of the five eggs in that bird's clutch, three nestlings survived — a much higher ratio than the typical 7% survival rate for chicks in the park.
Bate has noticed another positive change: More park visitors are taking a direct interest in the harlequins and their survival. "It's amazing how many people come to Glacier now to seek out harlequins," she said. "The word is getting out about these tough little birds up in the mountain streams, and people are getting passionate about protecting them."
About the author
Nicholas Lund

Former Senior Manager, Landscape Conservation Program

Nick is a conservationist and nature writer. He is the author of several forthcoming books, including the American Birding Association Field Guide to the Birds of Maine (2022) and "The Ultimate Biography of Earth" (2022). His writing on birds and nature has appeared in Audubon magazine, Slate.com, The Washington Post, The Maine Sportsman, The Portland Phoenix and Down East magazine, among others.