Planning your trip to Alaska can be a daunting task, but the effort is well worth it. A trip to the Last Frontier will provide you with a lifetime of memories.
I'm guessing that a trip to Alaska is on your life list. It's one of the few places left on earth where you can go deep into the wilderness and wander among bear, caribou, moose, Dall sheep, and other animals in their mostly untouched natural habitat. As we enter the temperate summer travel season, now is the ideal time to head north and get a glimpse of the many wonders my home state has to offer.
I've lived and worked in the Land of the Midnight Sun for more than three decades and love to introduce both new and experienced travelers to its beauty and history. Despite some common misconceptions, getting off the beaten path and exploring Alaska's backcountry is relatively easy and it'll take you where the geology is breathtaking and varied, the cultural history is fascinating, and the opportunities for adventure are limitless. Here are a few of my favorite trip ideas, with a few tips on getting the most out of your experience.
1. Marvel at mountains and mining history in the country's largest national park. One of my favorite Alaska drives is heading east out of Palmer on the Glenn Highway to Wrangell-St. Elias National Park & Preserve. As you travel alongside the Matanuska River and the Chugach Mountains, stop at the Matanuska Glacier State Recreation Site for a great overview of the glacier and a short hike to stretch your legs. The further east you travel, the more the mountains of Wrangell-St. Elias will emerge from the horizon, so you'll want your camera fully charged before you start this drive!
The highway stops in Glennallen and you have to turn. Head south towards Valdez and start looking for the signs to McCarthy, the "party town" (think whiskey and women) for miners who worked at the Kennecott Copper Mine until it shut down in 1938. For almost 60 years it sat idle until the National Park Service began restoring and interpreting the mine in the late 1990s. Before you turn off for McCarthy, stop at the Park Service visitor center for an introduction to both the cultures and natural wonders of America's largest national park; Wrangell-St. Elias is six times the size of Yellowstone!
Both the mine itself and McCarthy are must-see destinations for anyone visiting the park. I took my mom here a few years ago on one of her many trips to Alaska, and we stayed at the Kennecott Glacier Lodge where we enjoyed sharing our meals with visitors from around the world in their family-style dining room. For those who don't want to stay by the mine, the McCarthy Lodge and the Ma Johnson Hotel offer food and lodging on McCarthy's rustic main street. Regardless of where you stay, be sure to give yourself enough time to explore the mining history, walk on a glacier, and enjoy a "flightseeing" adventure with one of the local air taxi services.
2. Take an unforgettable boat tour of Glacier Bay. Another of my mom's favorite national park lodges is Glacier Bay Lodge—the only accommodations available inside Glacier Bay National Park & Preserve. Built during the 50th anniversary of the National Park Service in the 1960s, Glacier Bay Lodge is one of Alaska's undiscovered gems. You'll need to get yourself to the small town of Gustavus by either state ferry or airplane and the lodge will pick you up for the 11-mile drive to the park. The majesty of Glacier Bay is unveiled every day from the deck of the lodge's day boat—the must-do trip for every visitor. You spend all day exploring the park's tidewater glaciers and keeping your eyes peeled for sea otters, sea lions, puffins, mountain goats, humpback and orca whales, and, if you are lucky, a brown bear feeding along the coastline.
3. Get up-close with Alaska's coastal brown bears. If you want to spend time up close and personal with brown bears, I can't recommend enough taking a trip to either Katmai or Lake Clark National Park & Preserve. Flying to Katmai from Homer to spend a day with one of that city's seasoned bear guides involves a float plane ride over Cook Inlet. Mom went with me on an early summer trip before the salmon started running and we watched brown bears in coastal tidal flats feeding on grass (which made me think of cows). You land in the ocean, wade ashore (they provide the hip-waders), and spend the day watching all kinds of bear behavior (warning: this is also mating season!). Later in the summer, you'll land on small lakes near salmon streams and spend the day watching bears fish and eat—and eat, and eat! If you have more time and want to spend several days watching bears, try one of the lodges at Silver Salmon Creek in Lake Clark National Park & Preserve.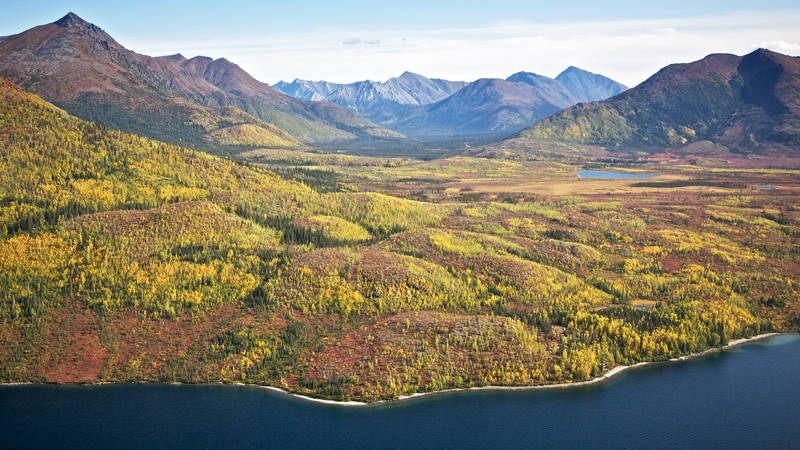 Park
Without roads, trails or formal campgrounds, Gates of the Arctic's 7-million-acre wilderness covers vast terrain, including the jagged peaks of the Brooks Mountain Range, glacier-carved valleys, boreal forest, six Wild…
See more ›
4. Go wild, with a guide. I mention hiring a guide to see brown bears. Don't be shy about hiring someone to show you the sights, sounds, and smells of Alaska (yes, rotting fish is pretty smelly!). Guides know where the best wildlife viewing is, they know the most efficient way to get there, and from a safety perspective, there's nothing like traveling in Alaska with someone who's been there before. This is especially true if you want even more of a wilderness experience in one of Alaska's more remote parks, like Gates of the Arctic National Park & Preserve, the park system's premier wilderness park. Here you can run rivers, hike along alpine ridges, and even do some climbing. If backcountry travel is on your bucket list, there are several companies that provide guided trips to Gates. Be sure to take plenty of mosquito repellant and don't be surprised if the sun never goes away!
Planning your trip to Alaska can be a daunting task, but the effort is well worth it. A trip to the Last Frontier will provide you with a lifetime of memories.
About the author
Jim Stratton

Former deputy vice president for NPCA's regional programs