Only one national park site in the country includes a baseball stadium. And no, it's not Nationals Park.
Up until the first half of the 20th century, some of the best baseball players in the country couldn't compete on the sport's grandest stage. Because baseball was segregated, African Americans had to organize their own professional leagues in separate stadiums and with much less financial security than Major League Baseball.
Today, only a handful of stadiums from the Negro Leagues still exist, and Hinchliffe Stadium, which is part of Paterson Great Falls National Historical Park in Paterson, New Jersey, is the only ball field in the National Park System, according to park spokesman Darren Boch.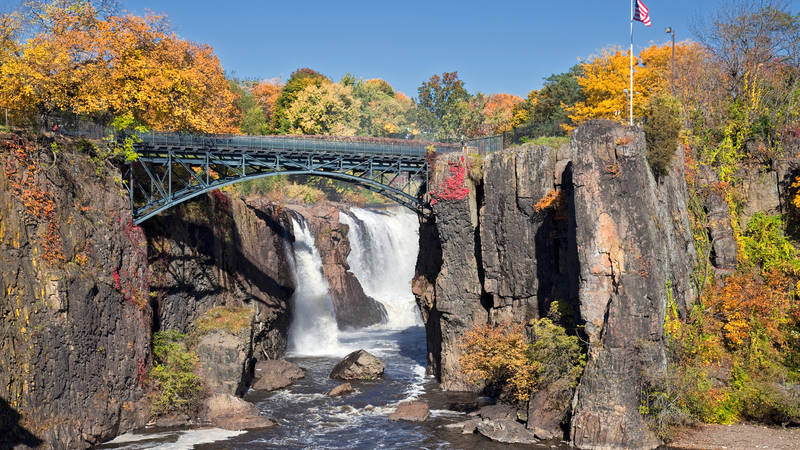 Park
Paterson Great Falls National Historical Park is home to one of the country's most spectacular waterfalls — a 260-foot-wide, 77-foot drop that rushes through the Passaic River Gorge and is…
See more ›
The Art Deco-style stadium, which was named after the town's mayor, John Hinchliffe, opened in 1932. Just a year later, the stadium hosted the Colored Championship of the Nation between the New York Black Yankees and the Philadelphia Stars, and in subsequent years, it served as a home to the Black Yankees, the New York Cubans and the Newark Eagles. In all, more than 20 future members of the Baseball Hall of Fame played at Hinchliffe, including Josh Gibson and Satchel Paige.
Another of those future Hall of Famers was Larry Doby, who played high school baseball in Paterson and was scouted by the Newark Eagles in 1942. Five years later, Doby would become just the second African American to play in Major League Baseball when he joined the Cleveland Indians — three months earlier, Jackie Robinson had been the first to break the color barrier after signing with the Brooklyn Dodgers.
Integration of professional baseball led to the demise of the Negro Leagues, but the 10,000-seat stadium kept hosting motorcycle and midget car races, as well as concerts, including one by Duke Ellington a few years before his death. Paterson's school district acquired the stadium in 1963 and used it for football games and graduation ceremonies. It closed in 1997 and fell into disrepair.
Paterson Great Falls National Historical Park was established in 2011 to preserve America's first planned industrial community — the brainchild of Alexander Hamilton — but it was soon evident that the historical stadium lying just outside park borders should be included.
After NPCA learned of the stadium's important history and the need to restore it, the organization worked with locals and members of Congress to draft legislation adding Hinchliffe to Great Falls Paterson National Historical Park. "In preserving this historic stadium, we will be preserving a visual reminder of an unfortunate, but not forgotten, era of racial segregation," said Rush Holt Jr., then a U.S. representative from New Jersey, in testimony to Congress in July 2014. "The Hinchliffe Stadium will serve as an educational opportunity for future generations to learn about this unfortunate past, so that we can continue to move forward collectively as a nation." In December 2014, President Barack Obama signed the bill into law.
Stay On Top of News
Our email newsletter shares the latest on parks.
The stadium has received funding for repairs, including a $500,000 grant from the National Park Service earlier this year to renovate the facade, but Hinchliffe has a long way to go to regain its former glory. "It needs a ton of work, so we continue our ongoing support of the park and the friends group to raise money and restore it," said Cortney Worrall, NPCA's senior regional director for the Northeast.
About the author
Nicolas Brulliard

Senior Editor

Nicolas is a journalist and former geologist who joined NPCA in November 2015. He writes and edits online content for NPCA and serves as senior editor of National Parks magazine.