© OREGON STATE UNIVERSITY/FLICKR
Summer 2018
Small Plastic, Big Problem
Plastic is polluting oceans and national park beaches alike, and new studies show that even the tiniest pieces pose a large threat.
If you've walked a beach recently, anywhere in the world, you've seen plastic. Every tide tosses ashore a fresh catch of bags, bottles, Q-tips, buoys and other debris. The seas are brimming with the stuff, and it can be disheartening to find plastic soiling otherwise pristine coasts.
But this unsightly garbage obscures a more insidious problem — much of the ocean's plastic is less than a quarter of an inch in size. Though these "microplastics" are too small to be obvious to the casual beachgoer, they're just the right size to enter the ocean's food webs and, eventually, find their way onto our dinner plates.
"Microplastics are everywhere," said Anna Toline, a marine scientist and the National Park Service's Ocean Program coordinator for the Southeast region. "Whether you're way up in northern Alaska or at the tip of the Florida Keys, they're there."
Toline helped conduct a recent study by the Park Service and Clemson University in partnership with the National Oceanic and Atmospheric Administration Marine Debris Program that measured microplastic quantities in 35 national parks from American Samoa to Cape Cod National Seashore. Park employees or volunteers pressed metal rings into the sand below the line of debris left by high tide. Then they scooped the sand into foil bags and mailed their samples to Clemson University's Baruch Institute of Coastal Ecology and Forest Science. There, researchers dried, sifted and spun the sand with a high-density saline solution to separate out the bits of plastic, which they painstakingly counted under a microscope.
What they found was alarming — microplastics were present in every sample. Even our country's most remote, protected areas are contaminated with it. Wisconsin's Apostle Islands National Lakeshore had the highest recorded concentration of microplastics — 285 particles per kilogram of sand — and Alaska's Sitka National Historical Park had the lowest, an average of 21 particles per kilogram.
Storms, ocean currents and proximity to rivers that flow through cities can all influence the distribution of microplastics, but unlike previous research, this study didn't show a direct correlation between microplastic concentrations and distance from a large city. Cabrillo National Monument, in San Diego, and Gateway National Recreation Area, in and around New York City, had relatively low counts of microplastics. On the other hand, remote beaches at Alaska's Cape Krusenstern National Monument and Katmai National Park and Preserve contained more microplastics than the shores of Boston Harbor Islands National Recreation Area just outside New England's most populous city.
It's unclear whether further sampling would produce the same results because the study was just a snapshot in time, but some national parks are already developing more detailed studies of the distribution of microplastics and their impact on wildlife. At Fort Pulaski National Monument in Georgia, scientists are measuring concentrations of microplastics in oysters, and Great Lakes-area parks are creating microplastic monitoring programs that rely on citizen scientists.
Researchers have studied microplastics only for about a decade but have already learned that they pollute oceans, lakes, rivers and soil. They can be transported through the air and released when ice caps melt. They've been found in salt, beer and drinking water. A recent study found that more than 90 percent of bottled water from leading brands contains microplastics, with an average of 325 particles per liter.
NPCA AT WORK
NPCA supported federal legislation that banned the production and sale of cosmetic products containing plastic microbeads and has been working to protect Gateway National Recreation Area's Jamaica Bay unit from plastic pollution. NPCA is advocating the installation of water refill stations in the park and supporting bills that would place a fee on single-use plastic bags in New York City and New York state. In addition, the organization has partnered with Subaru and the Park Service to develop a waste-reduction project at three pilot parks. To learn more about the Subaru initiative, which the partners hope will eventually spread to the entire park system, go to npca.org/zerolandfill.
Microplastics come from several sources. Some are microbeads, which were used as abrasives in face wash, cosmetics and toothpaste until they were banned by the Microbead-Free Waters Act of 2015. Other particles are fragments of larger debris. Most microplastics, though, are microfibers from synthetic clothing, fishing nets, carpets, wet wipes and cigarette butts. In the national park study, 97 percent of the microplastics found were microfibers. These fibers are small enough to slip through washing machine filters, and they often end up in the ocean, where they can tangle in the guts of the organisms that eat them.
This plastic is also a sponge for pollutants, soaking up everything from mercury to flame retardants and pesticides. A 2013 study showed that when fish eat plastic, they absorb these toxins and are more likely to develop tumors and liver damage. The smaller the plastic is, the more pervasive it is in the ecosystem. When filter feeders such as zooplankton, shellfish and coral eat microplastics, the toxins accumulate up the food chain.
"We have a systemic problem," said Chelsea Rochman, a marine ecologist at the University of Toronto and the lead author of the 2013 study. "We're mismanaging our waste, and that's coming back to haunt us on our own dinner plates and in our drinking water."
Scientists don't know how readily these toxins transfer to humans, but it's clear that the problem is only getting worse — the volume of plastic in the ocean is growing. A study published in Science in 2015 estimates that 8 million metric tons of plastic entered the oceans in 2010. That figure is on pace to double by 2025, when a total of 155 million metric tons of plastic will have accumulated in the oceans. Durable by design, that plastic will persist, pulled in the currents and blown by the wind. Gradually, it will be broken down into smaller pieces by the sun's ultraviolet rays, adding still more microplastics to the ocean's confetti soup.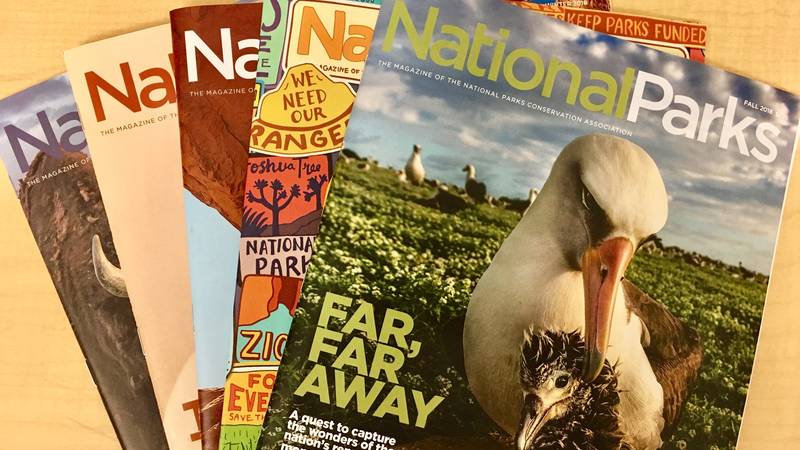 Subscribe to
You can read this and other stories about history, nature, culture, art, conservation, travel, science and more in National Parks magazine. Your tax-deductible membership donation of $25 or more entitles…
See more ›
The world's oceans and beaches probably won't return to a pre-plastic condition, but people can help by becoming "waste-literate," Rochman said. When she shops, she avoids products made of plastics she can't recycle. She also takes care to recycle well, because machine-sorted recycling facilities will sometimes divert an entire load to the landfill if it is contaminated with food, garbage or other nonrecyclable items.
"There's a hierarchy to your actions," Rochman said. "First, you refuse. If you don't need it, don't use it. If you do need it, buy something you can reuse. If you can't reuse it, recycle. The last resort is the landfill. Never litter."
In addition to "reduce, reuse, recycle," Toline applies another "R" — "rewear." A 2016 study found that each laundering of a fleece jacket releases an average of 1.7 grams of microfibers, which can end up in the ocean. Nylon, polyester and acrylic clothes all shed microfibers when washed.
"I just try to do a little less laundry," Toline said. "Marine debris is never going to go away," she added. "The best we can do is to manage it, understand where it's coming from and try to educate people to reduce the input."
About the author
Jacob Baynham

Jacob Baynham is a journalist based in Montana. He writes for Outside, Men's Journal, Coastal Living and other magazines.