VERN TEJAS PAPERS, ARCHIVES AND SPECIAL COLLECTIONS, CONSORTIUM LIBRARY, UNIVERSITY OF ALASKA ANCHORAGE
Summer 2018
A Ladder to the Top
Thirty years ago, Vern Tejas overcame extreme cold and other dangers to become the first person to survive a winter solo ascent of Denali.
When storms threatened — as they did every few days — Vern Tejas would burrow into the snow, building a cave just large enough for himself and his gear. In the dark, he would practice the harmonica, the notes blending with the sound of wind whirling across the mountain.
It was 1988, and Tejas was attempting to become the first person to climb Denali, the highest mountain in North America, alone in the wintertime — and survive the ordeal.
Tejas knew that the greatest foe he faced was not the weather, although temperatures hovered at 40 to 50 degrees below zero. Nor was it the terrain, although the ice was crisscrossed with crevasses that could swallow a climber. It was fear: Four years earlier, renowned Japanese adventurer Naomi Uemura had made it to the summit of Denali only to disappear without a trace on the way down.
As the snowstorm raged outside his cave, Tejas would slice the darkness into one-hour blocks. He would exercise for an hour, stretching his arms and legs in the cramped space. Then he would listen to his radio, repair his gear or heat a pouch of stew.
Lying on his back, Tejas would hopscotch raisins across the floor of the cave, perfecting a one-man strategy game. And he would think.
"Being alone is something most of us never get to experience," said Tejas, speaking recently by phone from Argentina, where he was taking a break after leading a mountain expedition. "There's always TV or music playing. Being alone in Denali in winter gave me the luxury of getting to know myself. I felt like I was the last person on Earth, and I discovered I was a pretty good person."
Tejas had felt compelled to climb the mountain since the first time he had spotted the peak, some 15 years before his solo winter ascent. On a summer trip, he and a friend drove within sight of what was then called Mount McKinley. (The Department of the Interior renamed it Denali, which means "the High One" in the native Koyukon language, in 2015. It is part of Denali National Park.) As the two gazed up at the peak, the sky lightened, the clouds skidded away and the 20,310-foot-tall mountain revealed itself, resplendent in purple and gold and peach.
"We were just overwhelmed by the beauty," he recalled.
Born in Oregon, Tejas moved to the Gulf Coast of Texas as a small child. He rarely saw a hill, let alone a mountain, but when he was 12, he joined a Boy Scout trip to a mountain range in New Mexico. He scrambled ahead of the other campers and group leaders to reach the summit first. He fell in love with climbing at that moment. Seven years later, he moved to Alaska.
Tejas apprenticed himself to veteran climbers, studying how snow and wind moved across the mountains. After five years of scaling smaller peaks, Tejas ascended Denali for the first time with a group. For the next decade, he climbed every mountain he could, joining teams in the Alaska Range, the Andes and Canada. He was part of teams that made the first winter climbs of Mount Hunter, a peak in Denali National Park, and Canada's Mount Logan, the second-highest peak in North America. He led many tours of Denali, getting to know the mountain's moods and idiosyncrasies.
A few weeks before his 35th birthday, Tejas set off on his solo climb. The mountain's intense cold, unpredictable storms and treacherous terrain made it exceedingly difficult to climb, even as part of a group, and the memory of Uemura's death was still fresh in the minds of the members of the climbing community.
"We thought that if anyone could do it, he would be the one," said Roger Robinson, a longtime mountaineering ranger at Denali. "The key to climbing Denali is patience, and Vern knew how to set his head that way."
Tejas drew up plans for each hazard he would encounter on the journey. He strapped a 16-foot extension ladder around his waist, which he hoped would catch him if he stepped into a hidden crevasse. He chose his clothes carefully: Wearing too few layers could lead to hypothermia, but so could wearing too many layers, since trapped sweat would become icy after he stopped for the night.
"Solo climbing is much more intense," he said. "You have no backup. Everything you do could be the difference between life and death."
Tejas settled into a daily ritual. He'd wake at dawn, heat some granola and hot cocoa for breakfast, strap on his skis, and move as quickly as safety allowed. Daylight lasted for about eight hours when he set off in mid-February, and about an hour before sunset, Tejas would begin to dig his shelter for the night. Insulated by snow, the temperature inside would reach a comparatively balmy 28 degrees.
Tejas packed food for 16 days, but the frequent storms slowed him down, and as he approached the summit, his food supply was running low. Then, as he dug his cave one night, he discovered a bag crammed with packages of sweet and sour pork that had been left by an earlier expedition.
He reached the summit on March 7 but had little time to spend at the top. He planted and photographed a Japanese flag in homage to Uemura, took a few more photos and began his descent as a whiteout swirled around him.
On the 27th day, Tejas made it back to base camp, where a pilot picked him up and flew him to the small town of Talkeetna. Robinson remembers seeing Tejas step off the plane. "He looked weathered," Robinson said. "You could tell it had taken a toll on him, but he was very cheery."
Afterward, Tejas received invitations to join expeditions around the globe. In 2010, he set a world record for the shortest time (134 days) to climb the highest points on each continent. He has now ascended the so-called Seven Summits 10 times.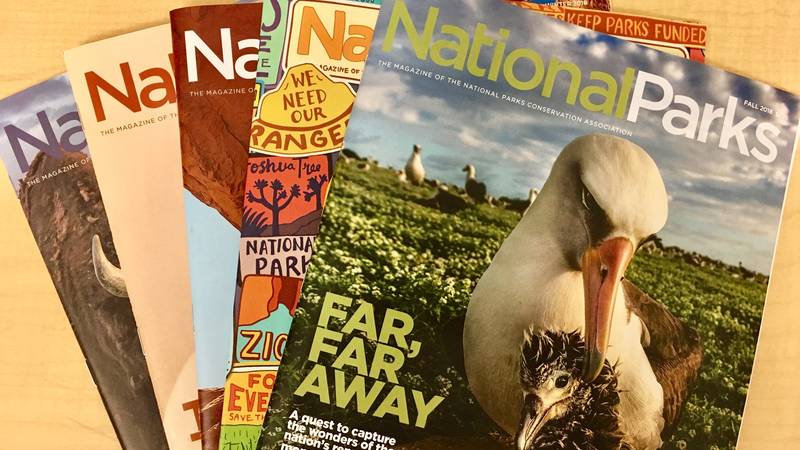 Subscribe to
You can read this and other stories about history, nature, culture, art, conservation, travel, science and more in National Parks magazine. Your tax-deductible membership donation of $25 or more entitles…
See more ›
Tejas, often guiding jointly with his wife, Carole, continues to lead climbs around the world through his company, Alpine Ascents. Now 65, he returns to Denali nearly every year and so far, has climbed it 58 times. Still, the memory of his return from that 1988 climb stands alone.
After arriving in Anchorage, he gorged himself at an all-you-can-eat buffet and attended an Irish dance in honor of St. Patrick's Day. Halfway through the evening, the emcee invited Tejas onstage and presented him with a traditional Irish drum in celebration of his achievement. The crowd jumped to their feet and applauded.
"It was such an emotional experience to go from being totally alone to 500 people clapping for me," Tejas recalled. "It was so overwhelming. That was years ago, but I'm choking up thinking about it."
About the author
Julie Scharper

Julie Scharper is a freelance writer and journalism professor in Baltimore, Maryland.