Summer 2018
Welcome Home?
Settling the question of whether flamingos are native to the Sunshine State.
Do flamingos belong in Florida? The state's promoters certainly would have you think so, and the pink birds have graced everything from tourist maps and postcards to lottery tickets and the opening credits of "Miami Vice." Seeing a live one is a more complicated affair, however. Driving to Everglades National Park's Flamingo Visitor Center offers no guarantee of spotting one of the eponymous birds, and your best bet remains a local zoo. In fact, for decades most biologists believed that a flamingo seen in the wild was simply an escapee from one of several captive flocks in the area. As far as Florida's wildlife authorities were concerned, flamingos were not native to the state and as deserving of protection as reviled invaders such as Burmese pythons.
Some local zoologists have harbored doubts about the prevailing narrative that flamingos were Johnny-come-latelies. A couple of flamingos tagged in Mexico have been spotted in the Everglades, and in recent years, birders have seen large groups in and around the park, including a flock of 147 birds. "If someone had 150 flamingos in a captive population and they disappeared, they'd notice," said Steven Whitfield, a biologist at Zoo Miami.
What's more, the flamingos spotted in Florida have seemed quite at ease in the region's wetlands and shallow waters, where they have found plenty of food to sustain them. Is it possible that South Florida is not just a rest stop for zoo escapees and castoffs but has served as a home to flamingos all along? In other words, are flamingos honest-to-goodness Floridians?
When Whitfield and several other biologists decided to investigate, they were motivated by more than intellectual curiosity. In 2015, they had captured a flamingo near Key West, a feat that involved a net gun and multiple failed attempts. They fitted the bird — a young male they named Conchy after the Conch Republic, a nickname for the Florida Keys — with a satellite transmitter to track his whereabouts, but when they were about to let him go, state wildlife officials stopped them, saying flamingos were not native to Florida. Though officials eventually relented and Conchy was released in Everglades National Park, the episode inspired Whitfield and his colleagues to determine the bird's status in the Sunshine State.
First, they pored over historical accounts and reached out to museums with taxidermic flamingos or preserved eggs. They then looked at statistical patterns in decades of flamingo observations and examined behaviors among populations of flamingos in the Caribbean. (The range of the American flamingo, one of six flamingo species, extends from North America to the Galapagos Islands.) What they found — and published in a recent study — is that flocks of thousands of flamingos used to live in the Everglades and the Keys and that the birds may even have nested in the region. The reason they are no longer abundant is that locals used to hunt them for their meat and feathers.
"There were large groups of flamingos in Florida until the early 1900s," said Whitfield, the study's lead author, "but people killed them all."
One of the first accounts of Florida's flamingos is that of famed ornithologist and painter John James Audubon, who visited the Keys in the spring of 1832. "Ah! reader, could you but know the emotions that then agitated my breast!" he later wrote of the moment when he caught his first glimpse of a flock of flamingos.
Audubon did not estimate the number of birds he saw, but subsequent naturalists did, while also depicting the slaughter that was starting to take its toll on the flamingo population. In an 1857 letter to the Smithsonian Institution, Gustavus Wurdeman wrote about a flock of at least 500 flamingos in the Keys. Wurdeman, like other naturalists at the time, was not above shooting birds for collection purposes, but he was shocked by the actions of a hunter he had accompanied, describing a catch of more than 100 flamingos, some smeared in blood and others drowning in standing water at the bottom of the canoe. Another account from the mid-1880s mentioned a flock of at least 2,500 flamingos in the heart of what is now Everglades National Park. The last report of a large group dates to 1902, when 500 to 1,000 flamingos were spotted in the Everglades' coastal waters.
The researchers believed they had clear evidence of the flamingos' historical presence in the Everglades and beyond, but they also wanted to find out whether the birds had nested there. They uncovered a secondhand account of flamingo nests in the Keys and another of three females near Cape Sable in the Everglades that were about to lay eggs. And then there is Benjamin Beard Strobel, a young doctor who moved from Charleston, South Carolina, to Key West in 1829 and wrote of "some young flamingoes, cooked in a style peculiar to Key West" that he sampled during a dinner with a local notable. The researchers also located a handful of flamingo eggs in museum collections across the country with labels suggesting they were collected in Florida.
Very few flamingos were spotted in the wild during the first half of the 20th century, but both the number of sightings and the size of flocks have increased since, a trend that matches the recovery of flamingos in the Caribbean. "More birds are making it here and at least exploring the region," said Judd Patterson, a National Park Service biologist and co-author of the study. "It seems likely to me that if birds continue dispersing they might settle here and start to nest."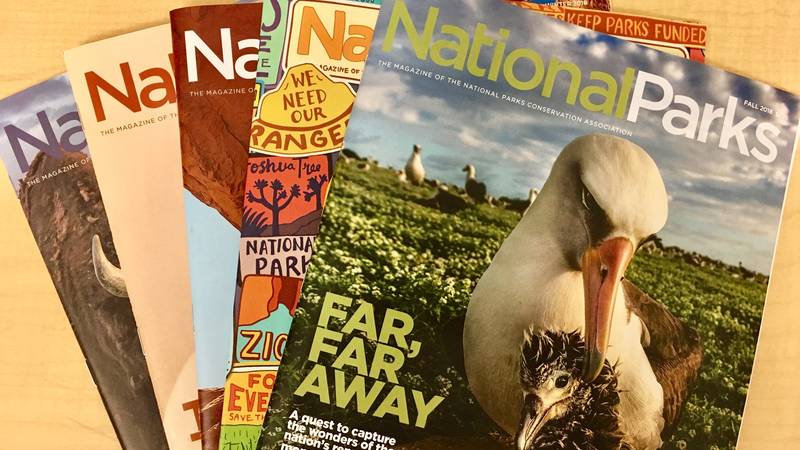 Subscribe to
You can read this and other stories about history, nature, culture, art, conservation, travel, science and more in National Parks magazine. Your tax-deductible membership donation of $25 or more entitles…
See more ›
Everglades biologist Lori Oberhofer said that as park managers and others work to increase the flow of freshwater into the Everglades, visiting flamingos will find an environment mirroring the conditions that supported large flocks more than a century ago. Oberhofer, who's seen flocks of 45, has little doubt flamingos belong in Florida. "We now have evidence that they are actually native and always have been," she said.
The flamingo's formal status hasn't been revised yet, but Whitfield hopes the new research will prompt wildlife officials to change it. As for Conchy, he settled into his watery home in the Everglades and spent two years there before his transmitter gave out in October. Conchy has developed something of a cult following among local birders, so Whitfield is counting on them to keep him apprised of the young flamingo's wanderings. "We have captive birds here at the zoo that are 40 years old," he said, "so Conchy can keep going for a long time."
About the author
Nicolas Brulliard

Senior Editor

Nicolas is a journalist and former geologist who joined NPCA in November 2015. He writes and edits online content for NPCA and serves as senior editor of National Parks magazine.