His family hunted bears before they were endangered. Now that they are finally rebounding, this enthusiast and wildlife filmmaker wants to make sure shortsighted plans don't undo decades of progress.
You could say that an appreciation for grizzly bears is part of Shane Moore's DNA. As a wildlife cinematographer and producer for PBS Nature, National Geographic and other major media outlets, he's filmed grizzly bears in Montana, Canada, Alaska and Russia.
Moore is a third-generation Wyoming resident. His grandfather first came to the Jackson Hole area in the 1930s on a grizzly bear hunting trip just south of Yellowstone and was so inspired by the experience that he soon moved his family. During the following decades, these once-thriving populations of grizzlies nearly vanished from Yellowstone and the surrounding area. Every elk hunting license issued by the state came with a bear tag attached, meaning it also gave permission to hunt a bear, which increased grizzlies' vulnerability. Leading biologists at the time feared Yellowstone grizzlies would soon become extinct. The hunting finally halted when grizzlies were first listed on the Endangered Species Act in 1975.
Despite growing up on his family's ranch near the southern part of the Greater Yellowstone Ecosystem and spending his days and nights leading horse-packing adventures, hunting and exploring in the area, Moore didn't see a grizzly bear in the wild until he was 18 years old — at Yellowstone National Park.
"I remember it well. I was on Mt. Washburn. The early dawn was just giving way to daylight. I saw a cow moose running in panic through the sage. As it got lighter, I could see a grizzly chasing her. Grizzlies completely change the nature of a landscape, just through their presence. They humble you, they keep your senses sharp."
The grizzly encounter in Yellowstone was more of an exception than the rule. "When I first began photographing these grizzlies 30 years ago, I would spend weeks just waiting for a glimpse at these incredible animals," said Moore. "Now, thanks to the rebounding population, thousands of visitors come from around the world to watch these bears each summer. And these visitors support a booming tourism business, both through guided wildlife tours and staying in local hotels, eating at nearby restaurants and so on."
Grizzly bear recovery didn't happen by accident. Thanks to years of protection under the Endangered Species Act, grizzly bears rebounded in the Greater Yellowstone Ecosystem since they were first listed. Yet their future remains imperiled.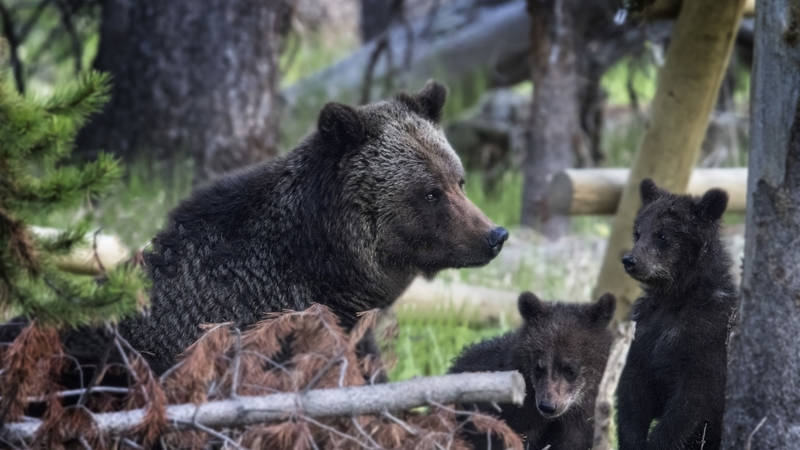 Blog Post
The U.S. Fish and Wildlife Service wants to remove Yellowstone's grizzlies from the endangered list, but these iconic animals need better protections first.
See more ›
In June of 2017, the U.S. Fish and Wildlife Service finalized its plans to remove Yellowstone-area grizzly bears from the Endangered Species List, a decision that threatens the long-term health of these bears and could set their recovery back by decades. On March 9, the Wyoming Game and Fish Commission released an aggressive plan that could kill up to 24 bears through hunting in 2018. The proposal includes a limited buffer on the east side of Grand Teton National Park, but would allow for hunting right up to the border of Yellowstone and the remainder of Grand Teton.
The proposal also allows for the potential use of baiting of bears — enticing bears with food and waiting for them to approach. Baiting is a highly problematic method that goes well beyond ethical hunting tactics and results in easy kills. This directive may mean that famed local grizzly bears that frequently cross the boundary between Grand Teton National Park and the Bridger Teton National Forest could soon be fair game for hunters. One person's grizzly bear hunt could deny thousands of people the chance to view a grizzly bear.
"I've seen tens of thousands of people flock to the area to see these bears. I've seen the joy on their faces. It's a life-changing experience for many people," said Moore. "Only a small percentage of the bears are viewable by visitors near roads, and these bears will likely be the first ones killed by hunters. To throw away the opportunity to thrill thousands of people, simply so someone can put a skin or skull on a wall doesn't make sense."
Recently, the Jackson Hole Chamber of Commerce came out in opposition to hunting grizzlies, recognizing that the bears are worth far more alive than dead. Wildlife tour businesses in Jackson Hole have flourished in recent years, largely due to an increase in grizzly bear sightings.
Stay On Top of News
Our email newsletter shares the latest on parks.
"People from Wyoming should be really proud about the grizzly bear recovery. But that doesn't mean we should now shoot them indiscriminately. Grizzly bears are among the slowest reproducing large mammals on earth. There are only a few dozen female grizzly bears giving birth each year throughout the entire Yellowstone Ecosystem, so if a hunter kills one it's a big deal."
"I've hunted my entire life," says Moore, "but trophy hunting of grizzly bears is different. To kill an animal for food is part of a sacred bond. To kill an animal simply for its hide while robbing others of the opportunity to observe a grizzly is simply wrong. We've exterminated these remarkable creatures in 99 percent of their former range. Can't we cut them some slack in the few postage-stamp-sized places on the map where they've survived?"
About the author
Kati Schmidt

Director, Communications, Northern Rockies, Alaska, Pacific, Southwest, Northwest

Kati Schmidt is based in Oakland, CA, and leads media outreach and communications for the Pacific, Northwest, Northern Rockies, Alaska, and Southwest regions, along with NPCA's national wildlife initiatives.