Mount Rushmore National Memorial features the faces of four U.S. presidents. All, of course, are men, but Congress considered a bill in 1936 supporting the addition of a female figure to the granite memorial. Do you know which woman might have joined George Washington, Thomas Jefferson, Teddy Roosevelt and Abraham Lincoln?
The four presidential faces carved into Mount Rushmore seem, well, set in stone, but it wasn't always the case. Doane Robinson, a South Dakota historian who came up with the idea of carving large figures into the Black Hills as a way to attract tourists to his state, originally envisioned showcasing the likes of Buffalo Bill Cody, Meriwether Lewis, William Clark and Red Cloud, a legendary Lakota leader. Looking for a sculptor, Robinson contacted Gutzon Borglum, whose project memorializing Confederate leaders at Stone Mountain in Georgia was floundering because of disagreements with his patrons.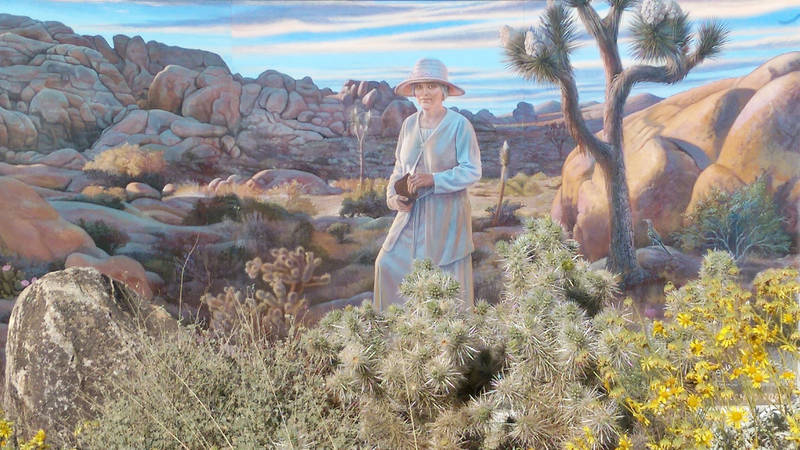 Blog Post
From Joshua Tree to Great Sand Dunes, these 10 special places are protected today thanks to their female champions.
See more ›
Borglum visited the area in 1925 and settled on Mount Rushmore as a suitable site. He also decided which faces were to be included in the memorial. Borglum thought the purpose of the sculptures was to memorialize "the founding, expansion, preservation and unification of the United States." To that end, he picked Washington, Jefferson, Lincoln and Roosevelt.
Carving had just started in 1927 when Rose Arnold Powell wrote to President Calvin Coolidge, who had attended Mount Rushmore's dedication ceremony, and made the case for women's rights activist Susan B. Anthony to be included in the memorial. A few years earlier, while in her mid-40s, Powell had read a biography of Anthony that inspired her to dedicate much of her life to secure widespread recognition for the famed social reformer and the achievements of other women overlooked by history. To Powell, the absence of a woman on Mount Rushmore was conspicuous (though some early visitors did mistake Jefferson's face for that of First Lady Martha Washington), and her quest to repair the omission was yet another effort toward gender equality. "Our greatest heroines should be honored with our much-lauded heroes," she said later. "Many a thrilling story of feminine heroism lies buried, which if resurrected would inject an element which in American life is missing, and it would deflate masculine superiority. …"
Powell met Borglum and wrote him numerous letters — to no avail. She then enlisted the support of First Lady Eleanor Roosevelt, who wrote her own letter to Borglum asking him to add Anthony to the memorial. In his response, Borglum cited several arguments against the addition, including the prohibitive cost and the limitations of the rock, which he thought was not suitable for a fifth head, but Borglum's main rationale for denying the first lady's request was that it didn't fit his artistic vision.
"No man living has a greater respect or a greater admiration for, or places woman in a more lofty position in civilization than I do," he wrote. "I have resented all my life any and all dependence or second place forced upon our mothers, our wives or our daughters, as has been the history of men's civilization, but I feel in this proposal that it is a very definite intrusion that will injure the specific purpose of this memorial."
In 1936, a bill was introduced in Congress that recommended the inclusion of Anthony among Mount Rushmore's existing luminaries, but it effectively died after the House Appropriations Committee required that funding would only go toward sculptures that were in progress at that point (Washington was completed in 1930, Jefferson in 1936, Lincoln in 1937 and Roosevelt in 1939).
Borglum came up with what he saw as a compromise. He had long planned to build a "Hall of Records," a multi-room space carved into the granite behind the figures. Borglum imagined the Hall of Records would hold some of the country's most treasured documents, including the Declaration of Independence and the Constitution, and would feature the busts of prominent Americans who didn't make the cut for the memorial itself.
"I am determined Benjamin Franklin's statue shall be among the first, and your own, which I am particularly anxious to do myself," Borglum wrote in a letter to President Franklin D. Roosevelt. "I will give Susan B. Anthony a place with the gods in the Great Hall. Her friends should be happy." Then in January of 1941, Borglum wrote a letter to Powell outlining his plans for the Hall of Records, which would include "at least three of our women, and there will be no question, as you will see by what I am saying, of a secondary place." He asked Powell to form a committee that would decide which women should be represented. Powell never actually received the letter, and Borglum died a couple of months after sending it.
Plans for the Hall of Records did not go very far. By October of 1941, Borglum's son, Lincoln, had put his finishing touches to the memorial, but still today the Hall of Records is a 70-foot-long tunnel carved roughly into the rock. In 1998, a small repository was placed at the entrance of the tunnel. The box contains 16 porcelain tablets telling the history of Mount Rushmore, including the reasons for selecting the four men carved into the cliff.
After Borglum's death, calls for additions to Mount Rushmore continued, including a campaign advocating for the inclusion of former President Ronald Reagan. Two years ago, the travel website Expedia.com conducted a poll asking participants which modern president they'd like to see added to Mount Rushmore. Franklin D. Roosevelt led the pack with 29 percent of the votes, ahead of John F. Kennedy, Reagan and Barack Obama. Voters were also given the option to write in a famous person they'd want to be represented in the memorial, and Martin Luther King, Jr. received the most votes (11 percent). Donald Trump, then a presidential candidate, was fifth with 2 percent. Beyoncé ranked eighth.
Stay On Top of News
Our email newsletter shares the latest on parks.
Anthony never made it to Mount Rushmore, but in 1938, another national park paid tribute to the celebrated suffragist. Following the efforts of a group of California women, Sequoia National Park named one of the park's namesake trees after her. "In strength and stability, the tree in Sequoia National Park is symbolic of Susan B. Anthony's character," President Roosevelt wrote in a letter to Sen. William McAdoo of California. "In honoring her we likewise pay tribute to all valiant souls whose effort, supplementing hers, at length gave to American women the right of equal suffrage with men in the conduct of governmental affairs. Their labors deserve to be held in everlasting remembrance."
About the author
Nicolas Brulliard

Senior Editor

Nicolas is a journalist and former geologist who joined NPCA in November 2015. He writes and edits online content for NPCA and serves as senior editor of National Parks magazine.