The Trump administration released a draft plan to open up vast new areas of America's coast to oil and gas drilling, putting national parks, wildlife and local economies at risk.
For updated statistics and regional maps documenting how expanded drilling could harm America's 68 coastal national park sites, see NPCA's May 2018 report, Spoiled Parks, created in partnership with the Natural Resources Defense Council.
Last week, the Trump administration announced its plans to expand offshore oil drilling along the Atlantic, Pacific and Gulf coasts, home to dozens of national park sites where people boat, fish and play, and where threatened and vulnerable wildlife make their homes on the beaches and in the ocean. NPCA strongly opposes this move, and thousands of NPCA supporters have urged Trump's Department of the Interior to protect our oceans from this risky practice.
Offshore oil spills can be devastating for coastal national parks. We know because they've happened before.
The 2010 Deepwater Horizon spill leaked more than 210 million gallons of oil into the Gulf of Mexico, contaminating miles of beaches, wetlands and ocean waters, and causing an estimated $37 billion in damages. Gulf Islands National Seashore was affected, and the park is still recovering from the effects of the spill on plants, wildlife and archaeological resources.

In March 1989, the Exxon Valdez ran aground in Prince William Sound, spilling nearly 11 million gallons of oil along the Alaskan coastline, including national park sites such as Kenai Fjords, Katmai, Aniakchak and Lake Clark. The oil came from onshore wells, but the offshore impacts were devastating. Recreation and tourism declined dramatically as a result, and resource managers were forced to limit hunting and fishing access because of the damage. Despite cleanup efforts, oil remains on national park beaches to this day.

In January 1969, a blowout on an offshore oil platform (the sudden rupture of a valve due to pressure) spilled 200,000 gallons of crude oil into the Santa Barbara Channel. The blowout tore holes in the soft sandstone seafloor, leaking an additional 4.2 million gallons of oil over the course of the year. The oil caused great damage to Channel Islands National Park, contributing to the deaths of thousands of seabirds and marine mammals, and fueling a burgeoning national environmental movement.
Despite these experiences, the Department of the Interior released a draft Outer Continental Shelf leasing plan that identifies offshore areas to be leased between 2019 and 2024. The draft plan is unprecedented in scope, opening nearly all federal waters to oil and gas leasing, including areas that have never been leased or drilled and depend on healthy oceans for coastal economies.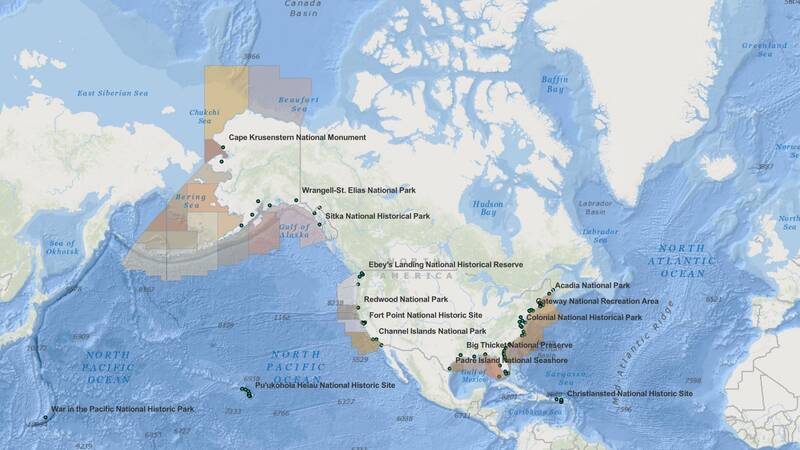 See a Map
This map shows the proximity of coastal national parks to areas opened by the Department of Interior in January 2018 to offshore oil drilling.
See more ›
Included in the draft plan are lease sales off the entire length of the Atlantic coast, from the Florida Keys to the Gulf of Maine, and the entire Pacific coast. The draft plan includes several sales in the eastern Gulf of Mexico, which was specifically closed to drilling after the Deepwater Horizon spill. The impacts of a spill on parks along coasts with new drilling could be just as devastating as the Deepwater, Exxon Valdez or Santa Barbara spills.
All of America's coastal national parks are potentially at risk from this plan. The National Park Service manages 46 national parks along the Atlantic and Pacific coasts alone, including Acadia, Cape Cod, Cape Hatteras, Everglades, Olympic and Point Reyes. These parks preserve undeveloped beaches, critical turtle nesting sites, habitat for marine life and important historic structures, such as lighthouses and military forts.
These parks also serve as major tourist destinations, hosting more than 72 million people each year, driving more than $3.7 billion in spending and supporting more than 45,000 jobs. These strong local economies depend on visitors. Coastal industrialization and threats of spills and leaks put local economies and the visitor experience at risk. The move to open our coasts to more drilling has been met with outcry from coastal communities, including many near national parks that rely on tourism for their economic prosperity. Gateway communities next to Biscayne National Park, Cape Hatteras National Seashore, Channel Islands National Seashore, Assateague Island National Seashore and others all passed formal resolutions opposing offshore drilling.
The draft plan is unprecedented in scope, opening nearly all federal waters to oil and gas leasing, including areas that have never been leased or drilled and depend on healthy oceans for coastal economies.
Congressional leaders and governors from both political parties have also voiced their opposition. Republican Congressman Mark Sanford from South Carolina recognized that the benefits of energy production are simply not worth the threats to that state's $13 billion tourism economy. "The scale of what might happen with energy exploration is minuscule relative to that tourism impact," he told NPR.
Maine's Congressional delegation, made up of Independent Sen. Angus King, Republican Sen. Susan Collins and Republican Rep. Bruce Poliquin, also came out against the plan, with Sen. Collins saying that she "continue[s] to oppose efforts to open Maine's coast to drilling, which poses significant risk to marine and coastal resources, our economy and our way of life."
However, opening new areas to development isn't the only way Interior is making things easier for the oil and gas industry. In addition to its plans to expand energy development in our seas, the Department of the Interior is weakening environmental safeguards that help prevent and mitigate the damage from disastrous oil spills. NPCA is deeply concerned about the unnecessary risks this could pose for our coastal parks. Two additional proposals from the president could compound the threats to our coastal parks from offshore drilling. These proposals are not yet final, but could soon become law through new rulemaking procedures at the Department of the Interior.
1. Seismic airgun testing in the Atlantic
Five companies have applied to search for oil and gas deposits beneath the Atlantic seafloor using seismic airgun technology. This would involve boats shooting loud seismic blasts of compressed air down into the seafloor to determine, based on the echoes from the blasts, where to find underground deposits of fossil fuels.
Sound travels far underwater, and these seismic blasts are loud enough to hear hundreds of miles away. The boats operate for weeks or months at a time and shoot airgun blasts every 10 to 12 seconds, up to 7,000 times each day. Scientists have established that this constant sonic intrusion can cause major harm to whales, dolphins, sea turtles and other marine life.
Many marine mammals use sound to communicate and are sensitive to human-caused noises invading their environment. Seismic airgun use has been linked to the stranding deaths of whales, dolphins and porpoises and can cause deafness and other impairment in animals. Many marine mammals go out of their way to avoid these noises, meaning that seismic airgun testing may drive mammals from their feeding, breeding or calving areas.
The National Park Service has recorded at least 22 species of marine mammal near the 33 national park sites on the Atlantic coast. The five companies applying for permits to conduct seismic airgun testing could physically injure or disturb these animals hundreds of thousands of times, including death or deafness to a total of 1,890 mammals, according to Park Service and company estimates, with thousands more animals negatively affected.
Scientists have found that the five endangered or threatened sea turtle species that nest on Atlantic national park beaches would also be at risk. Additionally, studies have shown that seismic testing affects fish – including the endangered Atlantic sturgeon that breed in the Chesapeake Bay – and causes significant mortality in plankton, the fundamental building block of the oceanic food chain.
The Obama administration denied permits to companies looking to conduct seismic airgun testing in the Atlantic, but the Trump administration is working not only to reverse those denials and approve the permits, but also to weaken the authority the National Marine Fisheries Service to make scientific decisions to protect whales, dolphins and other marine mammals.
2. Reversing safety rules enacted after the Deepwater Horizon spill
After the deadly Deepwater Horizon explosion and oil spill in 2010, investigators found that BP and its partners, Halliburton and Transocean, took a number of risky steps and failed to address known weaknesses in the offshore rig. Drilling companies prioritized speed over safety, and that lack of care combined with failing technologies led to one of America's biggest environmental disasters.
In the wake of these revelations, the Obama administration set out to improve standards for offshore drilling to prevent another Deepwater Horizon from occurring. After six years of expert investigation and public input, the effort culminated in July 2016 with new standards within the Department of the Interior known as "blowout preventer rules." The rules addressed and implemented recommendations from investigations of the Deepwater Horizon accident, and incorporated industry standards and improvements.
But in an April 2017 executive order, President Donald Trump ordered the Department of the Interior to immediately review these new safety standards and make recommendations on whether to suspend, revise or rescind them. In October 2017, Interior announced that it is considering several "revisions" to the safety rules, and could formally reopening the rulemaking process in the coming months.
The haste with which the Trump administration is disregarding public input and safety to expand fossil fuel drilling is alarming. This rush to promote oil and gas development is putting the health of our coastal national parks at serious risk.
Our parks are priceless, and it is up to us to keep their waters safe from yet more drilling-related catastrophes.
NPCA is committed to protecting America's coastlines from unnecessary and unsafe oil and gas drilling and will be working to oppose this serious threat to our national parks.
Stay On Top of News
Want more great national park stories and news? Join our email list and get them delivered to your inbox.
About the author
Nicholas Lund

Former Senior Manager, Landscape Conservation Program

Nick is a conservationist and nature writer. He is the author of several forthcoming books, including the American Birding Association Field Guide to the Birds of Maine (2022) and "The Ultimate Biography of Earth" (2022). His writing on birds and nature has appeared in Audubon magazine, Slate.com, The Washington Post, The Maine Sportsman, The Portland Phoenix and Down East magazine, among others.