The last few weeks have been catastrophic for so many communities around the Gulf of Mexico, southern United States and the Caribbean. NPCA shares its deep concern for everyone affected by the recent hurricanes and is committed to being part of the long-term rebuilding effort.
Texas Senior Regional Director Suzanne Dixon contributed to this story.
Harvey. Irma. Maria. We are only beginning to understand how these storms have devastated families, communities, businesses and national parks across the southern United States and Caribbean — especially in the Virgin Islands and Puerto Rico. Hundreds of people lost their lives, and the damage has been staggering. Our friends and neighbors are still reeling from the destruction and disruption, uncertain when things will return to normal, or even what the new normal will be.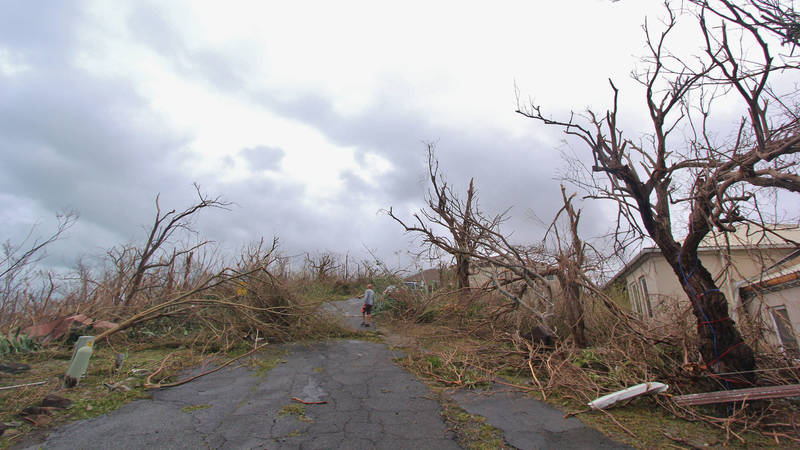 Blog Post
As we continue to learn of the human toll and horrific damage caused by Hurricanes Harvey and Irma, NPCA's executive vice president offers her shock and sadness over one of…
See more ›
The entire region where I live was under threat of imminent danger, and everyone was panicking about how to prepare for such a massive impact, waiting in long lines for gas and watching the heart-wrenching news reports and updated storm tracking predictions that came non-stop. My family was fortunate to have escaped the worst of the storm, with only minor vegetation damage and a week of no electricity. Now that my coworkers and I are all back safe in NPCA's regional office in Florida, we are reaching out in earnest to work with our allies to determine the best ways to offer our support in the days and months ahead.
Our communities are collectively seeking to understand the next steps as we recover from the damage. People in the islands particularly, places that were hardest hit, are still in need of essentials like water and food, whereas others are beginning to repair what they can to get businesses back up and running.
After getting businesses back up and running, we must also get our parks back up and running to support the communities that need them as places of respite and sources of income. Throughout these crises, the National Park Service has been on the front lines of the recovery, deploying more than 400 staff to the affected regions to conduct damage assessments, estimate costs for repairs and provide support for their teams. NPCA has been reaching out to park staff and allies to support these efforts. For those wishing to provide immediate help, the National Park Service Employees and Alumni Association is collecting funds to help provide direct assistance to Park Service employees and partners affected by these disasters.
The health of these parks and their local economies depend on each other. According to the National Park Service, every dollar of federal investment in the parks provides a $10 rate of return to the local communities. Many of these communities are wholly dependent on a strong tourism economy, and closed parks will result in a longer and more difficult recovery. In some cases, the effects could be unprecedented: Virgin Islands National Park, which is essential to the economy of the island of St. John, suffered so much damage that it could be closed for an entire year, which would threaten the livelihoods of people throughout the region. The Florida Keys depend upon a healthy Florida Bay in Everglades National Park for fishing, recreation, and hotel and restaurant visits. These parks must get up and running quickly so that the people who depend upon them for their livelihoods can return to work and pay for the repairs they need to make on their personal properties. The National Park Service shoulders a large responsibility and opportunity to help in the communities' recoveries.
The damage estimates are expected to be hundreds of millions of dollars, which is on the scale of the entire annual Park Service budget for upkeep and repairs provided by Congress for the entire National Park System. When hurricanes like Irma, Harvey and Maria hit our national parks, the Park Service uses its regular budget to address emergency needs, which leaves little money left for regular projects, programs and park upkeep. The Park Service cannot bear the brunt of these additional costs at a time when its budget is already stretched thin and it is contending with a $11 billion repair backlog.
NPCA is urging Congress to move quickly on disaster recovery funding — as we did for Hurricane Sandy — to support the recovery of our national parks and wildlife refuges and rebuild them to be more sustainable and more resilient to future disasters. We want parks reopened for business so they can continue to support the tourism economies that depend on the long-term recovery of the region.
Join NPCA's email list for updates on our work to help national parks and the people that depend on them recover quickly.
About the author
John Adornato

Deputy Vice President of Regional Operations

John joined NPCA in February 2002 in the Sun Coast Region and in 2018 became the Deputy Vice President of Regional Operations out of DC. In this role, he helps manage NPCA's regional programs, which encompass over 55 staff in eleven regions across the country.