Fall 2017
Garbage In, Garbage Out
Volunteers and rangers removed more than 22,000 pounds of debris from Alaska's national park beaches. But will the trash just come back?
Every winter, bays and inlets that line the Gulf of Alaska are pummeled by high, angry waves. Water crashes up the shore — often reaching past the trees that stand guard at the back of each beach.
When the ocean calms and recedes each spring, many of Alaska's remote coastlines are far from the pristine pictures you see on postcards. Instead, the beaches are peppered with plastic bottles, bags, cans, lighters, cups, straws, buoys, ropes, fishing lines, flip-flops and other reminders of human civilization that have washed ashore.
The marine debris that accumulates on the shores of Alaska is more than just an eyesore. Oil drums, cigarettes, medical waste and plastics leach out chemicals. Bears leave claw and teeth marks on coolers blown inland by storms and may ingest pieces of Styrofoam. Birds die with bellies packed full of plastic, or starve to death when tangled fishing lines clamp their beaks shut.
"It affects the environment by injuring and killing wildlife, human health by contaminating the food we consume, and the economy by entangling boat props or damaging tourist destinations," said Sharon Kim, the chief of resources at Kenai Fjords National Park. "Marine debris is by definition man-made," she added. "We created the mess. We should be actively responsible for cleaning it up."
In 2015, Kim was part of a large-scale collaboration between the state of Alaska and five of Alaska's coastal national parks — Wrangell-St. Elias National Park and Preserve, Kenai Fjords National Park, and Katmai National Park and Preserve along the Gulf of Alaska, and Bering Land Bridge National Preserve and Cape Krusenstern National Monument by the shore of the more northern Chukchi Sea — to remove marine debris from their most sullied beaches. Volunteers helped collect the garbage from nearly 50 miles of coastline. The end result: over 22,000 pounds of trash crammed into many hundreds of oversized sacks.
Scientists say billions of pieces of debris have accumulated in the oceans. As a result, washed-up trash is an increasingly common sight in Alaska and in many other coastal areas around the world. Wind and water currents arranged in large circular gyres move materials across vast oceans. Debris from Asia often travels across the northern part of the Pacific Ocean toward the U.S., whereas trash from the western South American coast moves north toward the equator before turning westward. Other pieces of debris end up in unexpected places after meandering from gyre to gyre.
In 2011, the tsunami that ravaged parts of Japan also sent the remains of entire neighborhoods floating across the Pacific, much of it ultimately heading directly into the Gulf of Alaska (Japan donated $5 million to the U.S. to help with the cleanup). And as ice in the Arctic melts, both shipping and cruise routes through the Northwest Passage are on the rise. Anecdotal evidence suggests that this boost in traffic is increasing marine debris, which then floats down the coast of Alaska.
"Marine debris is like the problem of invasive species," said Benjamin Pister, director of the National Park Service's Ocean Alaska Science and Learning Center. "It only gets more expensive and more difficult to address as time goes by."
Based on previous surveys and aerial imaging, Kim, Pister and other researchers selected 28 of the most debris-covered beaches in the five participating national parks. Then, they waited for clear weather to clean each shoreline.
"None of these beaches have roads to them at all," Kim said. "You're either boating to them or taking a plane to them."
Teams of Park Service workers and volunteers, including Boy Scouts, high school students and members of Alaska Native village organizations, hit the beaches. They walked in organized patterns to ensure they covered each beach in whole and sorted debris into categories — plastic, rubber, metal, rope or netting, foam, and other — before weighing, cataloging and bagging the trash. Sometimes with the help of a helicopter, they loaded the sacks onto a barge that made its way down the entire coast of Alaska, eventually ferrying the garbage to Seattle, where it was sorted and sent to landfills or recycling centers.
"It was a sad confirmation for a lot of us of the sheer volume of plastic that washes ashore," Pister said. "If you talk to beachcombers from the 1970s, there was debris back then, but they mostly found glass. We found plastic everywhere."
This was not only a cleanup effort but the first careful quantification of trash on these beaches, said Lori Polasek of the University of Alaska Fairbanks. She collaborated with the parks to collect and analyze data during the cleanup effort. The data, she said, can be used as a benchmark to see whether trash is indeed on the rise.
Earlier this year, the team published the cleanup results in the journal Marine Pollution Bulletin. Based on the languages or brand names on packaging, plastic bags and buoys, researchers found that some debris originated from Russia, Japan, Korea, Argentina, China, South Africa and Singapore. Some of the trash likely came from shipping crates that tipped off passing container ships during storms or accidents. In other cases, litter could have been thrown or dropped off fishing vessels, or the debris could have floated from the countries themselves. The trash collected also included local Alaskan grocery store bags and lines from near-shore fishing as well as refrigerators and ATVs that had been dumped on the beaches.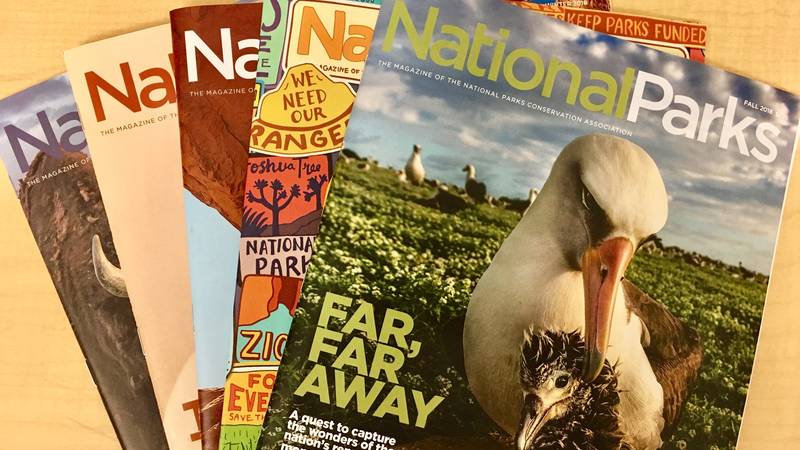 Subscribe to
You can read this and other stories about history, nature, culture, art, conservation, travel, science and more in National Parks magazine. Your tax-deductible membership donation of $25 or more entitles…
See more ›
The immediate outcome of the cleanup is 28 temporarily spotless national park beaches, but the project isn't over. Researchers will conduct annual surveys at some of the beaches to get a sense of how fast debris returns. Students at Alaskan high schools — some of whom were involved in the cleanup efforts — will monitor beaches as part of a curriculum on marine debris.
The continuous flow of garbage may seem an insurmountable problem, but Polasek said everyone can contribute to the solution with small changes, for example by avoiding excess packaging and using reusable bags and water bottles. Focusing on beach cleanups alone isn't a long-term fix, Pister said.
"You can have all the money in the world, but the debris will come back again and again," he said. "The solution is to stop it in the first place."
About the author
Sarah C.P. Williams

Sarah C.P. Williams is a Texas-based freelance writer who covers science, medicine, natural history and anything else that strikes her interest. Her work has appeared in the Los Angeles Times, Huffington Post and Science News, among other publications.