Counting birds. Looking for dragonfly larvae. Analyzing coyote scat? National park visitors can help the places they love by taking part in meaningful science around the country.
Many visitors to Isle Royale National Park hope to catch sight of a moose, one of the park's most charismatic mammals, emerging from dense bushes or wading in shallow water. Each year, small groups of people search for them elsewhere: in the dirt. The reason? The members of the Moosewatch patrol are less interested in live moose than dead ones.
These volunteers have no scientific training, yet they play a major part in the longest-running study of relationships between predators and prey in the world. By analyzing the moose bones that the patrol collects, scientists can gain insight into the age and cause of death of the animals, information that is crucial to understanding the dynamics between the island's moose and wolf populations.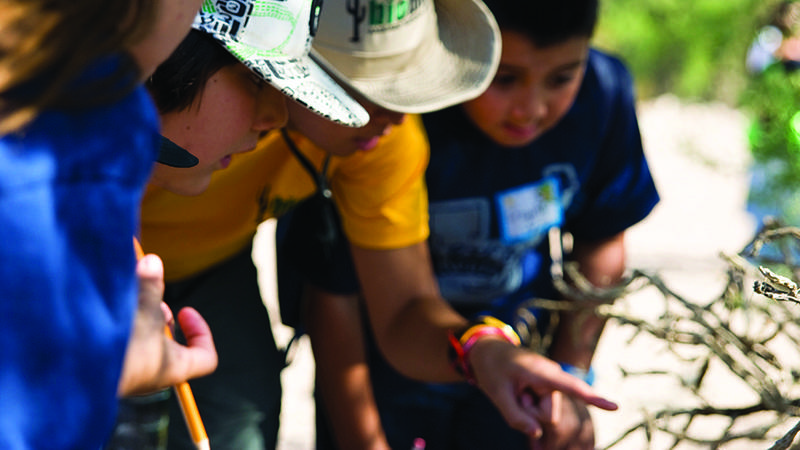 Magazine Article
Students and scientists team up to document every living thing in Saguaro National Park.
See more ›
The Moosewatch campaign is one of dozens of projects taking place each year across the National Park System. Day visitors, school groups and trained volunteers become "citizen scientists," collecting data that not only help national parks better manage their resources, but that also contribute to mankind's body of knowledge. Along the way, participants gain a better appreciation for the parks' ecosystems and their fragility, and they acquire a scientific mindset that helps them make better-informed decisions in their day-to-day lives.
"We have a problem with scientific literacy in this country, which has pretty powerful implications for democracy," said Tim Watkins, science access and engagement coordinator for the National Park Service. "And the National Park System has tremendous potential to engage people in science, to inspire people in science, to help them participate in and experience science, and to learn science and ultimately to understand and trust science."
The phrase "citizen science" is relatively recent, but the concept is not. Amateur astronomers have discovered scores of celestial bodies, and the Audubon Society's Christmas Bird Count, which started in 1900, has encouraged participants to document as many bird species as they can find to help assess the health of their populations. Watkins said that bird counts have taken place in national parks for decades — it is the country's longest-running citizen science project — and the number and diversity of projects has expanded dramatically over the past decade or so.
Counting birds or other animals such as mountain goats and pikas in Glacier National Park or butterflies in Rocky Mountain National Park remains a major contribution from citizen scientists. For a decade, the Park Service also conducted annual, daylong "BioBlitzes" in urban national parks where visitors identify as many species as possible over a 24-hour period. Even little ones can participate: BioBlitz events have involved thousands of young children using apps like iNaturalist to document their observations.
We have a problem with scientific literacy in this country, which has pretty powerful implications for democracy. And the National Park System has tremendous potential to engage people in science.

— Tim Watkins, science access and engagement coordinator for the National Park Service
"Young children can contribute useful information," Watkins said. "Scuba diving is not, for example, something that children are going be able to contribute to, but finding or counting insects might very well be."
The term BioBlitz was first used for a biodiversity survey conducted at Kenilworth Aquatic Gardens, a national park site in Washington, D.C., more than two decades ago. Now each year several national parks hold their own events, and they often result in new species being added to the parks' lists.
In Great Smoky Mountains National Park, you can participate in a larger ongoing effort to inventory every single species in the park. To date, the effort, called Discover Life in America, has identified nearly 20,000 species of plants, animals, microbes and other organisms, including almost 1,000 that are completely new to science.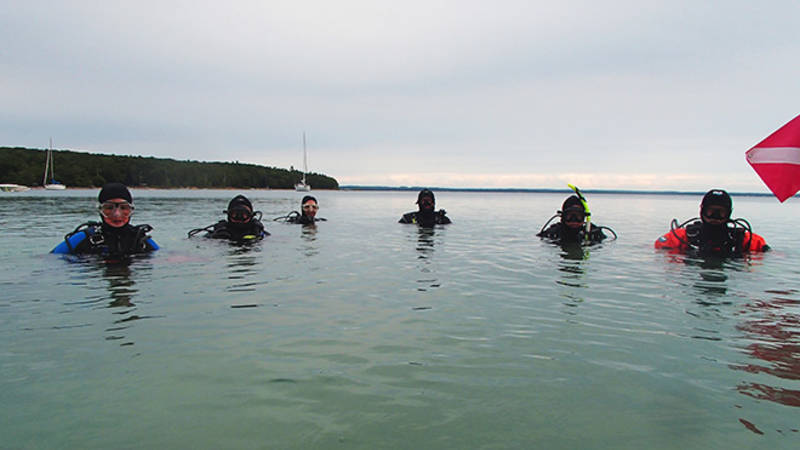 Blog Post
Citizen scientists are helping birds dying at troubling rates in the Midwest by studying invasive species at Sleeping Bear Dunes.
See more ›
Some projects require different kinds of skills. Researchers at Santa Monica Mountains National Recreation Area are looking for volunteers in and around Los Angeles to collect and analyze coyote scat to figure out what the animals are eating — domestic cats are a rare menu item. One of the goals of the study is to help mitigate human-coyote conflicts. Other projects don't require you to go outside at all. For example, armchair scientists can scour photographs of condors released at Pinnacles National Park in California (as well as other sites), identify the birds by their tags and document any behavior that might indicate that the condors suffer from lead poisoning.
There are other ways citizen scientists help park managers better understand the threats that national parks face. A.T. Seasons is a project that documents phenology — events such as when leaves change colors, flowers bloom or bird species build their nests — on the Appalachian Trail and surrounding public lands, and how the timing of those events changes over time. This kind of data is key to understanding the impact of climate change on these animals and plants, Watkins said.
Despite their lack of professional training, participants in these projects provide remarkably accurate data. Collin Eagles-Smith is a scientist with the U.S. Geological Survey who is coordinating the Dragonfly Mercury Project — a study of mercury levels in dragonfly larvae across more than 60 national park sites. Eagles-Smith said that his lab technicians replicated the identification and labeling work of the volunteers and found virtually no errors. According to Watkins, researchers involved in a loon monitoring campaign at Glacier conducted their own verification of volunteer data and found similar results.
That's a good thing, because the Park Service, partner organizations and universities often don't have the funds necessary to collect large amounts of data themselves. The mercury project, for example, has involved more than 2,500 people who contributed about four hours each. Eagles-Smith estimates that using professionals to collect the dragonfly larvae samples would cost millions of dollars a year.
"We're able to do it for a fraction of that, which is a valuable way to use taxpayer dollars to get important information," he said.
Stay On Top of News
Our email newsletter shares the latest on parks.
The drawbacks of citizen science projects in parks are minimal — park staff, who are already stretched thin, must be able to devote their time to supervising and training volunteers. The upsides, on the other hand, are multiple. Park managers and scientists acquire valuable information, and partner universities are able to conduct research on the environment, conservation and health that can benefit us all. Participants receive scientific training and a sense of satisfaction that they contribute to meaningful discoveries. Colleen Flanagan Pritz, a Park Service ecologist involved in the mercury project, said volunteers might foster environmental responsibility within their communities as a result of their participation. They might also be more motivated to protect their parks.
"Another goal of citizen science in national parks is to foster a sense of shared stewardship of our protected areas and the resources that they preserve," Watkins said.
The Park Service is in the process of compiling a database of citizen science projects across the park system. In the meantime you can find many open projects on this website by selecting "National Park Service" as the "Agency Sponsor" on the left.
About the author
Nicolas Brulliard

Senior Editor

Nicolas is a journalist and former geologist who joined NPCA in November 2015. He writes and edits online content for NPCA and serves as senior editor of National Parks magazine.