Fall 2016
Coyotes and the City
Researchers in Los Angeles are tracking urban coyotes and collecting scat to find out how humans and these wild canids can live peaceably side by side.
Around 3 a.m., Justin Brown inched quietly down a central Los Angeles street in a hybrid Ford Escape. Darkness cloaked the rows of apartments, but residents still lingered outside. Brown, an ecologist at nearby Santa Monica Mountains National Recreation Area, a patchwork of 155,000 acres of mountains, chaparral woodlands and beaches, was trying to keep a low profile. Using radio telemetry equipment, he was tracking a coyote through a dense neighborhood in the core of the city.
Brown watched as Coyote 144, a female he had collared in May 2015, trotted briskly in the street a couple of hundred feet ahead. She approached what looked like a bag of trash in the middle of the road; circled, sniffed and inspected it; then walked away. To his astonishment, the trash got up and walked away, too. It was a cat.
That night, Brown watched Coyote 144 encounter 15 domestic cats and decline to pounce on a single one, as he would have expected. The observations made him realize just how much mystery remains around these wild city-dwellers.
"People know a fair bit about them living in more natural environments, but there's just a lot of misinformation out there about coyotes in very urban areas," Brown said. "We don't know how coyotes respond to domestic dogs, cats or just people moving around the environment. Actually getting to radio-track the animals and see what they're doing, we can answer some of those questions."
The radio-collaring project is one of a series of studies Brown and a National Park Service intern, Binta Wold, are organizing to better understand urban coyotes' diets, movements and habits in Los Angeles. The research is motivated in part by an uptick in complaints about coyotes in the city. Mostly, residents complain of nuisance behavior, such as eating garbage, but occasionally, a coyote attacks a pet or, more rarely, a human. The trend has prompted Los Angeles Department of Animal Services to provide more detailed and substantive information about coyotes to residents in public meetings and on its website. Brown's hope is that the research will inform policy, improve residents' relations with wildlife and raise awareness about the national recreation area, an enclave of surprising wildness in the country's second-largest metropolitan area.
"A lot of people don't even realize there's a national park here," said Seth Riley, supervising wildlife ecologist for the Santa Monica Mountains National Recreation Area. "We want to expose them to the National Park Service, natural areas and wildlife and increase their knowledge and appreciation."
Coyotes are not newcomers to Los Angeles. They have lived in the area since long before European settlement. As the city grew, they may have been temporarily extirpated, but wildlife managers believe they have lived in the concrete landscape for at least the last three decades. Ranging from 22 to 44 pounds, L.A. coyotes are extremely adaptable, known to eat everything from small mammals to frogs, carcasses and human trash. As many of their competitors declined over the last century, coyotes proliferated, moving into new regions and ecosystems. A forthcoming study in the journal Landscape and Urban Planning found that coyotes now populate the 35 largest cities in the U.S. Like other city-savvy wildlife, their conflicts with humans make them polarizing figures.
"Opinions range from one spectrum to the other, from 'don't touch the coyotes, we love them' to 'they're these big bad nasty predators that belong in the wild and have no place in urban landscapes,'" said Camilla Fox, founder of Project Coyote, a California-based nonprofit that promotes peaceful coexistence with wild canids. "We've seen a tremendous gap in terms of information being provided to communities about how to coexist with these animals."
One matter Brown hopes his research will clear up is what the city's coyotes are eating. Are they preying on pets, other small mammals, plants, human trash or all of the above? To find out, Brown solicited volunteers to walk city parks and cemeteries and collect scat. More than 180 people applied. Since June, about 25 have been venturing out once a month to pluck coyote poop from the ground, place it in a brown paper bag and send it to Brown to be dried and sanitized.
"I thought all of my friends would be grossed out, but people are actually really interested — some have even asked to come with me while I'm collecting," said Emily Han, a food writer and coyote scat volunteer. "So, hopefully, this gets people interested in wildlife and the park."
During scat parties, volunteers pick through the poop for bits of fur, bones, seeds, insect parts, berries and manmade materials such as wrappers, then they identify the food sources. A wildlife officer from Animal Services (in conjunction with Park Service biologists) is also organizing volunteers to collect scat from sites where complaints have arisen to determine if correlations exist between nuisance behavior       and diet.
Meanwhile, Brown is also tracking three coyotes and plans to attach radio collars to two others starting this fall. Eventually he will create maps of their routes, determining what areas the coyotes prefer. He has also lent two motion-detecting critter cameras to biology teachers at the Academy of Environmental and Social Policy, a public high school, and Crespi Carmelite High School, a Catholic school. Students in science classes and an after-school program tagged photos taken on school grounds and added them to a database. Brown plans to distribute more cameras this fall so that students can take them home and monitor wildlife in their own backyards. The photographs will help determine which neighborhoods   coyotes frequent.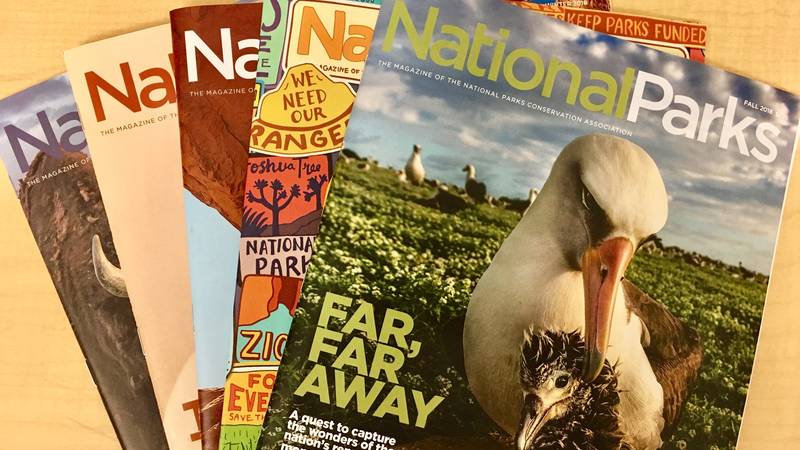 Subscribe to
You can read this and other stories about history, nature, culture, art, conservation, travel, science and more in National Parks magazine. Your tax-deductible membership donation of $25 or more entitles…
See more ›
Research results will start emerging in 2017, but already surprises have come to light. For example, many Angelenos believe that coyotes come from the park to haunt the city, but radio tracking suggests that some don't frequent the park at all. They live all of their days in small territories right in the heart of the city, even raising pups and occasionally crossing eight-lane highways. Also, more coyotes live within city limits than previously thought. Despite government predator-control programs in the area, it appears coyotes are here to stay. So the question is: How do residents live with them?
"There's always going to be occasional conflict," Brown said. "But in most scenarios with coyotes, if we change our behaviors to make sure they maintain their natural fear of humans, avoid giving them access to our food and trash, and protect our pets, we can pretty easily live with them. Just looking at where they're able to survive, they're pretty amazing animals."
About the author
Kate Siber

Kate Siber, a freelance writer and correspondent for Outside magazine, is based in Durango, Colorado. Her writing has appeared in National Geographic Traveler and The New York Times. She is also the author of "National Parks of the U.S.A.," a children's book.