Through their spectacular landscapes, magnificent wildlife and rich history, national parks have inspired generations of visitors. But often, it is the people within those parks who move us most. Here are five personal stories of determination, selflessness and healing that show how parks can bring out the best in people.
Saving the Place He Loves Most
A little more than two years ago, Joseph Goldstein was diagnosed with high-risk acute lymphoblastic leukemia, a rapidly progressing type of blood cancer.
At the hospital, Joseph, then just 13 years old, received a visit of staff from the Make-A-Wish foundation, but when asked what he wished for, he didn't know what to say. He would have loved a trip to the North Pole, but somehow that didn't seem right. He kept thinking about it, and on his way home from the hospital he decided the wish had to be about more than himself. It was also for his brothers, his parents, his friends and the rest of us. And right then, in his parents' car, he thought: "What better way to bring light out of a bad situation than to use it to save the place I love most?"
Joseph had been going to the Boundary Waters Canoe Area Wilderness every year since he was about 6 years old. He loved fishing and canoeing in the summer, seeing the leaves change color in the fall and camping on frozen lakes in the winter. He also knew the wilderness next to Voyageurs National Park was under threat from pollution resulting from sulfide-ore copper mining — mining hadn't actually started, but mineral leases had been granted. And so while undergoing intensive chemotherapy treatment, Joseph started writing to elected officials, including President Obama, asking them to exclude the Boundary Waters watershed from mining. As soon as he had a weeklong break in his treatment, he traveled to Washington, D.C., to lobby Congress.
"I didn't have much stamina or energy," he recounted in a recent interview. "My hair was in the process of falling out. I wasn't feeling too great then."
A year and a half later, Joseph is "doing much better." His hair has grown back, and he goes to the hospital only about once a month for chemotherapy sessions. He can do most of the things he could do before he got sick. That includes going to his favorite place. His trips are not as carefree as they used to be. He is now acutely aware of the need to protect the wilderness he loves, but he also knows now how difficult it is to protect it. And so he keeps writing blog posts and giving speeches as he did a couple of months ago, sharing the stage with former Vice President Walter Mondale. "Getting the word out there to as many people as possible is probably the most important thing that we can do," he said.
And it worked. A week after I spoke with Joseph, the Obama administration announced it would not renew two mineral leases right next to Boundary Waters and would take steps to exclude key parts of the watershed from new mineral permits.
Reached by phone afterward, Joseph said he was "overjoyed" but also cautiously optimistic because the decision does not mean the area is permanently protected from mining. He intends to continue speaking and writing about the importance and fragility of the Boundary Waters and collecting signatures to show public officials that people don't want mining to threaten this beloved ecosystem.
Fighting the Odds
For almost five days, Yosemite National Park rangers and other rescuers had searched for the small plane that had crashed in the nearby mountains amid one of California's worst snowstorms on record. They had braved blizzards on snowshoes, driven a snowcat up the mountain and scoured the area with a helicopter when the weather cleared. By then, there was little hope that any of the plane's occupants would have survived both the crash and the consecutive days of subzero temperatures. Still, the rescuers refused to give up. Search and rescue ranger John Dill kept poring over maps and analyzing flight data.
On the morning of Jan. 8, 1982, he had narrowed the search area to a strip of wilderness near the 12,057-foot White Mountain. A helicopter headed that way, and that morning, rescuers spotted a small section of the plane sticking out of the snow. The helicopter dropped off two rangers on the ledge. After digging frantically, one of them heard a muffled cry inside the plane. It was 10-year-old Donnie Priest. His mother and stepfather had died on impact, but miraculously, he had survived. Donnie was airlifted to a hospital where doctors were forced to amputate his frostbitten legs. A few months later, the boy walked on new prosthetic legs to throw the first pitch on the Oakland A's season opener.
Donnie Priest went on to compete in both wrestling and waterskiing, and in 2007, he returned to the site of his crash with Dill and others who rescued him 25 years earlier. He now works at a business that outfits prosthetics for new amputees and credits his rescuers for inspiring him to dedicate his life to helping others.
"They taught me what it means to risk everything to save others," he said. "I can never pay them back, so I pay it forward."
Getting His Life Back on Track
Jose Rodriguez had gotten out of the military to be with his family. He was deployed during his first daughter's first steps and didn't want to miss any of his younger daughter's milestones. But his return to civilian life was not easy. He struggled with post-traumatic stress disorder and tried to cope with alcohol. His marriage didn't survive.
"I lost my family because of it," he said. Almost a decade after retiring from the military, he finally decided to follow his doctor's recommendation and enrolled in an in-patient program to sober up.
He came out with a new resolve, and the veterans group The Mission Continues sponsored his application for a fellowship with National Parks Conservation Association. Working with NPCA made sense for Rodriguez. A native of Homestead in South Florida, he had grown up right near Everglades and Biscayne National Parks. He missed being outdoors, and he wanted to keep serving. During his six-month stint, he helped rebuild camping platforms in Everglades, enlisting his brother along the way, and cleared brush in Dry Tortugas National Park. In the process, he met with Park Service construction managers and engineers, making connections that will be valuable to his new career. He is now going to school full-time to pursue a degree in construction management and plans to continue volunteering in national parks whenever the occasion presents itself. He credits his work in parks with helping him find balance and a renewed focus.
"It got me back on track," Rodriguez said.
Finding a Place to Heal
After his wife died of tuberculosis and several of his business endeavors failed, Canadian-born Galen Clark headed to California in hopes of striking gold. It was 1853, and by then, independent prospectors often struggled to eke out a profit. So instead Clark found himself surveying land for a mining company, the Mariposa Ditch Company. The work took him along the South Fork of the Merced River, in the southern part of what is now Yosemite National Park, as well as into Yosemite Valley. He became fascinated with big trees, including the sequoias of the area he would later name the "Mariposa Grove."
But in 1856, the 42-year-old Clark suffered a severe lung hemorrhage, and it looked like he might soon meet his wife's fate. His doctor told him he could "die at any hour." He decided to head for Yosemite's mountains "to take my chances of dying or growing better, which I thought were about even." He recovered enough to build a log cabin in the meadows of Wawona and started guiding visitors to the area's wonders while advocating for their protection. In 1864, President Abraham Lincoln granted that wish by transferring Yosemite Valley and Mariposa Grove to the state of California for public use. When officials looked for a guardian to administer the land grant, Clark was the obvious choice. He would remain in the position for the next 16 years until changing politics led to his temporary replacement. He was reappointed in 1889, just before Yosemite became a national park in 1890, and stayed put until 1897 when, then 83 years old, he officially retired.
He kept guiding tourists in Yosemite and dug his own grave near Yosemite Falls, planting sequoia saplings from his beloved Mariposa Grove. On March 28, 1910, he died at his daughter's home in Oakland, California. That was four days before his 96th birthday and more than five decades after his doctor had predicted his imminent demise. As for the saplings he planted by his tomb, they have now turned into majestic trees that you can still see today at the Valley Cemetery.
Living and Challenging History
At the age Clark retired, Betty Reid Soskin had not yet embarked on her career as a park ranger, though she had already lived a full life. She was born in Detroit after her family had to flee New Orleans because her father faced retaliation for daring to call a white man by his first name, flouting the Jim Crow rules that were prevalent at the time. The family did return to Louisiana, but a few years later they had to evacuate again after the devastating floods of 1927. They eventually moved to Oakland, California, and in 1942, Soskin secured her first job there as a clerk for a segregated African American boilermakers union.
Leaving the South didn't spare her from suffering discrimination. When she and her husband moved to a white suburb of San Francisco, for instance, they received death threats. Soskin decided to become more active politically, joining the Civil Rights movement in the 1960s and working as a community activist and a field representative for members of the California legislature. It was in that position that she got involved in the planning for what is now the Rosie the Riveter WWII Home Front National Historical Park.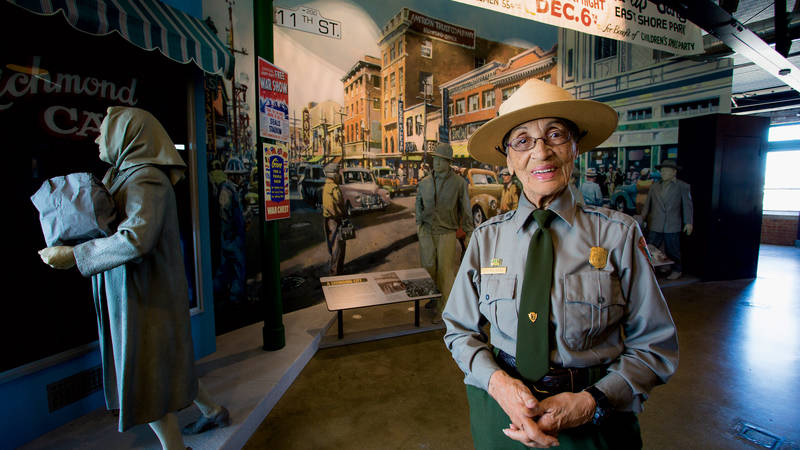 Magazine Article
Learning about the last century from the oldest ranger in the National Park System.
See more ›
She later became a consultant to the National Park Service, and in 2007, at the tender age of 85, was hired as a park ranger. Soskin brings her own experience of what it was like for a woman to work during World War II, but that experience is often at odds with the image conveyed by the character the park is named after.
"Rosie, for me, remains a white woman's story, with little relevance to my life," she wrote on her blog recently. Since the days of slavery, African American women had been forced to work outside the home, and World War II didn't have the impact for them as it did for white women. Bringing this kind of historical context to her talks and challenging visitors' preconceptions is what keeps her going.
"I've outlived my rage without losing my passion," she said a couple of years ago in an interview on National Public Radio.
Stay On Top of News
Our email newsletter shares the latest on parks.
Soskin was out of commission some time this summer after a robber brutally beat her in her own apartment. She used a self-defense move to escape her assailant's hold and barricaded herself in her bathroom while he stole valuables, including a commemorative coin President Barack Obama had given her last December. After a couple of weeks, she was back at work, and two days later, Interior Secretary Sally Jewel handed her a replacement coin.
The oldest full-time park ranger in the country, the 95-year-old has no plans to slow down. And she continues to wear her park ranger uniform both on and off the job.
"I do wear my uniform at all times," Soskin said in an interview with the Department of Interior, "because when I'm on the streets or on an escalator or elevator, I am making every little girl of color aware of a career choice she may not have known she had."
About the author
Nicolas Brulliard

Senior Editor

Nicolas is a journalist and former geologist who joined NPCA in November 2015. He writes and edits online content for NPCA and serves as senior editor of National Parks magazine.