Glaciers around the world are melting due to climate change, but in one U.S. national park, approximately one-quarter of the land is still covered by these slow-moving masses of ice.
Glaciers can be found in nine U.S. states, but with about 100,000 of them — only 600 or so named — Alaska can rightly claim the "glacier state" title. And in Alaska, no place equals Wrangell St. Elias National Park and Preserve for its abundance of these icy formations.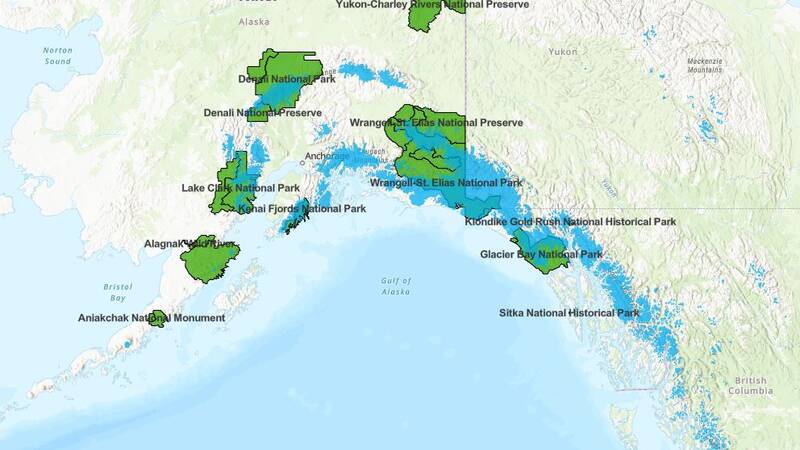 National Park Glaciers
See a map showing the glaciers of the world and where they exist within U.S. national park sites (most notably in Alaska).
See more ›
Glaciers cover about 5,000 square miles — more than 25 percent — of the country's largest national park. The superlatives don't stop there. The park is home to North America's largest piedmont glacier, Malaspina Glacier, which is a type of glacier formed at the base of a mountain. It also boasts the longest valley glacier, Nabesna Glacier, which is about 80 miles long. Bagley Icefield, made of interconnected glaciers, is 127 miles long, 6 miles wide and up to 3,000 feet thick.
This icy landscape is not immutable. All over the world, rising temperatures are causing glaciers to melt at alarming rates. Scientists predict that Glacier National Park, which a century ago was home to 150 glaciers, could see its last glaciers disappear within the next 15 years. In Alaska, 95 percent of glaciers are retreating. That means just a few glaciers are stable or actually advancing. One of those is Wrangell St. Elias' Hubbard Glacier, which, at 75 miles long, is North America's longest tidewater glacier — a type of glacier that ends in the sea and breaks off into icebergs. (Hubbard actually originates in Canada's Kluane National Park and Reserve before crossing into Wrangell St. Elias.)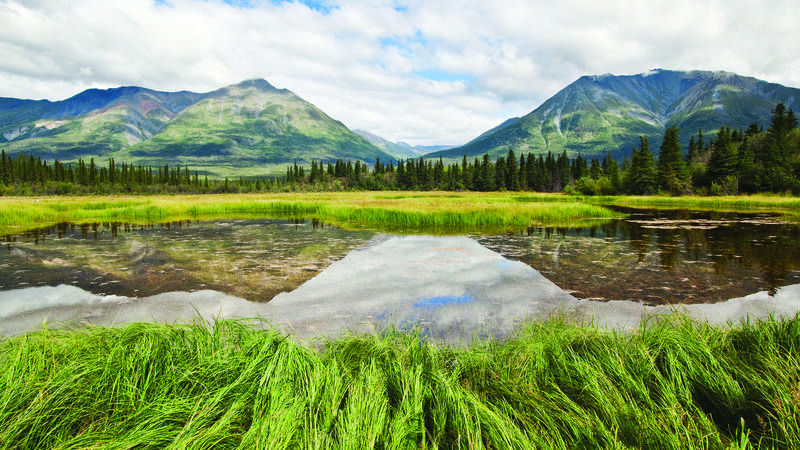 Magazine Article
Explore America's last frontier in Wrangell-St. Elias National Park & Preserve
See more ›
To form, glaciers need abundant snowfall, cool summers and a slope that allows the ice to flow. As snow accumulates, the lower layers compress and the snow re-crystallizes, first turning into firn, an intermediate state between snow and ice. As the process continues, ice crystals can grow up to several inches in length. Once the ice pack is thick enough, it starts to become more flexible, and gravity can make it flow. If a glacier loses more ice through melting than it gains, it retreats. If it accumulates more ice than it loses, it advances.
In the case of Hubbard Glacier, rising temperatures are actually causing increased precipitation, which in the high St. Elias Mountains turns into snow. This positive balance means that Hubbard advances about 80 feet a year. Some glaciers move a lot faster. Peters Glacier in Denali National Park has moved as fast as 150 feet a day thanks to a combination of water and pulverized rock that acts as a sort of conveyor belt.
Stay On Top of News
Our email newsletter shares the latest on parks.
Wrangell St. Elias' glacial landscapes may seem barren, but the park's glaciers give birth to many of its rivers and streams, including the Copper River, which forms the park's western border. The glaciers also support a variety of plant and animal life. The Malaspina Glacier carries so much silt on its edges that plants and even trees grow on it.
Hiking on a glacier is tricky and potentially dangerous. The National Park Service advises that hikers use crampons, ropes and ice axes when crossing a glacier and recommends that visitors discuss their plans with a park ranger or hire a guide.
About the author
Nicolas Brulliard

Senior Editor

Nicolas is a journalist and former geologist who joined NPCA in November 2015. He writes and edits online content for NPCA and serves as senior editor of National Parks magazine.