Last week, the Department of the Interior took a major step in protecting land sacred to Blackfeet Nation by canceling oil and gas leases on more than 32,000 acres near Glacier National Park. Kendall Edmo is one of the advocates who fought for this important victory — for her ancestors and her children.
To stand in the Badger-Two Medicine area near Glacier National Park — an enchanting land with breathtaking mountain backdrops and clear, flowing rivers — is to look back in time. This land, teeming with diverse wildlife, is the sacred cradle of Blackfeet culture and home to many of the tribe's origin stories.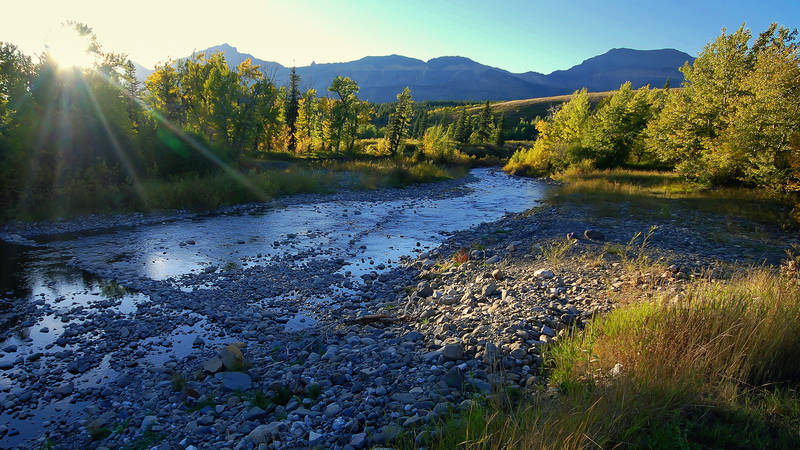 Press Release
Choosing wild lands over oil and gas development, the Department of the Interior retired 32,254 acres of leases in the Badger-Two Medicine area, adjacent to Glacier National Park in Montana.…
See more ›
Amid this beauty, however, the Bureau of Land Management illegally granted multiple oil and gas leases in 1982, without tribal consultation. If developed, these leases would forever scar the land and disrupt important ecological zones. The Blackfeet Nation and its conservation partners, including NPCA, have been fighting for decades to cancel these leases and permanently protect the land for future generations.
Among those engaged in the fight is Kendall Edmo, cultural and conservation resources field technician for the Blackfeet Tribal Historic Preservation Office. With a background in environmental studies, she was called to use her education in the community she grew up in. Along the way she realized that the Badger-Two Medicine is home to more than pristine waters and abundant wildlife. It is a human landscape filled with Blackfeet activity.
"As a child, I wasn't raised with traditional Blackfeet ceremonies. However, I did grow up riding horses and I lived out in the country," she remembered. "Some of my best memories are of racing on the flats and riding through the trees with my two younger sisters. I think I developed my close relationship with this land by experiencing it on horseback."
Edmo's interest in protecting the Badger-Two Medicine has provided a direct connection to Blackfeet history. Some of her ancestors were prohibited from practicing their beliefs, due to government efforts to eradicate Blackfeet culture and language. Blackfeet would escape into the Badger-Two Medicine wilderness to practice their sacred, yet banned, cultural traditions and to express their spirituality in secrecy. In the face of oppression, the land kept their culture alive.
In 1982, before Edmo was born, the U.S. government leased nearly the entire Badger-Two Medicine area to oilmen for $1 an acre. After years of fighting this decision, on the ground and in the courtroom, the Blackfeet saw the first promise of progress last fall, when the federal Advisory Council on Historic Preservation and the Department of Agriculture both advised that all remaining leases be canceled. On March 17, 2016, the Department of the Interior announced cancellation of a 6,200-acre oil and gas lease held by the company Solenex, noting that the lease was granted illegally more than 30 years ago. Then, just last week, the Interior Department retired another 32,000 acres of leases in an agreement with Devon Energy, protecting by far the largest remaining parcels that had been open to development. NPCA's partnership continues to work closely with Sen. Jon Tester (D-Mont), Interior Secretary Sally Jewell, federal land managers and the lease-holding companies to remove all remaining leases from the Badger-Two Medicine.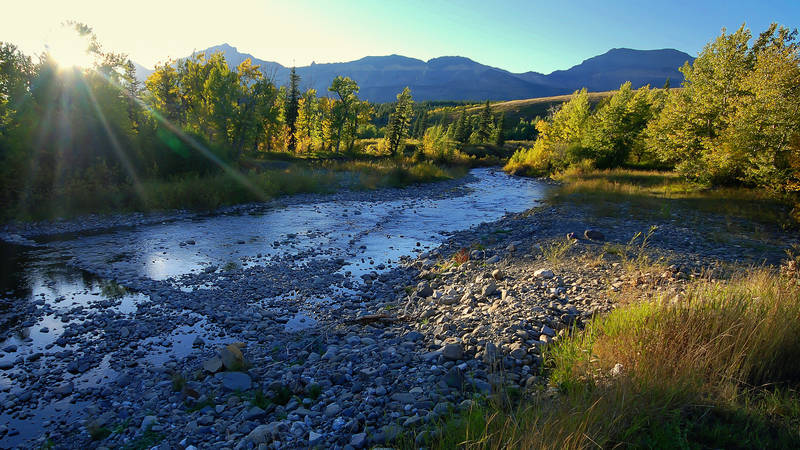 Blog Post
A development threat to the wild lands surrounding Glacier National Park is more than just a danger to the environment. It is an attack on a place of irreplaceable cultural…
See more ›
According to Edmo, "Listening to Sally Jewell as she canceled Devon's energy leases made me feel hopeful for the future of the Badger-Two Medicine and for other native communities fighting for their sacred lands. My Blackfeet ancestors lived in a way that recognized and understood how a balanced ecosystem was key to their survival. I feel like it is my responsibility to help protect this land and the ecological knowledge because we still depend on the natural world for survival."
Given that the region is surrounded on all but one side with protected lands, including Glacier National Park, it has a healthy environment that has allowed for wildlife to flourish. If these important ecological corridors are disrupted due to oil and gas drilling, an important place for Blackfeet culture will also be put at risk.
Preserving the sanctity of this special place from destructive drilling practices will have an impact that resonates beyond the Badger-Two Medicine area. The recent fight by the Sioux Indians and advocates at Standing Rock to defend sacred lands from the proposed Dakota Access Pipeline is another example pitting development against indigenous rights. Canceling and retiring the remaining oil and gas leases in the Badger-Two Medicine would send an important message and represent a tremendous step toward providing this profoundly important landscape and other native lands with the protection they warrant.
With support from the local community, both native and non-native, Edmo has dedicated the last two years to fighting these illegal oil leases.
"I am learning what qualities make an effective leader in my community. If it wasn't for the support of my mentors, my family and friends, as well those in the conservation community, I don't think I would be on this career path," she said. Edmo names Blackfeet Historic Preservation Officer John Murray as her mentor. "John was the first person I interviewed when I became involved. Because of him, I more clearly understand how Blackfeet culture is intertwined with the landscape."
Stay On Top of News
Our email newsletter shares the latest on parks.
Edmo spent much of October away from her children, sharing "Our Last Refuge," a documentary chronicling the fight to protect the Badger-Two Medicine, with Montana audiences. Now back at home, Edmo recognizes there is much more work to do to protect native Indian land, but she remains hopeful, especially as support from conservation partners remains strong.
NPCA stands alongside Edmo, who noted, "My dream is that my children won't have to be fighting the same fight we are today. I want them to see the land as continuous — without bounds. I hope that the next generation will feel their rights to this sacred space."
About the author
Neena Mohan

Communications/Media Intern

Neena Mohan is communications/media intern at NPCA's Oakland, California, office. She currently attends UC Berkeley where she is studying environmental economics and policy and environmental science.