"Ice Age Animals of North American" by Ian M. Lange/Mountain Press Publishing
Summer 2010
Buried Treasures
Just north of Las Vegas, a vast stretch of land entombs the richest Ice Age fossil beds in the Southwest. Could this become America's next national monument?
Before giant casinos dominated the Las Vegas landscape, there were giant animals: ground sloths the size of Volkswagen Beetles, Columbian mammoths with tusks up to seven feet long, American lions a third larger than today's African lions. It was the Pleistocene era in what is now the southern tip of Nevada—when, between 2.5 million to 10,000 years ago, ice ages waxed and waned, wildlife thrived, and the place we know as a scorched, over-developed desert actually teemed with meadows, marshes, and burbling brooks.
It wasn't until the 1930s, when people began diverting all that water to meet the needs of a rapidly sprawling city and the land began to transform. But something special lay buried beneath: Just behind Las Vegas' northern suburbs, under roughly 25,000 acres of Bureau of Land Management (BLM) property known as the Upper Las Vegas Wash, or Tule Springs, are layers of sediment that span a 200,000-year period—and a shocking abundance of Ice Age fossils to match. It's the only patch of land left in the Southwest, and perhaps the entire United States, that tells such a complete story of the Pleistocene.
For decades, new housing developments kept pushing suburbs outward. And in 1998, the Southern Nevada Land Management Act was signed into law, allowing the BLM to sell public land within a specific boundary around Las Vegas. Money from those sales goes back into Southern Nevada to fund things like parks, trails, conservation initiatives, and even environmentally sensitive land acquisitions. Ironically, this fossil-rich area fell within those boundaries, and in 2003, the BLM began the process of selling the land to private developers.
That is, until the locals caught wind.
Jill DeStefano, a retiree who moved from Florida to Northern Las Vegas in 2006, was immediately drawn to the beautiful desert land behind her neighborhood, but never thought twice about trying to protect it. "I figured someone would build all over those hills someday," she says, "because in Southern California where I grew up, that's just what people did."
But before the BLM could sell off any land, the agency had to do two things: complete an environmental study and offer a public comment period. So in August 2006, the BLM held a public meeting. That's when DeStefano learned of the precious fossils buried in her backyard, and decided they had to be protected. "How can you even think of covering up something so valuable?" she says. "It's like a mini-Grand Canyon out there. You can't just fill it in."
She began speaking up in community meetings, urging her neighbors to oppose the development. But not everyone was so optimistic; one man went as far as to tell her that it was a hopeless cause and she should just "go home and play bridge." But DeStefano pushed on, creating the nonprofit Protectors of Tule Springs—a small but feisty group of women who humbly describe themselves as "little old ladies in white tennis shoes" and brand themselves with khaki hats and safari shirts. They met with local elected officials and convinced 10,000 residents to sign a petition against the land sale, and persuaded nonprofit groups like NPCA that this land was worth protecting. Armed with a report from a well-regarded National Park Service paleontologist, NPCA and the Protectors of Tule Springs invited mayors, city council members, county commissioners, and members of Congress on private tours of the site, fearlessly driving up and down steep desert terrain to give lawmakers an appreciation of the land.
To their astonishment, almost everyone they recruited signed on. Las Vegas, North Las Vegas, Clark County, and the Southern Nevada Paiute tribe (whose land connects to Tule Springs) all drafted resolutions asking Congress to designate the area a national monument. And it's a good thing, because Tule Springs needs all the friends it can get. Without adequate staffing to patrol land, like the fossil-rich area, BLM agents can't enforce laws meant to protect the land—like prohibitions against all-terrain vehicles (ATVs). "They've spent a fortune on fencing and other efforts to keep ATVs out," DeStefano says. "But one mammoth site had ATV tracks within ten feet of it. So who knows what these vehicles have run over, or the destruction they've caused?"
The solution? Hand it over to the Park Service. Turn it into a national monument, so the land achieves higher conservation status. Open it up to the public as a place to hike, learn, and escape city life. Create a visitors center and museum where park rangers can paint stories of the Pleistocene through fossils dug up and displayed on site. Allow visitors the chance to see researchers in action at active excavation sites.
This is, after all, where radio-carbon technology was born—an advanced method of dating fossils and artifacts. That breakthrough came in the 1960s, when the National Science Foundation sent an army of paleontologists, archaeologists, and geologists to Tule Springs to answer a single question: Were our ancestors cruising around with Ice Age mammals? Despite massive excavations, chronicled by National Geographic, scientists were never able to prove any interactions, and the Upper Las Vegas Wash simply faded into the background. "They packed up their tents, literally and figuratively," says Lynn Davis, program manager for NPCA's Nevada field office. "The area was all but forgotten."
Until 2003, when the BLM directed a team of paleontologists and geologists from California's San Bernardino County Museum to aid in their environmental study. In just six months, the team discovered 500 surface-level fossil sites—likely just a fraction of the wealth of fossils underneath—that revealed everything from camels to cottonmouth snakes, sparking questions much more complex than whether or not the land should be developed: How did the animals change over time? How many were there, and were those populations starting to diminish before the mass extinctions, or did it happen suddenly? A popular older theory proposes that an asteroid or some other explosion led to many of the species' demise, but Kathleen Springer, a geologist and senior curator leading the team, is skeptical, and eager to keep digging for answers. And that means looking beyond the obvious.
"Anybody can trip over a tusk," she says. "But we'll actually collect a bunch of dirt, bring it back to the museum, and wash it through little screens until we end up with stuff that looks like kitty litter, which we pick through for microfossils. That's how we find things like rodents and reptiles and amphibians and birds, and how we've expanded our knowledge of what's out there—because forty-five years ago, they weren't looking for this stuff."
It's the kind of knowledge that could shed light on microenvironments today, especially those threatened by global warming. There are clues, too, in the most basic laws of nature. "Gravity worked the same way two million years ago," Springer says. "Rain fell from the sky, just as it does today. We can use rocks to learn the story of streams in the past, and then look at modern streams to see how they flood and flow. We can think about how these Ice Age animals suddenly went extinct, and what that tells us about how wildlife might react to global warming today. You can start to make inferences from modern biology and the Pleistocene animals that have been long dead."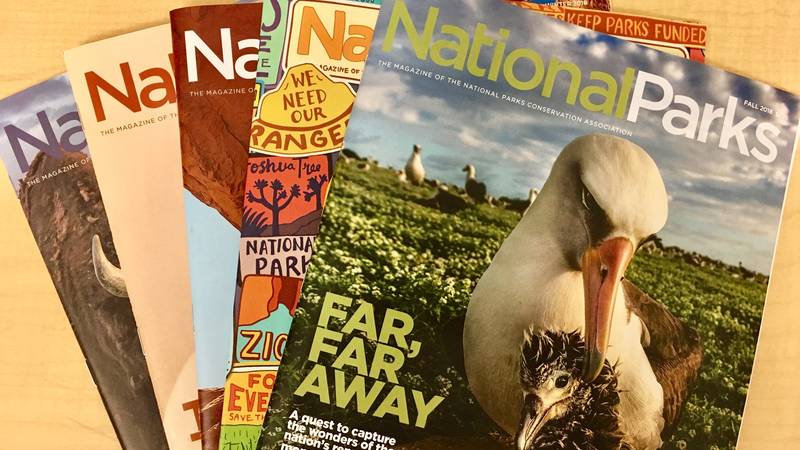 Subscribe to
You can read this and other stories about history, nature, culture, art, conservation, travel, science and more in National Parks magazine. Your tax-deductible membership donation of $25 or more entitles…
See more ›
To aid their research, which is currently being funded by a five-year grant from the BLM, Springer's team created the Paleontological Site Stewardship Program, where citizens can shadow scientists in the field and eventually become stewards of the land. The program includes training, fossil hunting, and access to a paleontology hotline to report new discoveries. Achieving the status of a national park unit, Springer says, could help support these collaborative efforts.
Thankfully, the national monument idea has gained support from an impressive mix of allies: local residents, state legislators, national lawmakers, nonprofit groups, and even the Air Force, which controls the air space above Tule Springs. Legislation was expected to be introduced this summer.
"Las Vegas is set in this incredibly beautiful valley," Springer says, "but the city has sprawled in all directions, paving over wetlands and marshes from the not-too-distant past and replacing them with a concrete jungle. This is the last patch of land that entombs this important fauna. And that's why we have to preserve it."