These new parks will preserve 1.8 million acres in one of the largest and most diverse protected areas of desert lands in the world.
Today, President Barack Obama created three long-awaited new national monuments in the California desert. These sites—the Castle Mountains, Mojave Trails, and Sand to Snow National Monuments—will preserve a staggering 1.8 million acres of fragile and spectacular lands, from Joshua tree forests to colorful canyons to dramatic mountain ranges to bighorn sheep and desert tortoise habitat.
I have been working for eight years with NPCA members and supporters, communities, and other local and national organizations to protect these precious lands, and today's announcement is a huge environmental victory for all Americans. We could not have achieved this progress without tremendous community support and persistent national advocacy.
Here are five reasons I will be celebrating today's new monuments, and why I hope you will, too.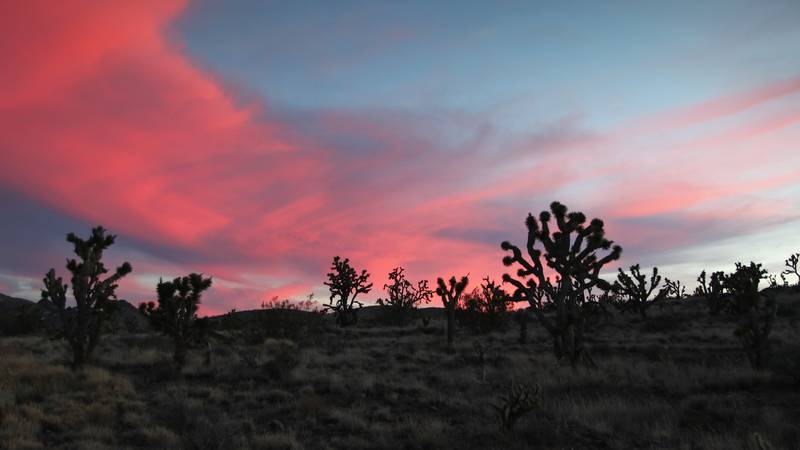 Press Release
Protecting spectacular and unique desert lands, President Obama designated three new national monuments today: Mojave Trails, Sand to Snow, and our country's 410th national park site, Castle Mountains National Monument.
See more ›
1. Today's designation is the single most significant action to preserve the California desert in more than 20 years. These monuments are the biggest conservation achievement in this part of the country since 1994, when the California Desert Protection Act established Death Valley and Joshua Tree National Parks and Mojave National Preserve. The lands designated by the president today encompass globally important features and resources that have been vulnerable to industrial development.
2. Today's new monuments, combined with existing national park lands in the region, now form one of the largest desert conservation reserves in the world. These three monuments represent previously unprotected spaces between existing national park lands, connecting critical ecosystems and wildlife habitat. Conserving large landscapes on this scale allows wildlife room to migrate and connects high-elevation and low-elevation habitats, providing species like mountain lions and Joshua trees maximum opportunities to respond to a changing climate.
3. These are some of the most beautiful and culturally significant lands in the California desert. The new monuments will preserve some of the finest Joshua tree, pinion pine, and juniper forests in the region, along with a rainbow-hued canyon dating back to the Pleistocene Epoch, ancient fossil beds, sacred Native American sites and trails, unusual geological formations, and the most botanically diverse mountains in the contiguous United States.
4. Desert tourism contributes millions of dollars and thousands of jobs to the region's economy. Joshua Tree and Death Valley National Parks and Mojave National Preserve added $194 million to local economies and supported more than 2,700 jobs in 2014 alone. These new national monuments will bring even more attention and visitors to the area, supporting local businesses and services.
5. These new monuments represent an enormous win by the people, for the people. Local communities, businesses, and organizations have worked for years to preserve these critical lands, and tens of thousands of NPCA members and supporters have petitioned the president and their members of Congress to make these monuments a reality. This is not just a win for the desert—it's a win for the people who live in and love this unique part of the country.
Stay On Top of News
Our email newsletter shares the latest on parks.
Note: Castle Mountains National Monument will be managed by the National Park Service. Mojave Trails National Monument will be managed by the Bureau of Land Management, and Sand to Snow National Monument will be managed jointly by the Bureau of Land Management and the U.S. Forest Service. NPCA and its supporters have been leaders in protecting all of these public lands, which together represent enormous benefits for national park visitors, wildlife, and local communities.
About the author
David Lamfrom

Vice President of Regional Programs

David, the Vice President of Regional Programs, uses his passion and knowledge of our natural, cultural and historical resources to inspire others to learn about and protect our national parks.