© RYAN CURRAN WHITE/PARKS CONSERVANCY
Winter 2015
Art on the Rock
Chinese Artist Ai Weiwei explores freedom and creative expression using Alcatraz as his canvas.
Some strange things are happening on Alcatraz.
Punk rock and poetry echo from vacant cells. Chipped sinks overflow with porcelain flowers, Legos cover a concrete floor, and a Technicolor dragon floats behind reinforced doors. In the main cell house, hundreds of free hands scrawl messages of hope to prisoners around the world.
Through April 2015, this stark outcropping in San Francisco Bay—a part of the Golden Gate National Recreation Area—is home to an installation by Chinese artist and activist Ai Weiwei. Through sculpture, mixed media, and sound recordings, @Large: Ai Weiwei on Alcatraz takes on an ambitious range of related themes: freedom of expression, imprisonment, the responsibilities of citizenship, and the role of transparent communication in a just society.
Ai Weiwei, 57, is no stranger to the subject matter. A vocal and irreverent critic of the Chinese government, Ai has been censored, surveilled, detained, and beaten by authorities in his home country. He has been prohibited from leaving China since 2011, following an 81-day stint in solitary confinement and subsequent conviction on a charge of tax evasion that he and his supporters say is trumped up.
The seven works in @Large explore Ai's experiences criticizing authority, located within a global mosaic of activism. One installation offers pixelated portraits of political prisoners from 33 countries, including the United States, rendered in Legos pieced together on the floor. Next door, a suspended Chinese dragon kite snakes between pillars, panels in its body carrying quotations from imprisoned activists.
Elsewhere, sound recordings play in a dozen cells. Stepping into each cell, visitors are immersed in Nigerian musician Fela Kuti's signature AfroBeat, then Martin Luther King, Jr., speaking out against the Vietnam War, then a protest song by Russian punk band Pussy Riot. Out in the corridor, the dissonant recordings blend into a melee representing more than half a century of creative political expression from around the globe.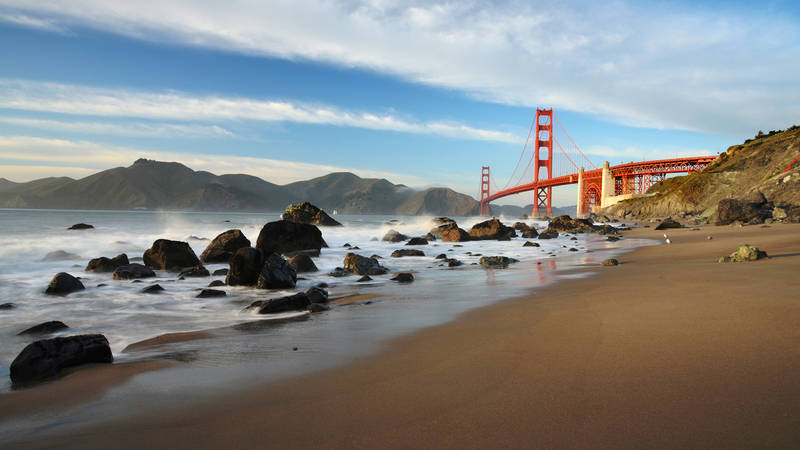 Park
This recreation area encompasses more than two dozen natural, historic and cultural sites in and around the city of San Francisco. Experience the isolation of Alcatraz, America's first "supermax" prison.…
See more ›
@Large is intricately woven into its iconic prison setting, though the artist behind it has never set foot on the island. To bring the exhibit to life, Ai partnered with the FOR-SITE Foundation, a group promoting place-based art. Its director, Cheryl Haines, visited Ai in Beijing. She brought detailed notes on the size and feel of Alcatraz's salt-worn structures, which Ai relied on to create the exhibit. The works were produced by artists and volunteers in Ai's Beijing studio and on Alcatraz, who took painstaking care to preserve the island's fragile natural and cultural resources.
Despite the logistical challenges, FOR-SITE, the Park Service, and supporting partner, the Golden Gate National Parks Conservancy, were motivated by the extraordinary potential of bringing Ai's art to a place so rich with social meaning.
"The National Park Service preserves so many places that help tell the story of our country. We're always looking to tie our history to contemporary issues," says Kate Bickert, director of Park Initiatives and Stewardship with the Golden Gate National Parks Conservancy. "Ai Weiwei takes on themes that are relevant to the history of Alcatraz in a way that encourages visitors to open a conversation about the world we live in now."
The final work in @Large at first seems the most mundane: wooden tables, ballpoint pens, and a shelf holding stacks of postcards. Visitors are invited to write a message on a card, preaddressed to a prisoner whose story is told elsewhere in the exhibit. It's an anachronistic, visceral way for each visitor to hook into the ongoing narrative of international human rights at the center of @Large.
And it's where the conversations begin. Parents and kids talk about what it would be like to be locked away for speaking your mind. Strangers sit down to the same table and share their reactions. "People ask each other, 'Who are you writing to and why?'" says Bickert.
Beyond conceiving the intricate works that make up @Large, Ai Weiwei has accomplished something remarkable: He has fashioned a space for unguarded and sincere public discussion from the remnants of a federal prison.
"That's the great value of working with creators," says Howard Levitt, spokesperson with the Golden Gate National Recreation Area. "They see the world in a different way."
About the author
Julia Busiek

Author

Julia Busiek has worked in national parks in California, Colorado, Hawaii and Washington state. She lives in Oakland, California.