Dedicated Texans will put on their work gloves this winter to help a tree we've been loving to death
The longleaf pine is a tall, stately tree that once covered some 90 million acres of land from Virginia to Florida to my home state of Texas. The tree gets its name from its unusually large needles, which can grow up to a foot and a half long—the longest of any eastern pine. Standing among these majestic conifers is a special experience. The thin trunks and sparse lower branches offer scenic views through the forest, with tufted seedlings along the ground and a canopy of greenery overhead. People describe longleaf pine forests as "park-like"—though I'd call them just plain beautiful.
As you can probably tell, I have a thing for these trees. Usually, it's because when I'm around them, I'm in one of my favorite places in the world: Big Thicket National Preserve, a lesser-known national park site spread across seven different counties in East Texas. Over the last five years, I've helped to plant thousands of longleaf pines in different parts of the preserve, and this year I have an even bigger challenge at hand: helping to plant 100,000 of them in a single planting season.
It's no coincidence that NPCA and park officials are planning this "Centennial Forest" in 2016, on the 100th birthday of the National Park Service. It's part of a year-long series of events in which the Park Service hopes to rally a million volunteers to help their public lands, and NPCA hopes to engage a new generation of park advocates to become stewards for the parks through its Find Your Voice initiative.
It's also a forest that Texas really needs, that will have positive effects throughout the preserve. Longleaf pines were once one of the most dominant trees in the area, but now only about 3 to 5% of their habitat is still intact. These dense, rot-resistant trees have been a staple of the logging industry for centuries. As a result, roughly 98% of the longleaf pine ecosystem has been logged for commercial timber and used to produce turpentine over the last 250 years. We've loved these trees to death, and the loss is significant.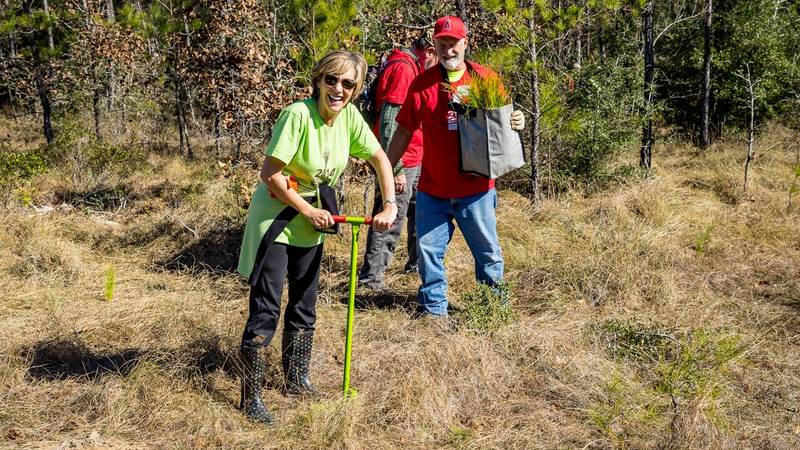 Blog Post
It's the 100th birthday of the National Park Service, with opportunities to celebrate the parks throughout 2016. From planting a "Centennial Forest" in Texas to counting species of plants and…
See more ›
It's not just people that feel the loss. Many rare and endangered species make their homes in longleaf forests, including the red-cockaded woodpecker, the Louisiana pine snake, and the Texas trailing phlox. Bringing back the longleaf pine means a better future for a variety of animals and plants.
Getting these 100,000 trees in the ground will be no small feat, however. NPCA began organizing these planting events back in 2011 in partnership with the Magnolia Garden Club, the Houston Garden Club, the River Oaks Garden Club, and the Big Thicket Association. Our first year, we planted more than 3,000 trees with just 30 volunteers, and the event has steadily grown in size. Over the course of five years, we've planted about 50,000 trees overall—an accomplishment that makes us all proud. This year, the park will host five weekends' worth of events instead of just one. But that's still twice as many trees as we've planted since 2011!
Can we do it? I sure hope so. We're reaching out to students and scouts, conservationists and friends. Over the years, I've enjoyed watching some of the same wonderful people show up to donate their time and plant a gift that will live on and enrich the preserve for hundreds of years.
One of those people is my son. He came with me to help one year when he was 12. Now he's almost 16 and over 6 feet tall. We've been able to watch the trees grow as he's grown—and he still thinks of them as "his" special trees. That's one more reason I'll be out in my work gloves and my NPCA T-shirt this month, making my favorite park even better.
Learn more about the Centennial Forest on the Big Thicket National Preserve website. Contact NPCA's Texas Regional Office at 214.370.9735 or the Big Thicket Visitor Center at 409.951.6700 to sign up to volunteer. Learn about other opportunities to get involved around the country as they become available on our Find Your Voice events page.
About the author
Erika Pelletier

Associate Director, Texas

Erika is the Associate Director of the Texas and Oklahoma Regional Office.