COURTESY OF THE OBATA FAMILY
Summer 2013
Wood Blocks & Water Colors
Painter Chiura Obata combined Eastern and Western techniques to capture Yosemite in a new light.
June 1927. Painters Chiura Obata and Worth Ryder stuff a Model T Ford with 14 boxes of food, fishing equipment, a tent, two beds, two suitcases, a large bucket of water, painting materials, and a half-gallon bottle of sake. They set off on the Tioga Pass Road, then a rugged dirt route through Yosemite National Park, on a search. "Most people smile at us, thinking we are going to the mountains to find gold," Obata later wrote in a postcard to his wife, Haruko. Figuratively, that's not so far from the truth.
Ryder, a professor at the University of California, Berkeley, grew up hiking the Sierra Nevada and had invited Obata on the trip to find painting inspiration in the mountains. But Obata found much more than that.
They arrived just as the last of the snow surrendered to the grasses and wildflowers of summer. While Ryder negotiated the rocky mountain roads, Obata noticed everything: the towering trees, the colors of birds, the sky scrubbed clean of clouds. For nearly two months they traveled and camped, and eventually joined up with another artist friend, the sculptor Robert Howard. Every day, Obata hiked now-iconic trails alone, contemplated the vistas, and recorded them carefully with brush and paper. He was enamored with details and spent hours studying the tiniest flower or watching thunderheads steamroll across the sky.
"This morning I woke up at 2 o'clock and I saw the moon shining in the woods, on the river, and in the meadow," Obata wrote to his wife. "It evoked in me the days of the gods." Obata returned to San Francisco at the end of the summer with more than 100 new paintings and sketches, many of which would become the best work of his career. Some would become enduring images of Yosemite National Park. "It was the greatest harvest for my whole life and future in painting," he said.
By the time Obata arrived in the late 1920s, countless artists had already heeded the siren call of Yosemite's great landscapes. But Obata brought something new and different. He painted the familiar valleys and forests with Asian watercolor methods and the spiritual reverence for nature of his homeland, Japan. His art not only showed Yosemite and other Western landscapes in a new light, it also introduced Californians to Asian traditions during a time of profound racial strife. Though his work fell into obscurity after his death in 1975, a series of exhibitions and books have spurred a resurgence of interest in the last two decades. In many ways, Obata's art and teachings have never been more relevant.
Obata was a precocious youngster. By the age of seven, he knew he wanted to be an artist; by 14, he had moved from his hometown of Sendai to Tokyo to study art. There, he joined a movement of artists whose nihonga—Japanese-style paintings—preserved the aesthetics of traditional Japanese art while incorporating Western methods, such as atmospheric perspective and modeling. He became a skilled painter and, after winning a prestigious medal for his artwork, decided to pursue his career on a grander scale. In 1903, he boarded a steamship for the United States and found a home in San Francisco.
Meanwhile, national parks were already attracting artists, and Yosemite proved one of the most alluring. In the 1860s and 1870s, members of the Hudson River School, such as Albert Bierstadt and Thomas Hill, painted dramatic landscape scenes that helped turn Yosemite Valley into an American icon. In the early 20th century, Swedish-American Gunnar Widforss also immortalized the landscape—and many other national parks—in watercolor, becoming known as the painter of the national parks. And photographer Ansel Adams, who later became a friend of Obata's, launched a new artistic tradition in the park in the 1910s. By the time Obata arrived in 1927, the public viewed the grandiose landscapes of the Hudson River School as antiquated and stale, and fewer artists frequented the park despite increasing general visitation. Obata, however, brought new energy to art in the park.
"For American audiences, it was a very fresh way of looking at their landscape," says Kimi Kodani Hill, Obata's granddaughter and the family historian. "It helped Americans perceive their own parks with a fresh vision, and I think that remains today."
Instead of painting the grand, storied vistas of Yosemite Valley, Obata focused on the quiet details of the park, like a gnarled tree or a slice of granite flanked by the moon. Even his techniques were different. Obata painted in watercolors and sumi (black ink) on rice paper and silk, all of which added a contemplative quality to his work. His simple lines and bold washes of color captured the intimate beauty of the park rather than its grand theatricality.
"Unlike the 19th-century Hudson River School artists, Obata was less interested in overwhelming the viewer than in fostering a one-on-one communion with nature," says Timothy Anglin Burgard, curator in charge of American art at the de Young Museum in San Francisco. "In Obata's paintings nature is beautiful, but it's also precious. It's not so overwhelming that it's untouchable, or so timeless that it doesn't require our care and preservation."
Obata's reverence for nature was very much rooted in Zen philosophy. He thought of nature as dai-shizen, or Great Nature, reflecting his belief that it is an essential source of inspiration and peace for all human beings. He believed that nature deserves reflection, gratitude, and conservation, an idea that was nearly as radical to early 20th-century American thinking as the national parks were when first established.
"His idea was that Great Nature was something that transcends everything," says Burgard. "It transcends nationality; it transcends politics. His concept of Great Nature as a common ground that is shared by all cultures and that deserves respect and protection—not unlike the national park movement—seems more prescient with time."
In Obata's heyday, California was torn by the opposing forces of anti-Asian racism and Japonisme, a trendy fascination with Japanese art and culture. While Obata endured humiliation ranging from physical assaults to being spit on in the streets of San Francisco, his work attracted enormous public interest. And so did the talents of his wife, Haruko, who taught the art of ikebana, or Japanese flower arrangement. Throughout the coming years, they both performed countless public demonstrations of their respective arts in the Bay Area.
"Obata's work and the work of other artists helped demonstrate that the high culture of Asia has important relevance in helping us interpret and appreciate the beauty we find around us," says Mark Johnson, professor of art at San Francisco State University and director of the university's Fine Arts Gallery. "And it serves as a reminder that American culture is a web of ideas and influences that stem from diverse international roots."
In 1921, Obata helped found the East West Art Society in San Francisco to help Americans appreciate Asian culture. Fostering understanding between the cultures became an enduring theme in Obata's life, with nature a unifying subject that, he believed, could transcend cultural conflicts.
After his trip to Yosemite in 1927, Obata returned to Japan and organized the creation of 35 woodblock color prints of his work from California. Over the next few years, galleries in Berkeley, Honolulu, and Tokyo showed these works and others, and he gained a following. In 1932, the University of California, Berkeley, hired him, making him the first professor to teach Japanese art at the university level. Though he was small in stature and spoke in broken English, his presence commanded attention, and he soon became a favorite teacher. Obata taught more than brushwork. He often brought his students outside to record the changes of the seasons and encouraged them to go witness nature for themselves in the mountains.
"The class was on Japanese ink and brush technique, but what he was really teaching was how to see and how to appreciate nature," says his granddaughter. "For his students, this was a lifelong gift."
Still, Obata struggled with prejudice, and during World War II, the climate of intolerance burned hotter. In 1942, after the bombing of Pearl Harbor, the government incarcerated more than 100,000 Japanese-Americans—the majority of them U.S. citizens—across the West. Obata lost his job and his art-supply store when the government sent him and his family to Tanforan Racetrack, near San Francisco, and eventually to Topaz War Relocation Center in central Utah.
In the face of such cruelty, Obata proved a figure of resilience. Within a month of arriving at Tanforan, he helped organize an art school that eventually had more than 650 students. He also kept up with his own art, sketching scenes at both Tanforan and Topaz—some of the few eyewitness renderings of this ugly part of American history. In his teachings, he not only instructed in technique but urged his students to find hope in the natural world.
"Have we noticed the beautiful mountains surrounding us that have existed for thousands of years?" said Obata during a New Year's address in 1943 at the camp art school. "They show heaven and earth their greatness. They can't be moved no matter how many people try."
In 1945, Obata and his family were released from Topaz. The university reinstated him as a professor of art, and his wife resumed her work teaching ikebana in San Francisco. Obata continued to visit and sketch Yosemite in the early 1950s, exhibiting works throughout California. In 1954, two years after the U.S. government finally allowed Japanese immigrants to become citizens of the United States, the Obatas were naturalized. But they never forgot their love of Japan. After Obata retired from teaching that same year, the couple led tours of Japan to introduce Westerners to Japanese culture, hoping to prevent the mistreatment and prejudice they endured during World War II. In 1965, the emperor of Japan awarded the couple the Order of the Sacred Treasure, 5th Class, in recognition of their efforts to spread cultural understanding.
In the past decade, the Smithsonian, the de Young Museum in San Francisco, and Yosemite National Park have all held exhibitions of Obata's work; several of his paintings are now on display in the permanent collections at the de Young Museum and in the park's museum.
"Some of his pieces you could put on the wall today and no one would suspect they're 80 years old—they're that fresh and modern," says Jonathan Bayless, chief curator of the Yosemite museum. Prosperous mid-century America may not have embraced the prescient reverence for nature that Obata espoused, but now his message rings truer than ever.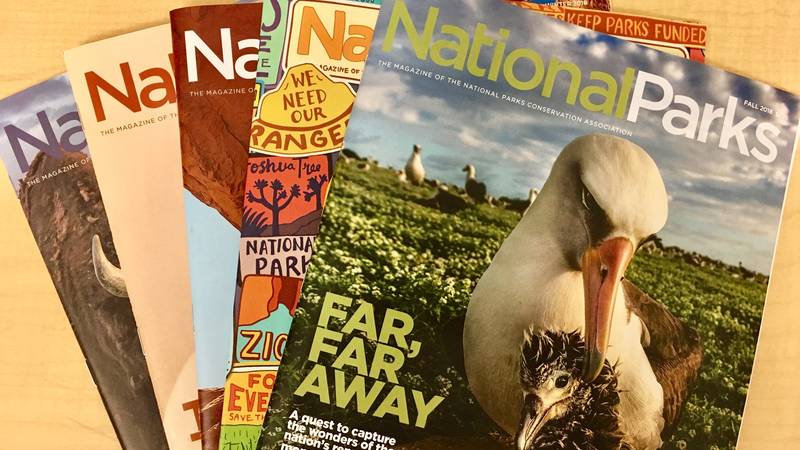 Subscribe to
You can read this and other stories about history, nature, culture, art, conservation, travel, science and more in National Parks magazine. Your tax-deductible membership donation of $25 or more entitles…
See more ›
"There was no environmental movement back when he was teaching, but his message clearly speaks to what we are dealing with today in trying to preserve the environment," says Kimi Kodani Hill. "His philosophies, just like John Muir's philosophies, echo to modern man as a way to learn from nature and have a feeling of gratitude toward nature—and therefore want to preserve it."
Later in life, in the 1960s, Obata expressed dismay over Americans' attitudes toward their abundant natural resources. He believed we take them for granted. To his credit, he inspired gratitude not only through his art but through his example. And he was particularly grateful for his time in Yosemite and his memories of fishing for trout in snow-melted streams and sitting by a campfire with a cup of sake in his hand. Perhaps it is this gratitude that still speaks to viewers through his paintings.
"Before turning in for sleep, Obata would bring forth his philosophies of life," wrote Robert Howard of the evenings they spent around a campfire in the park in 1927. "How to appreciate every minute of existence and time. How right it was to be happy, and cheerful, and productive. How wrong to shed tears, do nothing, and waste time and strength. That to be an artist was the best of all things."
About the author
Kate Siber

Kate Siber, a freelance writer and correspondent for Outside magazine, is based in Durango, Colorado. Her writing has appeared in National Geographic Traveler and The New York Times. She is also the author of "National Parks of the U.S.A.," a children's book.