Pullman honors the unique stories of railroads in America's industrial past, labor history — including formation of the first African-American labor union, urban planning and development of the country's first model industrial town.
Press Release
Groups honored for collaborative effort to guide future of Pullman National Monument
See more ›
In April 2015, shortly after Pullman National Monument was designated, NPCA and American Institute of Architects convened designers, planners, architects, engineers, economists and many community leaders and Pullman residents to envision the future for Pullman.
The result is a blueprint for action — Positioning Pullman — to guide the development of Chicago's only national park. This national award-winning vision has been adopted by the National Park Service, City of Chicago and others and as a result a new Visitor Center is underway, the Pullman transit station has been rebuilt and major street improvements are set to being.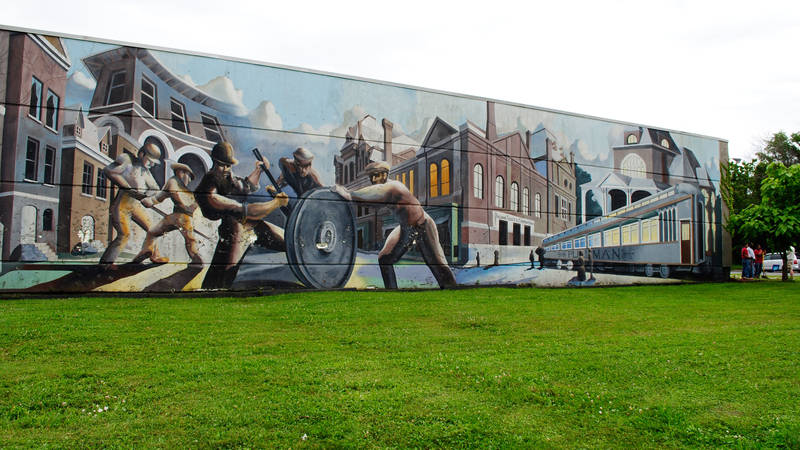 Park
Industrialist George Pullman launched the Pullman Palace Car Company on Chicago's South Side in the 1880s to manufacture rail cars, creating a company town with shops, schools and a church.…
See more ›
NPCA and Chicago Metropolitan Agency for Planning host the Pullman Transportation Committee, which brings nearly 10 transportation providers together quarterly to realize the great projects in the Pullman Transportation Plan. As a result we have new bike lanes on major streets, hourly train service to and from downtown Chicago, and a host of other improvements underway.
There are a lot of people at work, lending a hand to make Pullman National Monument a great urban national park.
Pullman by Train was a partnership event with NPCA, Metra, and the National Park Service that raised awareness that Chicago's national park was directly accessible by public transit. NPCA hosted five trains taking more than 300 visitors from downtown to the park and visitors learned about NPCA's role in establishing Pullman National Monument and developing a vision for the park's future.
Sign Up
Get Action Alerts
Want national parks in your inbox? Sign up for NPCA email updates to receive news, features, and opportunities to make a difference! You can unsubscribe at any time.