As the National Park Service enters its second century, the new administration and Congress have an extraordinary opportunity to provide needed and overdue resources to address the nearly $12 billion infrastructure repair backlog.
The National Park System is second only to the Department of Defense in the amount of infrastructure it manages, and maintaining and repairing that infrastructure requires resources — staff and materials that the National Park Service has not received from Congress.
Due to the long-term underinvestment in parks by Congress, the infrastructure repair backlog comprised of park roads, bridges, trails, historic structures, campgrounds and other facilities has grown to an all-time high of nearly $12 billion. Over half of the projects on the infrastructure repair backlog list are park road projects, such as the Arlington Memorial Bridge and the Grand Loop Road in Yellowstone National Park.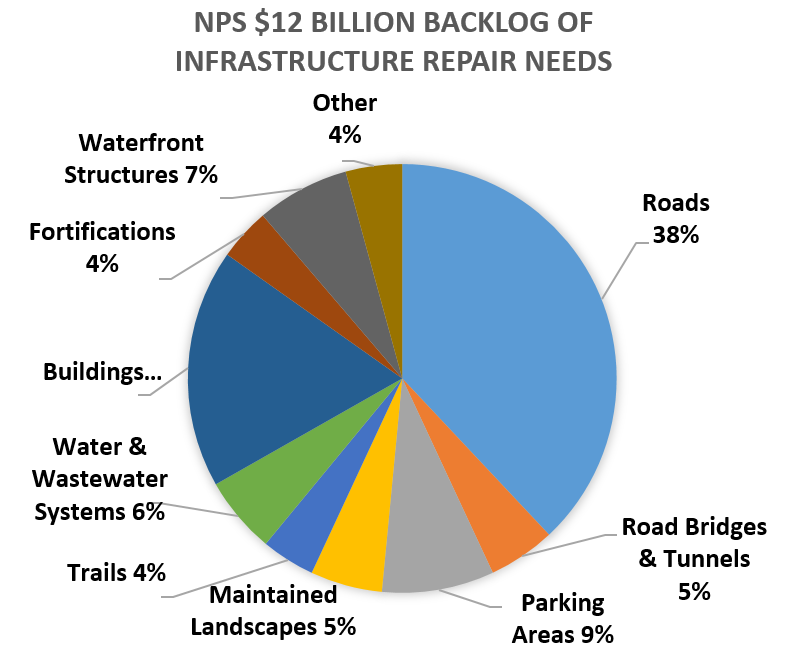 Pew Charitable Trusts analysis based on National Park Service data, 2015
National park infrastructure repairs and maintenance needs are funded through multiple funding sources including the operation and construction budgets determined annually by Congress through the appropriations process and guaranteed funding from the Highway Trust Fund through transportation bills. However, these funding streams have been insufficient such that in 2015, the Park Service received just 58 cents out of every dollar it needed just to keep that repairs backlog from growing.
Examples of national park infrastructure needs:
Yosemite National Park (California): The most pressing maintenance need at Yosemite National Park is $80 million in repairs at three wastewater treatment plants in El Portal, Wawona and Tuolumne. If these are not repaired soon, there is fear that sewage could spill into the Merced and Tuolumne Rivers.
Arlington Memorial Bridge (Virginia and Washington, D.C.): Built in 1932, the Arlington Memorial Bridge crosses the Potomac River between the Lincoln Memorial and Arlington National Cemetery and is a vital mode of transportation for commuters between Virginia and D.C. It is in a severely degraded state; it will cost $250 million to completely upgrade the bridge.
Voyageurs National Park (Minnesota): Voyageurs National Park has approximately $4.5 million worth of deferred maintenance of nearly equal amounts in campsites, docks and trails and about $3.5 million in buildings. Several park docks are approaching 30 years of service and will require complete rebuilds.
Park fees, philanthropic donations, volunteer assistance and other sources help supplement federal funding, but ultimately the bulk of the funding needs must be met by Congress.
It's time for Congress to provide major investments to our parks through improved annual funding and a new, more robust dedicated funding commitment to address the crumbling roads and bridges, deteriorating historic buildings, and unmaintained trails in our national parks. By investing in our national parks, Congress also invests in our local economies. Every million dollars invested in construction creates 14 to 16 jobs, many subcontracted to local communities.

Congress and the administration must make the concerted effort necessary to make a more substantial investment in addressing the most pressing infrastructure repair needs in our nation's treasures — an estimated $4 billion out of the larger repairs backlog. This should be done as a standalone bill dedicated to national parks, combined with other conservation and historic preservation funding needs, or as a component of a broader package addressing the nation's aging infrastructure.