National parks temporarily declared "no-fly zones" for drones.
But operating remote-control aircraft (also known as drones or unmanned aircraft) can require serious skill and discretion—more than a user's manual might imply. Within the last year alone, more than half a dozen icon parks have suffered the consequences of a growing hobby unchecked. In Joshua Tree, a drone cut through the silent awe of school children soaking in a serene desert landscape. In Grand Canyon, a drone buzzed back and forth across a popular sunset vista before crashing into a canyon wall. Another drone flew dangerously close to a crowd of 1,500 visitors seated in the Mount Rushmore amphitheater before skimming the four presidents' heads. A drone hovering over a bighorn sheep herd in Zion reportedly separated adults from lambs.
In response, National Park Service Director Jon Jarvis hit the brakes this June when he issued a temporary ban on drones system-wide. This gives the agency an opportunity to step back, evaluate the effects of unmanned aircraft on visitors and park resources, and draft a new rule for public comment, likely within the next 12 to 18 months.
"When we look at the [Park Service's] definition of aircraft put into place back in the '70s, it's clear we weren't even thinking about unmanned aircraft," says Cam Sholly, associate director of visitor and resource protection for the Park Service. "As a new technology becomes available, we need to look at how it may affect management of the parks and the visitor experience. What kinds of impacts do drones have on public safety? On wildlife? On our natural resources? On noise and scenic values?"
HOW DRONES ARE SAVING AFRICA'S ELEPHANTS AND RHINOS
Drones are quickly becoming a beacon of hope for park rangers in Kenya, where poachers have slaughtered hundreds of elephants and rhinos since 2012. A recent undercover project testing drones in a major wildlife reserve decreased poaching by 96 percent, prompting the government to deploy drones in all 52 national parks and reserves. "We have tried so many other security measures, but they have failed us," Paul Udoto of the Kenya Wildlife Service told The Guardian. "The drones will have a capacity to spot the poachers before they even kill an animal."
It would be easy to applaud a blanket ban based on the negative impacts alone. But there's a flip side to a ruined sunset in the Grand Canyon. Thanks to drones, rangers in the Everglades might boost efforts to eradicate invasive Burmese pythons by rigging drones with thermal-imaging technology that can spot the snakes from the air. Staff in Olympic National Park can observe changes to the Elwha River, now that the dam is gone. Search-and-rescue teams can save money and avoid risks associated with sending manned helicopters and fixed-wing aircraft into disaster zones. And park staff in Haleakala can monitor the fence line that keeps feral animals like pigs and goats from wreaking havoc on the park—a much cheaper and more efficient option than monitoring on foot.
"As a conservation scientist, my primary focus on drones is for management and research—and for those two things, they're brilliant," says Ryan Valdez, landscape conservation manager at NPCA. "But it's tougher when you're dealing with recreation."
And recreational use is the gray area in which film and photography can sometimes fall. But the power of aerial footage to inspire park connections and advocacy is undeniable; one California photographer went so far as to argue that Ansel Adams would be the first to fly a drone up the face of El Capitan if he were alive today.
"It's absolutely stunning," Valdez says of drone-captured footage, "and if used in the right way, it can be an incredibly positive and influential way to help people appreciate parks from a distance." With these benefits in mind, the Park Service may still allow restricted use for adequately trained film and photography crews with a special permit.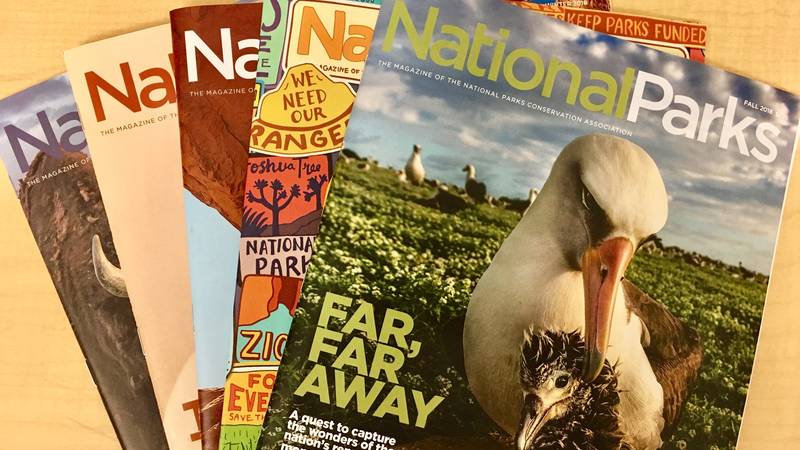 Subscribe to
You can read this and other stories about history, nature, culture, art, conservation, travel, science and more in National Parks magazine. Your tax-deductible membership donation of $25 or more entitles…
See more ›
Navigating this new technology is reminiscent of the GPS explosion in the 1990s, says Chris Cruz, Department Chair of the Management Program at West Valley College in California. Geocaching—a high-tech scavenger hunt where participants use GPS coordinates to plant and search for hidden treasures in the outdoors—sometimes led hikers off-trail into sensitive landscapes. In wilderness areas, some land managers viewed the caches as abandoned property or litter, challenging efforts to "leave no trace." Like geocaching, flying drones can be a fun hobby, but both activities must be managed properly. "The priority of the park staff is taking care of their resources, and to take care of the people visiting," says Cruz. "There has to be balance."
That need for balance became painfully clear this August when a recreational drone pilot crashed his vehicle into Yellowstone's iconic Grand Prismatic Spring—a mishap that could actually change the appearance of the spring itself, should the drone block or alter the flow of water welling up from the earth. Park officials have yet to recover the aircraft or assess the damage; doing so will likely require flying a piloted helicopter to determine the exact location of the crash.
"People get [drones] for Christmas presents, charge up the batteries, and run out to fly them," Park Service spokesperson Jeffrey Olson told the Los Angeles Daily News. "But they don't have the experience to keep them under control. That's why we want to get this [rule] in place before the [holidays]."