Illustration by Rafael Ricoy
Spring 2011
Gasping For Air
Is air pollution pushing the Rockies to a point of no return?
On a cold, clear November day in Rocky Mountain National Park, Eric Richer snowshoes three miles out to a tidy array of solar panels, antennas, and weather instruments and gets to work.
"It's actually really hard to catch snow in a bucket," Richer says from behind a dark beard and sunglasses. As project manager of the Loch Vale Watershed Long-Term Monitoring Project (a collaboration among the U.S. Geological Survey, National Park Service, and Colorado State University), Richer trudges into the mountains every Tuesday—rain, snow, or shine—to take water samples and download data from high-tech snow collectors. A sensor inside the bucket records precipitation—about two inches in the last week here in Loch Vale, a valley carved by glaciers that still cling to towering granite walls on the Continental Divide.
But the pristine setting belies dramatic changes in the fragile alpine ecosystems the park was meant to protect. Precipitation collected here over the last 28 years have revealed increased levels of nitrogen falling from polluted skies. Increasing traffic in the nearby Front Range—home to Denver and more than 4 million people—joins large-scale agriculture and coal-fired power plants in sending pollution high into the atmosphere, where it gradually drifts back down to Earth or falls with rain and snow. Last year, more than 1.1 million vehicles entered Rocky Mountain National Park, driving exhaust even deeper into the mountains. Studies have shown that pollution can also blow in from as far away as California.
Of course, nitrogen isn't always a bad thing. A naturally occurring element, it acts as fertilizer and helps plants grow. But this shower of pollutants is depositing 15 times the natural level of nitrogen in Rocky Mountain National Park—and that's damaging the region's ecology. Grasses are encroaching on wildflower meadows. The diversity of algae has declined, and some lakes are now dominated by just one or two species. Trees are becoming more vulnerable to disease and pests.
"Fertilizing your garden is usually a good thing," Richer says. "But if you use too much fertilizer, you'll kill it."
Now another nitrogen source is threatening the park's alpine lakes and streams. Drought conditions in recent years meant that less nitrogen was falling from the sky; still, nitrogen levels continued to increase by almost 50 percent between 1999 and 2006 compared with the previous decade. The culprit? Melting glaciers. And it's not just happening in Colorado—scientists are seeing evidence in Glacier, Grand Teton, and Yellowstone National Parks too, and elsewhere in the world.
"The fact that melting glaciers are pouring nitrogen into these systems is a surprise," says Jill Baron, who oversees the Loch Vale project as principal investigator with the U.S. Geological Survey at Colorado State University. This new source now complicates the park's existing nitrogen problem.
Scientists are still studying the glacier's role in Rocky Mountain National Park, and many questions remain about the exact source of the nitrogen, which could be from microbes released from thawing soils as the glacier shrinks, or from pollutants that have accumulated within the ice. But if excess nitrogen continues seeping into the landscape unabated, the Loch and other mountain lakes could become acidic—and that could prove lethal for aquatic life within a few decades.
"We're wallowing in our own mess," Baron says. "We've seen nitrogen's impacts in every corner of the ecosystems we've looked at."
The Colorado Department of Public Health and Environment is working with the Park Service and Environmental Protection Agency (EPA) to address a number of air-pollution problems in the Front Range. In addition to other impacts of nitrogen, haze now reduces visibility in the Rockies by as much as 80 percent, obscuring the mountain vistas that draw some 3 million visitors each year. Unhealthy levels of ozone in the park led to five health advisories last summer, and ozone also chokes off plants. Solutions to reducing ozone levels include retrofitting industrial facilities with pollution controls, expanding emissions inspections programs to reduce vehicle pollution, and working with ranchers to reduce the amount of ammonia gas (a smelly nitrogen compound in manure) that's released into the atmosphere. Colorado's plans to shut down several coal-fired power plants and switch others to natural gas in the next decade would also reduce air pollution.
But even the best plans don't always come to fruition. In January, the EPA missed a key deadline to approve state plans that play a big role in improving air quality; the Regional Haze Program of the Clean Air Act is meant to reduce haze- and nitrogen-causing pollutants in scenic areas around the country. Colorado missed the deadline too, but might have an approved plan ready soon.
"We could reduce a substantial and dramatic amount of air pollution just by enforcing this law," says Stephanie Kodish, NPCA's clean air counsel. "But the Regional Haze Program has been pushed aside again and again." (NPCA and its partners intend to sue the EPA as a result.)
In the meantime, state and federal agencies continue to work toward reduced nitrogen levels in Rocky Mountain National Park. Last June, the Park Service and its partners released a contingency plan should current efforts fail to reach a key benchmark of 2.7 kilograms of nitrogen per hectare per year by 2012—about the same as spreading a six-pound bag of fertilizer over two football fields.
The ultimate goal is to reduce nitrogen levels to 1.5 kilograms—a 50 percent reduction—by 2032. While still well above natural levels, that amount shouldn't cause ecological changes, according to park biologist Jim Cheatham.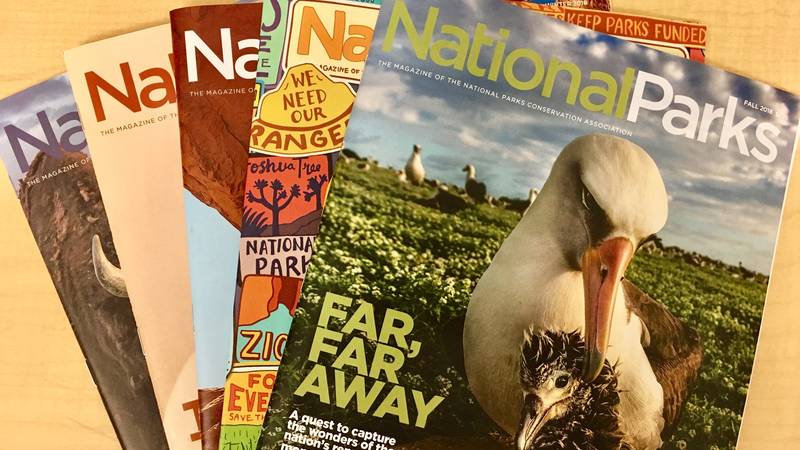 Subscribe to
You can read this and other stories about history, nature, culture, art, conservation, travel, science and more in National Parks magazine. Your tax-deductible membership donation of $25 or more entitles…
See more ›
"Time will tell, come 2012, whether we've been aggressive enough," Cheatham says. "If not, we'll have to adjust, fully realizing that we will never reach natural levels again with so much human development adjacent to the park, in the state of Colorado, and throughout the nation."
Back in the snowy mountains, Richer punches through ice to collect water samples from a stream where nitrogen levels have increased by 40 percent since 2000. Although efforts to reduce nitrogen deposition could prevent acidification, other changes are likely to come with a changing climate. Rocky Mountain glaciers, for example, are predicted to disappear by 2030—and without glaciers to supply cold meltwater to lakes and streams, water temperatures will rise in summer months, after the snowmelt has occurred, and stress cold-loving fish like the mountain sucker.
Air pollution and climate change present a formidable challenge to the parks, their visitors, and the agencies working to mitigate air pollution. And even with the most stringent air-quality regulations, there's no guarantee that we'll return to the pristine skies of the past. But existing pollution rules, when enforced, have the potential to address all of these problems simultaneously, bringing Rocky Mountain one step closer to clearing the air for humans, plants, and wildlife alike.
About the author
Nathan Rice

Nathan Rice is a freelance journalist based in Colorado.