Spring 2015
Generating Controversy
The Navajo Generating Station was supposed to improve the lives of the native people living in its shadow, but its only real legacy is the polluted skies over the American Southwest.
Betty Thompson still tears up when she recalls what her mother said every time they drove past the Navajo Generating Station.
"I put that there," she said. "With my thumbprint, I put that thing there."
It might seem unlikely that a frail Navajo grandmother would have had anything to do with the behemoth power plant that has dominated the skyline of Page, Arizona, since the 1970s, sending its coal-fired electricity to the distant cities of Phoenix, Las Vegas, and Los Angeles and its hazy emissions to the canyon country that forms a much-loved centerpiece of Southwestern tourism. But the environmental legacy of fossil fuels is long—and so are the bitter memories of people who live next door to where those fuels are consumed.
Four times, representatives of the Navajo Nation and the Salt River Project—the utility that runs the plant—came by, recalls Thompson, herself a grandmother in her 50s now, with long black hair streaked with gray. She spends her days driving tribal residents to their doctor's appointments in Tuba City or Flagstaff or Phoenix.
Three times her mother, known in the Anglo world as Sally Young, resisted the proposal. Although they were poor, she saw little wrong with her family's traditional lifestyle of grazing sheep and cattle amidst the arid brush that grew above the Colorado River's deeply incised canyon.
A FLAWED COMPROMISE
The Technical Working Group formed to assess alternatives to the EPA's emissions clean-up for the Navajo Generating Station included representatives from industry, government, tribes, and environmental groups. But as significant is the list of groups excluded from the process, including NPCA, the Hopi tribe, and indigenous environmental organizations.
The plan hammered out by the Working Group as an alternative to retrofitting all three of the plant's boilers maps out a slow patchwork of alternative steps. The plant could shut down one boiler by 2019, and install nitrogen oxide-reduction technology on the remaining two boilers at some point in the future. Working Group members say that would reduce nitrogen oxide emissions at least as much as the Environmental Protection Agency (EPA) plan, and also cut down on releases of climate-altering carbon dioxide. (Last June, the Obama administration released new regulations requiring cuts in carbon-dioxide emissions from coal-fired power plants, but the Navajo Generating Station is exempt from these because it sits on tribal land.)
In late July 2014, the EPA agreed to pursue the Working Group's plan. But the outcome of the plan is contingent on the completion of a complex environmental impact statement, and on administrative changes to the plant's ownership which could result in keeping all boilers running well beyond 2019.
Many environmentalists are upset about the adoption of the plan because its requirements are unclear and its timeline is vague. In October, NPCA gave notice that it plans to sue the EPA for violating the Clean Air Act by failing to adequately regulate the plant's emissions in a timely manner.
"The plant's air pollution will continue to rain down physically on the people who live nearby and also obscure the view at Grand Canyon," says Kevin Dahl, NPCA's Arizona program director. "The current plan has too many off-ramps that would allow the plant to evade the Clean Air Act. It's a blueprint for environmental injustice. Why not require the immediate short-term reduction of air pollution that is mandated at most other coal-burning plants in the nation? These utilities should be held to a plan that transitions to cleaner energy. Instead, we have a weak compromise."
Give up just some of your land, and we will provide you and your family with a better life, they said. Electricity, running water. Financial stability. Maybe better houses for you and your children, and jobs at the plant.
The few residents of this arid far corner of the Navajo Nation had already traded off regular rainfall and arable land for clear skies and massive vistas—a fair bargain, in their minds. But still, life was pretty hardscrabble. And so when the men in suits came by the fourth time, Sally Young decided she was ready to put her thumbprint down in ink, the signature of the illiterate.
The rest is history written on the area's coral-pink sand dunes and azure sky: a new blacktopped state highway, the fenced-off railroad tracks cutting through the family's old grazing lands—over which a train delivers coal mined from Black Mesa, 80 miles away. Rising above it all are the plant's three smokestacks; at 775 feet high, they are taller than any building in the entire American Southwest.
Amid the wide-open backdrop of sand, rock, and sky, it's hard to get a sense of the plant's scale. But by any measure, its impact is substantial. Each year it burns some 8 million tons of coal, producing 2,250 megawatts of electricity distributed to an array of users in the Southwest. It's the primary power source for the Central Arizona Project, the huge water-distribution system that siphons the Colorado River to the sprawling cities of Phoenix and Tucson. Though the plant is operated by the Salt River Project, a major utility that serves the Phoenix area, it is co-owned by several utilities and also sends electricity to users in Nevada and California. As a side effect, each year it sends 34,000 tons of nitrogen oxides into the Four Corners sky, plus more than 500 pounds of mercury—and more than 15 million tons of climate-altering carbon dioxide.
It's that air pollution that has long troubled environmentalists, federal pollution regulators, and the National Park Service, an agency charged with protecting the nearby Grand Canyon and other signature parklands that are characterized by their clear vistas as much as their dramatic geology.
Questions around the plant's future emissions are nothing new. In 1977, Congress amended the Clean Air Act to restore visibility at national parks and wilderness areas around the country. The Environmental Protection Agency (EPA) dragged its heels for years but in 1999 finally developed the Regional Haze Rule to transfer the law into concrete actions. The agency designated "Class I Areas" in which the experience of clear skies is of particular importance, and it required state and federal agencies to develop plans for improving visibility there. Eleven of those areas lie within about 200 miles of the Navajo Generating Station, including postcard landscapes such as Grand Canyon in Arizona and Capitol Reef, Arches, and Canyonlands National Parks in southern Utah.
According to a 2013 EPA analysis, emissions from the Navajo Generating Station continue to have a noticeable impact on visibility in the region's Class I areas. EPA and the Salt River Project have been exploring options for reducing the plant's emissions in an effort to conform to the rule. EPA drew up a plan requiring the installation of new equipment that would capture the bulk of the plant's nitrogen oxide emissions by 2018. But it would come with a price tag of at least $560 million, according to Salt River Project officials, and possibly twice as much, depending on the extent of the technology needed.
So the Salt River Project developed a counter-proposal to reduce overall emissions over the life of the plant, with the help of a so-called Technical Working Group made up of electricity interests, tribes, and a few environmental groups. In late July, EPA agreed to the Working Group's plan, which makes long-term promises but requires no immediate changes to the plant's operation—a decision that led NPCA and other organizations to file a lawsuit last October (see sidebar).
Some Navajo and Hopi activists have been pressing for the installation of a large-scale wind and solar facilities that could replace some of the plant's generating capacity with cleaner energy. It's an idea that would take advantage of the region's abundant wind and sun, but that has so far gained little traction with regulators, utilities, or the Navajo tribe. To those activists, EPA's decision amounts to a new rubber-stamp for coal and a swipe against cleaner alternatives that would create new jobs.
"Delaying coal cleanup for another 30 years inhibits progress on renewable energy development that will become an economic engine long past coal," says Jihan Gearon of the Black Mesa Water Coalition, a local group dedicated to building sustainable and healthy communities while preserving indigenous cultures.
For their part, Navajo tribal officials have so far cast their lot with coal. In 2013, Navajo Nation officials signed a new lease with the plant operators, extending the original 50-year lease from 2019 to 2044. The new agreement represents an enormous economic boost to the tribe, whose annual payments from plant operators will increase from just over $600,000 a year to $42 million a year. And plant jobs are important on a reservation where unemployment hovers stubbornly around 50 percent.
"It's about the only job in this area," says Wally Brown, a Navajo entrepreneur who runs a Navajo-themed tourist attraction outside Page. "People around here need the jobs, and they will continue to do so."
But for some local residents the plant has been more blight than boon. Betty Thompson and a number of her relatives live virtually in its shadow. On a hot July day she's sitting in the home of Pearl Begay, Thompson's oldest sister and one of Sally Young's nieces. It's a tiny yellow one-bedroom house. Nearby, high-voltage transmission lines radiate outward from the plant like the strands of a spider web.
Begay is wearing a green velveteen blouse and traditional turquoise-and-silver jewelry. She is 89 and stooped, but adeptly swats flies at the kitchen table as she speaks slowly and clearly in the chewy syllables of Navajo.
"It used to rain a lot; it was really beautiful in the scenery before the power plant was put here," she says as her daughter Laverne Etsitty, also in her 50s, translates. "The scenery was very beautiful, and after the plant was built here it became hazy. Before, it was perfect. Before the plant was here you could see the canyon full of snow and water coming down the rocks, and there used to be some spring water down here in the canyon, but now they're all dried up—no more springs. And a long time ago before the plant a mist used to come all through this whole canyon in spring, eight days and then on top here too."
She pauses.
"In our traditional way, when the mist is like that, they're planting," Etsitty explains. "The holy people, they're planting. My mother misses all that. She wonders whether the smokestacks… [are] the reason there's not much rain anymore."
It's hard to verify Begay's suspicion that the plant's emissions have cut down on rainfall in the area; the science about how point pollution sources affect local weather patterns is unclear, and precipitation records for Page show no clear pattern of change since measurements began in the late 1950s. But for her family the plant's impact is nonetheless a litany of loss. Early on, their cattle and sheep wandered into a water pit dug out during the plant's construction; they died there, of unknown causes. On windy days white dust settled on plants and houses.
"Even the vegetation that our livestock were eating, from the roots to the tops it was all white," says Thompson.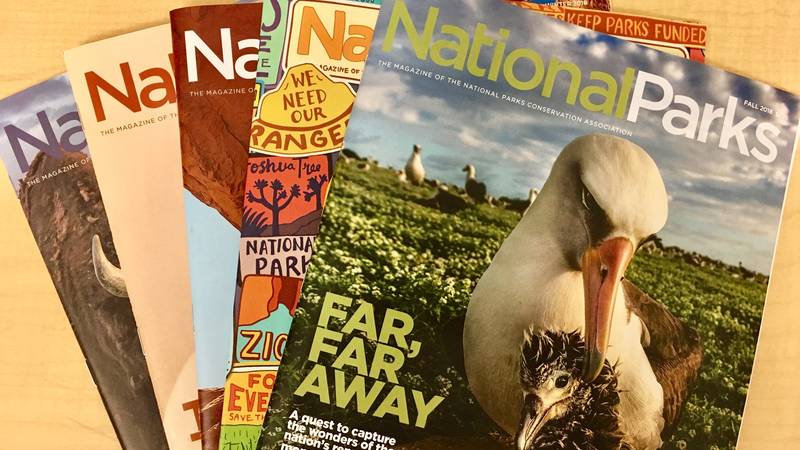 Subscribe to
You can read this and other stories about history, nature, culture, art, conservation, travel, science and more in National Parks magazine. Your tax-deductible membership donation of $25 or more entitles…
See more ›
Pollution emitted by the plant has declined since the 1970s. The plant's emissions are in compliance with federal regulations, and the Coconino County (Arizona) Department of Public Health has not documented any spike in respiratory illnesses or other ailments in communities near the plant. But the nonprofit group Clean Air Task Force estimates that emissions on the order of those emitted by the Navajo Generating Station are likely to result in more than $128 million in dispersed health-care costs annually as ozone and fine particulates contribute to heart problems, asthma, and an array of other health problems and hospital visits.
And nearby residents say they do feel the impacts of the plant's emissions.
"There's a lot of health issues around the chapter," says Carol Bigthumb, Begay's daughter, "especially with respiratory problems. Most of our kids have asthma or something like that. But nobody really cares about the health problems."
Like many residents of the jobs-poor Navajo Nation, Betty Thompson has moved around a lot to different states in pursuit of work. Not long ago she moved back, feeling that it was time: Most Navajos have a strong tie to their place of birth. She recently received chapter permission to build a new house in sight of the power plant, and plans to live there no matter what. She takes the long view: The plant is only supposed to operate until 2044.
Maybe she has that perspective because many Navajo people have lived in impoverished, arid circumstances for a long time, or because of her own mother's experience. She remembers Sally Young telling of the verbal promises that were never kept after she gave her thumbprint permission for the plant to be built: new houses for her family, jobs, water, electricity. When the amenities failed to arrive, year after year, it made driving past the plant a more and more bitter experience.
But one of those elements of modern life finally did arrive. On April 7, 2014—44 years, six months, and eight days after the Navajo president signed the lease allowing the plant to be built—the electric line to Sally Young's house was finally completed.
Unfortunately the old woman had died nine months earlier.
"All these years my mom always wanted to see her house lit up," Thompson says. "She never did."
About the author
Peter Friederici

Peter Friederici writes about science, people, and the environment from Flagstaff, Arizona.