Award-winning conservation photographer Ian Shive shares his passion for national parks, how his craft has changed over time, and what goes into making a great image.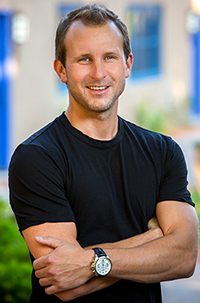 Ian Shive is an award-winning conservation photographer, film producer, and environmental advocate—and a longtime contributor to NPCA's National Parks magazine. He is also the founder and CEO of Tandem Stills + Motion, a photography and motion clip licensing agency, and a photojournalism instructor at the University of Southern California. He just released his fifth book earlier this month, The National Parks: An American Legacy—his third specifically focused on U.S. national parks.
I caught Ian just as he was returning from a backcountry assignment in Arizona and asked him a few questions about his passion for his work, the making of his new book, and his thoughts on creating exceptional images. This interview has been condensed and edited for clarity.
Q: How did you get started as a photographer and videographer?
A: I started shooting as a still photographer professionally about ten or eleven years ago. For a lot of photographers, there's an evolution from shooting just stills to stills and motion. I really embraced that evolution and started a company for like-minded people, Tandem Stills and Motion. We've really grown. We represent about 900 photographers around the world and we work exclusively in the outdoor active living space. I only do a few really big projects a year now because I'm required in the office so much, but I get to see the work our other photographers are doing and live vicariously through them.
The ultimate goal is communicating really compelling stories about conservation, whether that fits best in a magazine or a three-minute video or a one-hour television special.
Q: Why were you inspired to photograph national parks specifically?
A: I grew up in New Jersey. I didn't have Yellowstone in my back yard, but my parents always instilled a real love of the environment in me. As a teenager, we went west for the first time to see the Grand Canyon, and I got to raft the river. Instantly, I was captured. So were my parents. My mother said, let's do this again. So we went to Glacier National Park and Yellowstone. I learned there was a university in the Yellowstone area, which eventually brought me west permanently. Even though I didn't finish at the university—I moved to California first—I was hooked. Realizing the impact that a single trip had on me planted the idea that if I can inspire the same thing for other people through images and film, they'll recognize the benefits of having these places.
Q: In all that time, have you noticed changes in the landscapes you've photographed?
A: I've seen changes in different ways in different places—certainly in places like Glacier, where you see physical changes in the glaciers. As a journalist I've also met a lot of people that live in these places. I was working on a project with NPCA years ago in Glacier to collect audio of a Native American woman who was one of the last handful of people to speak her native tongue. She would tell stories of how the porcupines would move through the land and how at night in the winter you would hear wood from the trees splitting like thunder as water froze from the rapidly changing climate. She said, all of those things I used to see as a kid up along the Canadian border, I don't hear or see them anymore. She was almost 90 years old. I hear about those changes.
It's also become increasingly difficult to photograph in national parks. Most recently, I had a conversation with a national park's public affairs office calling into question whether I had the proper permit and permission.
Q: So there are stricter controls to get into the backcountry or sensitive areas?
Not even sensitive places—the most popular places. I've never asked for special access in any park. I've only ever wanted to show what the visitor experience can be. But it's become more restrictive. I think there's a lack of clarity about what photographers can and can't do. I hope that I can work with the parks and with photographers so we can continue to do what I think is vitally important, which is to tell the story of the parks, to document them.
Professional photographers commit their lives to telling these stories and it's a hard living. Many are lucky if they can get their revenue from photography over the poverty line. To have those challenges has been difficult.
Q: You say in the introduction to your book that you spend more time working around the crowds of people at parks than you do actually setting up your photos. What does that feel like, to be a professional capturing these experiences among so many others?
A: I love other people's work. It's not about whether a photo is technically good or you know Photoshop or whatever. For me, the photo tells a story and there's no better way to experience life through someone else's eyes than through photographs and film. So when someone shows me an image and says, here's the hike I did into the backcountry of Yellowstone, that gets me excited because I get to see what they experienced and it strikes my imagination. All of my photography stems out of a personal desire to be there in the landscape.
I love seeing crowds of people in those places. It's awesome to know we're in a completely new era of photography. I've heard people refer to the upcoming social media generation as Generation Photo. I think that's the coolest thing. It will be interesting to see the evolution of the art with so much of an audience there for people who are not used to having one. I do think ultimately it will be for the better.
Q: You chose to create a high-quality, large-format paper book in an era of Instagram. Why make such a book?
A: There's your answer. It flies in the face of what people associate with photography today. You don't make a lot of money on books, if anything, but to me they're incredibly important as a pillar of communication. To have something that people can have on a coffee table, in a doctor's office, on an office bookshelf, when someone holds it—whether they're members of Congress or a young kid—there's something that becomes tangible about it. Books are themselves art and can live for years, if not an entire lifetime. You reach people in ways you never expect.
Q: How did you choose what would go in?
A: You would think I have volumes of work, but I'm mostly unhappy with my images most of the time. For me to put a book together, I have to work up to it and figure out, what are the images that mean the most to me? You can only get so many pictures into 200 pages, and there are over 400 park units. For me, the best approach has been drawing off of what I personally had the best experience or connection with. It's a big national idea, but ultimately, the best place to curate from is a sense of personal satisfaction because the parks are best experienced on an intimate level.
Q: You also include a handful of essays by nonprofit leaders. How did you choose these essays?
A: Conservation is always a part of what I do. This was not meant to be a book that looks back on the parks and says, wow, what a great hundred years we had. Instead it was meant to be a book that looks at the parks today and where they will go in the next hundred years. People are changing how they interact with nature in all kinds of ways. What does conservation look like today, and what will it look like in the future? Let's look at organizations that are doing great work. I think having those different perspectives provides readers with a very well-rounded view of what the national parks are.
Q: Do you have a favorite park?
A: I always say wherever I was last. Channel Islands is my most personal. When I need a break, I put on a scuba suit and jump in the ocean and don't hear anything but bubbles and sea lions. It's an epically beautiful place. It's also a park that has really embraced artist relationships. I think they really understand the power of communication. A big part of why I like it is also that I have a relationship with the Park Service. That's an important part of this project. This is a book dedicated to the people of the Park Service who maintain this land every day.
Q: You said how difficult it is to make a living as an environmental photographer. How do you make it work?
A: I work hard. It's passion-fueled and I physically enjoy what I do. But it's becoming increasingly difficult. People don't recognize the challenges that photographers have. I think we're some of the most under-recognized intellectual property creators in terms of all of the gas and campground fees and camera equipment and hard drives and laptops that go into an image, not to mention the time. You can spend a week in a place and maybe it pours rain and nothing happens, but you're still on the hook for that week financially. I've seen a lot of my colleagues leave the industry. For me, I think the secret has been dedicating myself to it at a superhuman rate. Now I don't know anything else—I don't know what I would do with myself if I had to sit around in Los Angeles 24-7.
Q: What kind of advice do you give to new photographers?
A: A lot of photographers think they have to go to the far end of the Earth to make great images, when I think you can make great images in your own back yard. We have incredible opportunities everywhere. If you want to do this full-time, you really have to hone your craft and be the best at it. It's more competitive than ever before, especially with people being willing to give their work away for free. You also have to manage your relationships well. I think a lot of people think of photography as "us versus them," and it's not. I think it's the inclusive aspect that has made me so successful as a photographer. A lot of people don't want to give away their favorite spot or their techniques. Who cares? You can Google anything now. Taking a good picture—the technique is easy. But I always tell people that an image shouldn't be about Bridalveil Falls or a mangrove in the Everglades. The image should say other words that you can't hold in your hands, things like fortitude, confidence, courage, solitude. They should be emotive. To get to that, you have to care about what you're doing.
Learn more about The National Parks: An American Legacy on Ian's website.
About the author
Jennifer Errick

Managing Editor of Online Communications

Jennifer co-produces NPCA's award-winning podcast, The Secret Lives of Parks, writes and edits a wide variety of online content, and manages NPCA's style guide.