Pullman National Monument is a must-see treasure of Chicago's South Side. The formerly independent industrial town, now a landmark Chicago neighborhood, was entrusted last February to the National Park Service via a presidential proclamation.
There is much to celebrate. Yet, there are also many questions about what's next for this National Historic Landmark District, and what the new designation means for the Pullman neighborhood, the neighboring Roseland community, and the larger Lake Calumet region.
AIA Chicago was pleased to start addressing some of these questions as part of a design workshop hosted with NPCA at Pullman last month, with support from the Richard H. Driehaus Foundation, Chicago Community Trust, and Alphawood Foundation. The purpose of the workshop was to engage the public in discussions with the Chicago design community regarding opportunities for enhancing the park visitor experience while leveraging the new national designation to advance important community development goals.
The three-day design workshop focused on four main areas of concern, and produced concrete ideas for the future of this important site.
Access and connections: Designers envisioned using historic Pullman train cars in a functional capacity, perhaps used as Metra train stop shelters, and in general, devised strategies for managing traffic across vehicular, train, bicycle, and pedestrian modes.
Historic preservation and adaptive reuse: Participants considered strategies for commemorating important buildings that have been lost—or programming buildings in need of renewal—as well as strategies to incorporate landscape design, streetscape enhancements, and new construction guidelines, all based upon the historic design of the neighborhood.
Community development: Designers worked through strategies to handle the expected increase in tourism as a result of the national monument designation and identify ways to increase local businesses, grow career paths for local youth, and integrate with larger plans of the Lake Calumet region while situating Pullman as a new southern gateway to the city of Chicago.
Park experience: Participants discussed and planned strategies to help visitors explore and enjoy the site. These plans could include self-guided park visitation routes that convey stories of factory and neighborhood life to integrate the area's past with its present.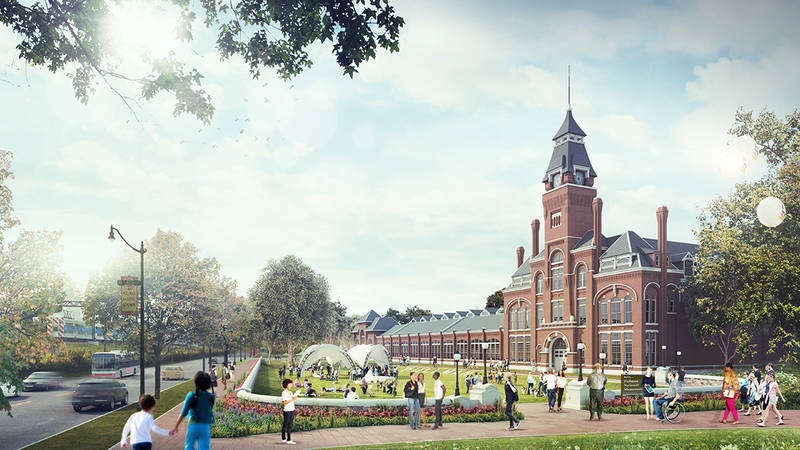 NPCA/AIA
Collaborative Ideas Workshop for America's Newest National Monument
See more ›
Based on public feedback from the open house, the technical team is now refining the content and preparing print-ready illustrations and text to share at a soon-to-be-developed website hosted by AIA Chicago and NPCA.
Pullman is positioning itself to welcome people from around the world as a result of its new national monument status. As the National Park Service approaches its centennial celebration in August 2016, the lessons learned at Pullman could help shape park policy for the next 100 years.