Last week, the International Dark-Sky Association named a new dark-sky park — the seventh site in the U.S. National Park System that now holds that honor. This coveted designation recognizes not only excellent stargazing opportunities, but also superior night-sky stewardship through responsible lighting, public education and community outreach.
It's no wonder the National Park Service manages seven of the world's 22 darkest parks — the agency has a dedicated Night Sky Division that works to protect natural darkness throughout the park system. Of all the regions in the country, the Colorado Plateau in the American Southwest is one of the darkest, thanks to its clear air, frequently cloudless skies and sparse population. The region even has its own cooperative linking communities, tribes, businesses and government agencies to help maintain its starry skies.
It's in this plateau region that park and community efforts paid off with the most recent dark-sky park designation at Capitol Reef National Park in Utah. Park officials have worked for more than a decade to expand Capitol Reef's astronomy programs for park visitors, create a volunteer program for night-sky enthusiasts, and offer educational outreach to the larger community through organized events. The park even offers a junior ranger badge in astronomy!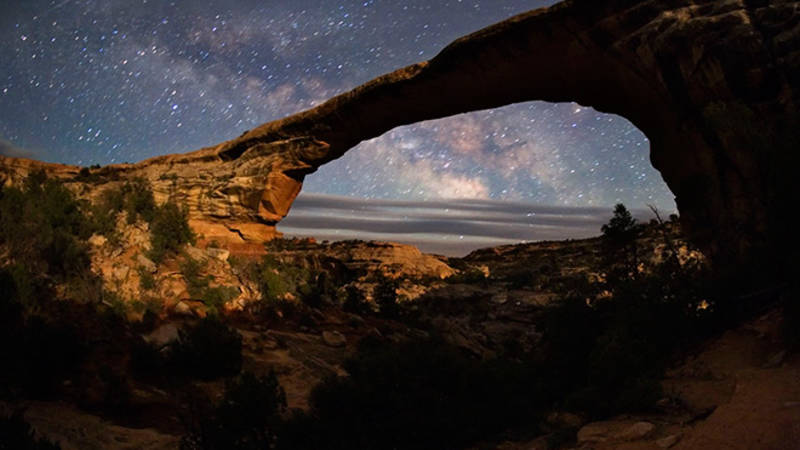 Blog Post
National parks offer some of the darkest skies in the country.
See more ›
Far from the glow of any major metropolitan areas, park officials maintain a rustic environment where stargazers can enjoy the wonders of the Milky Way, and staff hope the new designation will raise Capitol Reef's international profile and bring new tourism to the park.
Capitol Reef joins six other U.S. national parks that are also dark-sky parks: Big Bend National Park in Texas, Chaco Culture National Historical Park in New Mexico, Death Valley National Park in California, Hovenweep National Monument in Colorado and Utah, Natural Bridges National Monument in Utah (the first dark-sky park in the world), and Parashant National Monument in Arizona.
Most of these parks offer year-round programs encouraging visitors to get outside after dark with rangers, telescopes, guest speakers, and community enthusiasts. If you live in or are traveling to the Southwest, be sure to check the calendar of events at these parks. Capitol Reef even offers night-sky charts at its visitor center to help with your own journeys backpacking, camping, or just taking a leisurely stroll after dark.
Stay On Top of News
Our email newsletter shares the latest on parks.
The entire list of international dark-sky parks, reserves, and communities is available on the International Dark-Sky Association's website.
Though winter is generally the best time for stargazing due to the drier air and longer nights, many parks host special astromony programs and festivals during the warmer months when visitation is higher and nighttime temperatures are more pleasant. Search for upcoming events on the Park Service website.
About the author
Jennifer Errick

Managing Editor of Online Communications

Jennifer co-produces NPCA's award-winning podcast, The Secret Lives of Parks, writes and edits a wide variety of online content, and manages NPCA's style guide.