Two terrible development proposals threaten the Grand Canyon, but here's why it's too soon to take action—yet.
Update: On March 4, 2016, the U.S. Forest Service rejected a proposal that would have paved the way for a sprawling urban development in the tiny town of Tusayan near the southern entrance of Grand Canyon National Park. Learn more about this significant victory for the park.
Over the summer, many New York Times readers were shocked to learn about two development proposals that would permanently scar the enduring beauty of the Grand Canyon.
The first proposal would create more than 2,000 housing units and 3 million square feet of shops and tourist attractions in Tusayan, a sleepy town just two miles from the national park and a gateway to its South Rim. The second, even more serious threat is a proposed resort hotel with an aerial tramway that would ferry tourists 3,200 feet down to the canyon floor where the Little Colorado and Colorado Rivers converge.
"Whenever a developer is defeated, nothing prevents other developers from stepping forward, again and again," lamented Kevin Fadarko, the former white-water tour guide who authored the Times opinion piece that garnered so much attention. "But for those who love wilderness, the loss of a single battle can mean the end of the war, because landscapes that fall to development will never return."
This story has continued to make news, and numerous supporters have asked me and my colleagues at NPCA two important questions: What is happening with these proposals and what can we do about it?
Right now, the answers to those questions are: a lot, and not much. Here's why it's too soon to take action—for now.
Tusayan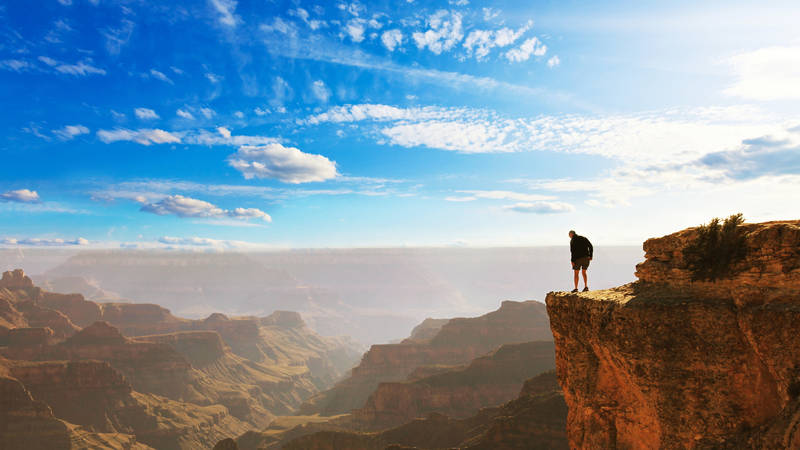 Press Release
Agency denies Stilo Development Group's plan to build road, infrastructure through Kaibab National Forest.
See more ›
If you've been to the South Rim of the Grand Canyon, you've driven through Tusayan and perhaps even stayed at one of the hotels along the highway that make up the bulk of the town. With a population of barely 500 people, Tusayan offers a couple of restaurants, hotels, and tour operators, an IMAX theatre where you can experience on screen what you can experience in person a few miles away—and not much more.
For almost two decades, the Italian corporation Stilo Development Group has tried to develop the 374 acres it owns in the region. When county voters rejected the company's plan, Stilo partnered with Elling Halvorson, who owns a hotel, a sightseeing company called Papillion Helicopters, and other Tusayan businesses. Together, they worked to incorporate the town of Tusayan and fill four of its five town council seats with pro-development allies. Now, with town-approved zoning and development plans, they can effectively push plans for a massive complex of housing, hotels, restaurants, shopping, spas, conference centers, and "edutainment"—except for one thing.
That thing is water. Inside the park, all the water used on the South Rim is pumped across the canyon from a source just below the North Rim. Tusayan relies on groundwater pumped from deep wells in the Redwall-Muave aquifer, which also feeds springs in the Grand Canyon. Industrial-sized wells near Tusayan could deplete park aquifers that support the fragile and unique springs and side creeks in the canyon, and could endanger the water supply of the nearby Havasupai Nation, whose lands are downstream from Tusayan.
Although environmental groups, area businesses, and the superintendent of the Grand Canyon have gone on record opposing the Tusayan development, to date, the main issue preventing it has been Stilo's search for a water source. The easy choice—and most damaging—would be to drill new wells. Other alternatives Stilo will consider: shipping water in via trucks or railroad, creating a new pipeline, or repurposing an existing pipeline that once pumped coal slurry from the Navajo Nation to a power plant on the Colorado River near Kingman. Once developers make this choice, the approval process will require an environmental assessment and compliance.
Recently, Stilo applied to the Kaibab National Forest for permission to either improve a road or build a new one to access the company's lands from the main highway (two of its three holdings are surrounded by federal forest land). This triggers an environmental assessment the Forest Service must complete before making its decision on which alternative access to provide, if any.
The upcoming assessments and associated public processes will shed light on our concerns about this development's impact on the Grand Canyon. With what we now know, the uncertain water supply and massive scale of what might be built is indeed troubling.
Grand Canyon Escalade
The more serious threat to the Grand Canyon has an even murkier future.
In 2012, developers with Confluence Partners, LLC, of Phoenix, Arizona, proposed building Grand Canyon Escalade, a resort with an aerial tramway on 420 acres of remote land on the rim of Marble Canyon. A giant cable system would ferry thousands of tourists per day in gondolas more than a mile to the canyon floor, to a site considered sacred by the nearby Hopi Tribe. Not only would the tramway lead into the heart of an area where Hopi ancestors once dwelled, the increased tourism could expose culturally important sites to greater risk of vandalism.
Hopi and Zuni tribes have already gone on record opposing the development, but because the land in question lies within the Navajo Nation, the decision on whether to proceed rests with the Navajo Tribal Council, which has not yet taken a vote on the issue. While some members of the Navajo Nation have gone on record supporting the project, others are vehemently opposed (see www.savetheconfluence.com to follow local efforts).
It's easy to see why the dire economic conditions (over 50% unemployment) for those living in this rural part of the Navajo Nation might lead some to support Escalade despite the wanton destruction it would cause. Unless we build a more sustainable economic path for native people in this region, this sort of development threat will continue to plague the Grand Canyon region.
In addition to the infringement on sacred cultural sites, NPCA is deeply concerned that Grand Canyon Escalade would negatively impact night skies, the park soundscape, and endangered fish populations in the Colorado and Little Colorado Rivers.
NPCA, other conservation and river-running groups, and local Navajo families have monitored and opposed the project from the beginning. Because the current process is wholly within the Navajo Nation and tribal members are fully aware of the strong opposition to the proposal, NPCA feels the most respectful way to proceed is to not take any large-scale action until the tribal council has voted on the proposal. As it stands now, the project is a developer's pipedream, with some support from the Navajo's president office. Any next steps depend on how the tribe decides to go forward with the proposal, if in fact they do.
NPCA believes there is room for more eco-tourism near the Grand Canyon, but any project built in the shadow of this irreplaceable American treasure must be carefully planned and considered. It must also involve local communities, especially native communities who are stewards of landscapes they consider most sacred. There is simply too much at stake to do it wrong.
You can sign up for NPCA's email alert list to be advised when the time is right to take action on either of these projects—as well as other development threats and environmental issues facing national parks.
About the author
Kevin Dahl

Former Arizona Senior Program Manager

Kevin Dahl works as Arizona's Senior Program Manager in the Southwest region. He focuses on issues concerning Arizona's national parks, including such well-known places as Grand Canyon, Petrified Forest, and Saguaro.