After years of work, the Elwha River at Olympic is undammed and flowing again. The salmon—and the white-water rafters—are loving it!
There's plenty I could say about my recent rafting trip down the newly restored Elwha River, but sometimes a simple "Wooohoooo!" says it all.
That was my natural reaction to more than a decade of work by NPCA and its partners to remove two antiquated dams from this spectacular northwestern river, restoring it to a splendor not seen in over a century. Last month, the National Park Service officially completed the largest dam removal in U.S. history, tearing down the Elwha and Glines Canyon Dams and expanding the river's five miles of free-flowing waters to over 70 miles of unfettered fish habitat and paddling bliss.
Our journey down the river began in Olympic National Park, with the intrepid team at Olympic Raft & Kayak as our guides. My colleagues from NPCA's Northwest Regional Office and I entered the river below the last relics of the Glines Canyon Dam, which at the time of our adventure had only 30 feet of concrete left.
A few miles downstream, the Elwha Dam has already been gone for two and a half years. In the area above the former Elwha Dam, previously known as Lake Aldwell, our guides explained how rafters used to paddle across still water trapped by the dam. Instead, we bumped, splashed, and squealed over rapids while enjoying the lush Pacific Northwest forest scenery around us.
We spotted an osprey overhead, no doubt looking for the same thing that we were: salmon. Thanks to the dam removal, these fish are now much easier to find.
Our guide, Morgan Colonel, recounted a recent story of salmon returning to the river. His encounter with a local otter was a reminder that what's good for the salmon is good for many other animals, too. According to Morgan, "That otter was on it. I mean, from the word go, that mom headed downstream but then about five minutes later, she comes back up holding the sockeye by the mouth and that sockeye was about as big as her."
Above: A video of the Elwha River rafting trip by EarthFix Media.
Salmon are an incredible species, living only three to four years, but retaining generations of muscle memory as they return to their historic spawning grounds. Their return to the river has been remarkable, with state fisheries biologists counting more than 1,500 this summer above the lower Elwha Dam site alone. As we approached the take-out point for our rafting journey, our group spotted one bright red sockeye salmon swimming upstream: a perfect sign of hope and recovery.
"Seeing the salmon in the river beyond the dam site was such a thrill," said NPCA's Northwest Regional Director Rob Smith. "It's really working!"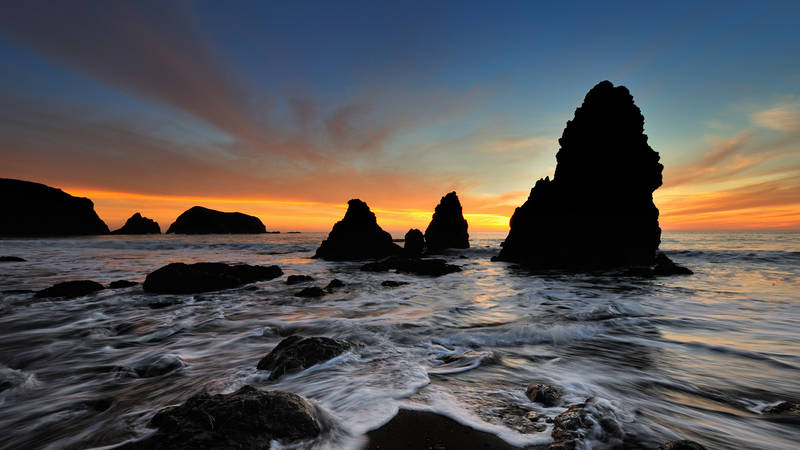 Park
Exploring Olympic's dynamic landscape is like visiting three parks in one. The high mountains offer snow, glaciers, wilderness and — if you time it right — acres of wildflowers. The…
See more ›
We ended our day with a tour of the Glines Canyon Dam removal site. Construction manager Don Laford noted that he spent his entire career building dams, but this was his first opportunity to remove one.
One week after our journey, on August 26th, Laford and his crew demolished the last 30 feet of the Glines Canyon Dam with dynamite, opening up the entire river for the first time in 100 years. And just over two weeks later, staff at Olympic National Park spotted three Chinook salmon above Glines Canyon—the first salmon to return to the Upper Elwha River in 102 years.
"I have been fortunate enough to witness the dramatic changes the Elwha River restoration has brought to the entire region, both ecologically and economically," said NPCA's Northwest Program Manager David Graves. "It has been an amazing journey supported for years by the community, conservation organizations, the tribe, Congress, and the Park Service. I hope this project can serve as a model for future dam removal."
While the dams may be gone, full river restoration is still at least 30 to 100 years away. Fisheries staff must continue to monitor the river's natural recovery while leading a massive revegetation program to introduce 400,000 native plants along the banks of the new river channel before exotic species can colonize these disturbed areas. Park staff and partners clearly have many more years of work ahead of them.
On the policy side, NPCA supports the Wild Olympics legislation, sponsored by Representative Derek Kilmer and Senators Patty Murray and Maria Cantwell, which would designate the Elwha and 18 other surrounding waterways as Wild and Scenic, the strongest level of protection that a river can receive. This designation would prevent the prospect of future dams and support the continued revitalization of the watershed.
If You Go
Stay On Top of News
Our email newsletter shares the latest on parks.
Olympic Raft and Kayak is the sole National Park Service concessionaire for taking thrill-seekers on the restored Elwha River. This could be an even more adrenaline-pumping experience next year, after former dam sediment and other obstacles have washed away, creating stronger rapids.
For those looking to experience the Elwha River on dry land, the National Park Service plans to reopen both sides of the former Glines Canyon Dam in the near future, with part of the spillway and other features from the removal left for historical interpretation.
About the author
Kati Schmidt

Director, Communications, Alaska, Northern Rockies, Northwest, Southwest, Pacific

Kati Schmidt is based in Oakland, CA, and leads media outreach and communications for the Pacific, Northwest, Northern Rockies, Alaska, and Southwest regions, along with NPCA's national wildlife initiatives.