In a move that alarmed the conservation community last month, the U.S. House of Representatives passed H.R. 1459, legislation that would restrict the president's powers to designate new national monuments under the Antiquities Act. Known as the Ensuring Public Involvement in the Creation of National Monuments Act or "EPIC," H.R. 1459 ironically spells an epic failure for conservation values in Congress.
With the exception of the Organic Act of 1916, which created our National Park Service, arguably no law has had more influence over the development of our modern National Park System and other public lands than the Antiquities Act. Since it became law in 1906, nearly every president, regardless of political affiliation, has used it. The Grand Canyon, Muir Woods, the Statue of Liberty, Joshua Tree, Acadia, Zion, Cesar E. Chavez, and Harriet Tubman Underground Railroad are just a few of the important sites designated under the Antiquities Act (PDF).
Since the vote, much has been said about why this attack on the Antiquities Act was misguided. What few have touched on, however, is why groups like NPCA, the National Trust for Historic Preservation, the Cesar Chavez Foundation, Sierra Club, and many others have been so concerned, since the bill itself is unlikely to become law—this time.
Q: Is the bill moving to the Senate now that it has passed the House?
A: Yes, but it's unlikely to advance. There is little chance that the Senate will take up this harmful legislation. Despite this, the fact that this bill passed the House is extremely disappointing and a sign that Congress isn't giving national parks the respect they deserve. NPCA is also concerned about what could happen with this kind of legislation next year in a new Congress. Our national parks and other protected areas designated through the Antiquities Act belong to all of us—and just like anything that we own, it is important that we ensure their long-term care.
Q: Is this the first time Congress has tried to limit the president's powers under the Antiquities Act?
A: No—and we expect that it won't be the last time, either. Historically, Congress has restricted presidents from designating new national monuments in the states of Alaska and Wyoming. In this Congress alone, there are 12 pieces of legislation that would dismantle the effectiveness of this important law. Fortunately, none of these 12 bills have passed the full Congress—but not for lack of trying. That is why NPCA feels it is so important for national park supporters to express their strong support for the Antiquities Act and their disappointment in members of the House who attempted to undermine this critical conservation tool.
Q: How has President Obama used the Antiquities Act?
A: Since 2009, President Obama has used his authority under the Antiquities Act ten times, including five designations managed by the National Park Service: the Fort Monroe, Cesar E. Chavez, Harriet Tubman Underground Railroad, First State, and Charles Young Buffalo Soldiers National Monuments. These designations enjoy tremendous community support, and had accompanying legislation that was stalled in Congress. With these additions, our National Park System more fully reflects our cultural heritage and better connects urban populations to our national parks. These are important goals that NPCA shares with the Obama Administration and the National Park Service—and people across the country who treasure our national parks.
Q: When was the last time that Congress designated a national park?
A: While NPCA commends congressional actions to protect parks, including the recent wilderness designation within Sleeping Bear Dunes National Lakeshore, Congress has not passed a piece of legislation to designate a new national park site since 2009.
Q: Is this House vote in step with how the American public feels about national parks?
A: The American people love our public lands and want elected officials to care for them. Polling shows that, regardless of political affiliation, 95 percent of voters see "protecting and supporting national parks" as an appropriate role for the federal government.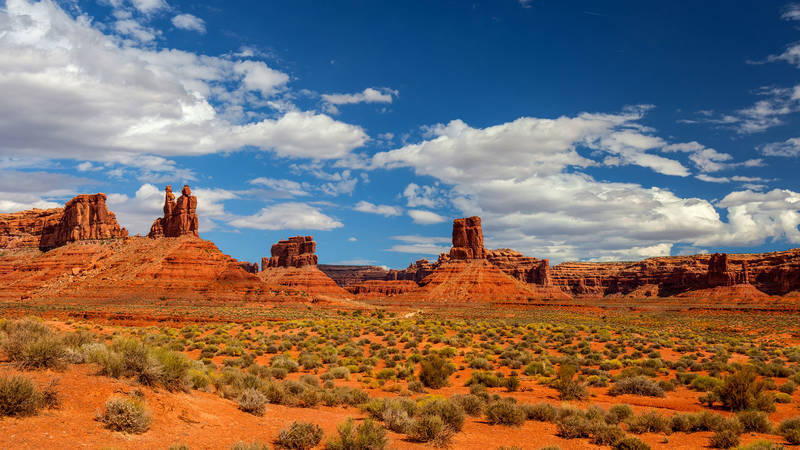 Victory
NPCA, along with our more than 1.6 million members and supporters and park advocates across the country spoke out and fought tirelessly to protect all that Bears Ears and Grand…
See more ›
Q: Moving forward, what are some of the opportunities to protect our public lands?
A: Progress within Congress to designate new national park sites or expand current ones has been slow-going (or, in the case of H.R.1459, backward-moving), but NPCA remains encouraged by bipartisan legislative proposals across the country. Currently, NPCA is focusing on 13 pieces of legislation that would establish, protect, and enhance our National Park System by incorporating significant new sites and stories. These bills would help celebrate everything from Buffalo Soldiers to the Gettysburg Address to saber-tooth cats! Explore these potential new park sites and stories at http://tellingourstori.es/.