8 reasons to add Great Smoky Mountains National Park to your bucket list — from its biodiversity and bluish haze to long human history. 
Great Smoky Mountains National Park straddles the border between North Carolina and Tennessee in the Appalachian Mountain chain, one of the oldest mountain ranges in the world. The park offers visitors spectacular views, recreation and natural wonders in each season.
Adjoined by three national forests, the 800-square-mile park is the ancestral homeland of the Cherokee. They called the area Shaconage, or "land of blue smoke," for its natural bluish haze — which is caused by organic compounds given off by the mountains' abundant vegetation.
Great Smoky Mountains National Park holds UNESCO World Heritage status for its natural beauty and world importance. It's also among the country's most visited national parks, in part because it is easily accessible from major interstates and highways. In fact, half the population of the United States lives within a day's drive from the park.
While getting to the Smokies is easy, here are eight other reasons to add this park to your must-see list:
1. Immense biodiversity
Great Smoky Mountains is the most biologically diverse national park in the United States — no other park matches its number and variety of animals, plants, fungi and other organisms. That's because this land became a refuge for species displaced during the last ice age.
Its valleys and peaks range in elevation from about 875 feet to more than 6,600, creating safe habitats throughout the park for plants and animals we might consider common only to northern or southern regions of North America.
Abundant rainfall and high summertime humidity create a temperate climate in which species thrive — including 100 species of native trees, over 1,500 flowering plants, more than 200 types of birds and over 9,000 species of insects.
About 80 types of reptiles and amphibians live here. The park is known as the "Salamander Capital of the World" for its 30 identified species — from the 2-inch lungless salamander to foot-long hellbender.
Stay On Top of News
Our email newsletter shares the latest on parks.
The nonprofit Discover Life in America, an official park partner, is conducting a massive effort to catalog every species living in Great Smoky Mountains. Since 1998, the group has tallied more than 21,000 species, including more than 1,000 that are new to science. Scientists believe there may be as many as 80,000-100,000 living species overall. Citizen science plays an important role in the project, giving the public opportunities to participate in research.
2. Stunning scenery
Geologists believe the Smokies were once as tall as the Rocky Mountains, but wind, water and time have worn them down to the sloping peaks and broad valleys we see today. About two inches of rock erode every thousand years. Forests of hardwoods and evergreens cover these mountains, with different tree species growing at different elevations.
At Clingmans Dome, the park's highest point at 6,643 feet, visitors can take in this stunning scenery from an observation deck. The 360-degree view extends over 100 miles on a clear day but sometimes can be limited to around 20 miles because of air pollution. An NPCA lawsuit against the Tennessee Valley Authority for violating the Clean Air Act by not upgrading its coal power plants with modern pollution controls led to a landmark 2011 settlement — as a result, power plants run more cleanly and the park's visibility is improving.
Mountain views can also be seen throughout the park, whether visitors tour by car or on foot. With 150 official trails in the park, hikers can find vistas at many points along their way. An 11-mile, one-way loop road circles Cades Cove and is open for bicycle and foot traffic only each Wednesday from May through September. A drive over Newfound Gap Road compares to a trip from Georgia to Maine in terms of the varying forest ecosystems to see. Auto tours also can be taken along Foothills Parkway and through Cataloochee Valley.
3. Bears! And plenty of other wildlife
About 1,900 black bears live in Great Smoky Mountains, one of the largest protected areas in the eastern United States where the bears can live in wild, natural surroundings. These Great Smoky icons, along with deer, turkeys, ground hogs and other wildlife can often be seen in the open fields in Cades Cove and Cataloochee Valley during the morning and evening.
Among the spruce and fir forests on the park's high-elevation ridges, you might spot the endangered Northern flying Squirrel, saw-whet owl, red crossbill, Blackburnian warbler and other creatures.
In all, about 65 species of mammals and 50 native species of fish reside in the park. Before the park's establishment in 1934, a number of native animals — such as bison, elk, mountain lion, gray and red wolves, river otter, Peregrine falcon, and several species of fish — were eradicated by hunters and trappers, among other reasons. Today, the National Park Service works to preserve native species in a condition similar to what existed before the presence of modern humans.
Some species have been reintroduced, such as elk in 2001 after a 200-year absence, as well as river otter and peregrine falcon.
To reduce the likelihood of vehicles colliding with wildlife on Interstate 40 in North Carolina, NPCA has successfully advocated for wildlife safe passages. These overpasses and underpasses will help animals move safely between the park and national forests as they search for mates, food and habitat.
4. The ancestral home of the Cherokee
The Cherokee Nation once inhabited what now makes up the southeastern United States. Members lived in a matriarchal society of small communities. Among their hunting grounds were the mountains and valleys now part of Great Smoky Mountains National Park.
In the 1700s, settlers encroached on Cherokee territory, spreading disease, prompting conflict and pressuring the Tribe to relinquish their land. Some Cherokee chose to migrate westward before President Andrew Jackson began their forced removal.
From the edge of what's now the national park, the U.S. government placed the Cherokee in stockades and confiscated their homes and possessions. In 1838, nearly 14,000 Native Americans were forced to move to Oklahoma and Arkansas — a deadly, six-month walk that became known as the Trail of Tears. More than 4,000 Cherokee died enroute from cold, hunger and disease.
A small group, the Oconaluftee Cherokees, were allowed to stay. Others hid deep in the mountains to avoid relocation. Together, they formed the Eastern Band of the Cherokee Indians, which has about 15,000 members today. Many of them live in a 57,000-acre reservation known as the Qualla Boundary, which borders the park. The Museum of the Cherokee Indian and Oconaluftee Indian Village tell the Cherokee story and are located just outside the park in Cherokee, North Carolina.
The Tribe is currently seeking to rename the park's Clingmans Dome to Kuwohi, which translates to the Mulberry Place — a change NPCA supports.
5. Remains of settler villages
For a century prior to the establishment of Great Smoky Mountain National Park, European settlers lived on land that had been the home of the Cherokee. Visitors can explore remnants of settler villages in Cades Cove on the western end of the park and Cataloochee Valley on the eastern end.
In Cades Cove, families used the rich and fertile land to grow corn. They built log homes, barns, churches and schools. As many as 685 people lived here in 1850. Neighbors assisted one another and turned seasonal chores into community events: corn husking, molasses making and gathering of chestnuts. The National Park Service has restored several cabins and barns so Cades Cove looks as it did in the early settler days.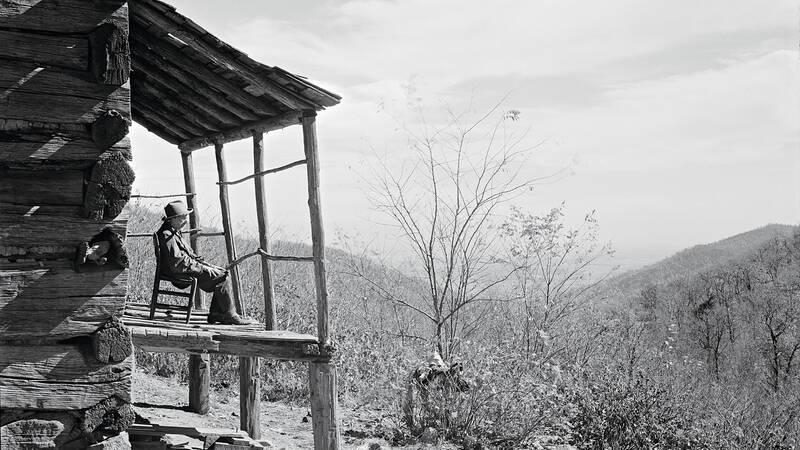 Magazine Article
Almost a century after Virginia pushed out mountain people to make way for Shenandoah National Park, monuments to honor their memory are helping their descendants heal.
See more ›
In Cataloochee Valley, visitors can get a glimpse into mountain life at the turn of the 20th century. About 1,200 people lived here in 1910 and based their economy on farming, commercial apple growing and an early tourism industry. Historical buildings can be seen from the main road or by hiking a couple miles: a school, churches, a barn and a few homes.
This year, the park completed a renovation of the Walker sisters' two-story cabin. The women refused to leave their farm when the park was created, so the government granted them a lifetime lease. The cabin dates to the 1800s, and the sisters lived there until 1964.
6. The ghost town of Elkmont
In the early 1900s, Elkmont was a logging and railroad town of more than 1,500 people. It was built by the Little River Lumber Company and Railroad, which owned almost 80,000 acres of what is now the national park. In addition to laborers, the railroad and town attracted wealthy vacationers and social clubs. Elkmont Campground now occupies part of this area.
The "ghost town" moniker developed in the 1990s after numerous resort cabins from Elkmont's heyday were abandoned. When the government established the park, residents were given the choice of selling their homes at full value or selling to the Park Service at reduced price in return for a lifetime lease. Many chose leases, most of which expired in 1992. The Park Service was left with dozens of empty buildings it could not maintain.
The Park Service demolished some buildings and preserved others and opened them to the public. Among them is the 3,000-square-foot Appalachian Clubhouse, which can be rented for events.
Something else worthwhile to see at Elkmont: fireflies. Elkmont is one of the best places in the world to view these lightning bugs each June.
7. Lodging at 6,400 feet
No roads lead to LeConte Lodge at the base of Mount LeConte, so this backcountry accommodation requires a hike. Reservations must be made well in advance.
Mount LeConte is Great Smoky Mountains' third-highest peak at 6,593 feet. Five trails — ranging in length from 5 to 9 miles — will get you to LeConte Lodge, which is under Park Service jurisdiction. If you take the Trillium Gap Trail, you might see the lodge's pack llamas carrying the latest delivery of provisions.
LeConte Lodge sits at nearly 6,400 feet and is considered the highest guest lodge in the eastern United States. It operates generally from mid-March through mid-November and is the only in-park lodging. Other lodging can be found in the park's gateway communities.
The lodge actually predates the park. LeConte Lodge began as a tent camp in 1926 for visiting dignitaries from the nation's capital when plans began to create Great Smoky Mountains National Park.
8. Free entrance!
Unlike many national parks, Great Smoky Mountains has no entrance fee. However, a parking tag is required for each vehicle — with prices set at $5 for a day, $15 for a week and $40 for the whole year. Parking tags are not required for motorists passing through the area or who park for fewer than 15 minutes.
The Park Service added this modest charge in March 2023 — a move supported by NPCA because the park has been operating on an inadequate budget for years while experiencing an increasing number of visitors.
Parking tags can be purchased online or in person at locations near the park's three main entrances: Gatlinburg and Townsend, Tennessee, and Cherokee, North Carolina.
About the author
Linda Coutant

Staff Writer

As staff writer on the Communications team, Linda Coutant manages the Park Advocate blog and coordinates the monthly Park Notes e-newsletter distributed to NPCA's members and supporters.