An NPCA intern shares her experiences navigating this highly visited park's reservation system — and offers some insights to help make your visit just as successful.  
In June, I explored Rocky Mountain National Park for the first time. One of my college friends is interning in Denver this summer, and he invited me to visit him — with the enticing offer of a weekend trip to hike Rocky Mountain. Although it was last-minute, I jumped at the opportunity.
As someone who grew up in Houston, a city with few green spaces, I was immeasurably grateful to be able to explore Colorado's outdoors. It wasn't until college, when I moved to Austin, Texas, that I first began to take trips to national parks and nature preserves with friends and develop a first-hand appreciation for such experiences.
The catch: We had only one day to explore the park, so we knew we had to make the most of it. Our timed reservation entry for Rocky Mountain was from 5-7 a.m. on Sunday, which meant we had to enter the park during that period but could stay all day. We woke up at 4 a.m., ready to hit the road.
After a two-hour drive, my friend and I arrived in the park and began our journey along the Bear Lake Road corridor, the park's gateway to trails, camping, scenic views and more. We faced minimal traffic in the park, quickly passing through the checkpoints and easily finding parking.
Although we were visiting one of the most popular areas of Rocky Mountain during peak season, it certainly didn't feel that way.
We were thankful for Rocky Mountain's reservation and timed entry system recently implemented by the National Park Service – it was easy to use and enhanced our trip.
After a brief stroll around Bear Lake Loop, we spent the rest of our morning hiking to Lake Haiyaha and Emerald Lake. Under clear and sunny skies, we enjoyed awe-inspiring panoramic views of rugged peaks and sprawling forest. We passed little chipmunks, rugged boulders and mountain streams, and we lingered, taking our time to appreciate the natural world around us. After our hike, which totaled a little over six miles, we took the scenic drive up Trail Ridge Road and visited the alpine tundra above the tree line.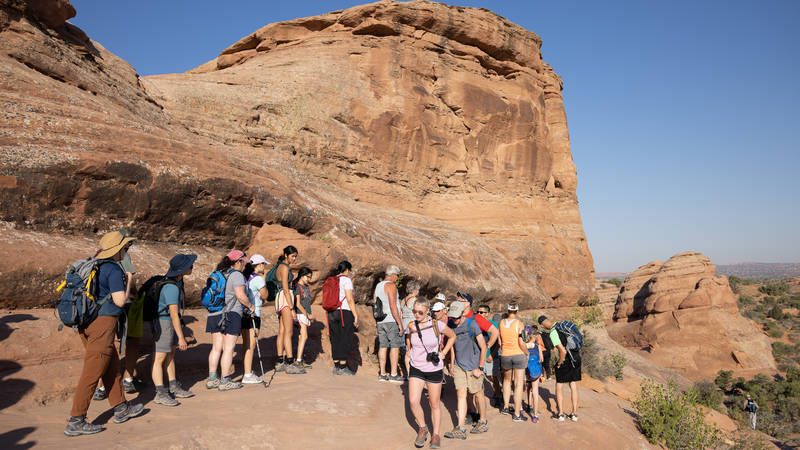 Know Before You Go
As millions of people continue to find and explore our national parks each year, some ― including Glacier, Rocky Mountain and Arches ― are working on solutions. Here's what to…
See more ›
While we did encounter other hikers and visitors, we didn't feel rushed or cramped, even on Rocky Mountain's most popular trails. Luckily, this meant we also didn't have to face the issues and frustrations that come with national park overcrowding, including packed trails and traffic jams.
We were thankful for Rocky Mountain's reservation and timed entry system recently implemented by the National Park Service – it was easy to use and enhanced our trip. The park will soon conduct a public process to make the timed entry system permanent, which NPCA strongly supports.
Preparation is key
Like many other people who visit national parks will tell you, though, preparation and research were the keys to our successful trip. Because Rocky Mountain uses a timed reservation entry system, visitors must book their visit ahead of time by using the online system at Recreation.gov. We incorporated this small extra step into our planning process, and it helped us feel more secure in our ability to enjoy the park without overcrowding.
There are two options when making reservations at Rocky Mountain, one that includes access to the Bear Lake Road corridor and one that does not. Visitors should be careful to select the option that works best for them.
My friend secured our reservation, and he said he found the system easy to use and had no problems with the process. For those who don't make plans months in advance, around 30% of reservations are held and made available for purchase the day before at 5 p.m. In addition, anyone can visit outside of reservation hours, which provides less certainty for getting in when you want but is one more option for seeing the park.
Research was also particularly useful when it came to selecting which trails to hike. In addition to asking co-workers and friends for recommendations ahead of our trip, we spent some time looking through maps and considering trail difficulty and the length of each hike. While we were lucky enough to experience sunny skies all day, this isn't normally the case. Afternoon showers are common during summer months at Rocky Mountain, and we wanted to be able to leave the park by noon if necessary without feeling that we had cut our trip short. My return flight to Austin was that night, so we needed to be especially careful about timing.
Our meticulous scheduling and luck with clear weather allowed us to incorporate the drive on Trail Ridge Road without worrying that I might miss my flight. Overall, we thoroughly enjoyed the trails we chose, and my friend said they were his favorite hikes he'd taken in Rocky Mountain.
Remember gear and meals
It's also important to plan out what gear and food you'll need — and here, we fell a bit short. While we brought trekking poles and appropriate attire, we didn't expect the trails to still have snow and ice on them in June. Fortunately, my friend had brought a set of microspikes, which stretch over boot soles to provide additional traction on ice and snow , and he graciously lent them to me.
In addition, we grossly underestimated how much food we would need. We brought enough water, but we had only brought a few snacks and felt famished by the end of the day. While there are restaurants nearby in Estes Park and Grand Lake, there is only one place to eat inside the national park: Trail Ridge Store, located next to the Alpine Visitor Center. It is open from late May to early October.
Hikers who bring food with them should keep bear safety in mind, but since Rocky Mountain has a low bear population — only 20-30 black bears in the park — the chance of an encounter is low.
We loved our time in Rocky Mountain, and taking the time to think a little harder about what we would need once inside the park would have saved us a couple falls on the snow and a hungry afternoon. It's easy to forget or overlook a few things while planning a trip, so be sure to plan early — especially your timed entry reservation! — and double- check to ensure you have everything you need.
Want to visit?
Rocky Mountain National Park offers a variety of mountain environments, including meadows, lakes and lofty peaks, with abundant wildlife and recreation opportunities. The National Park Service offers useful planning tips, whether you're visiting in summer, fall, winter or spring.
Stay On Top of News
Our email newsletter shares the latest on parks.
About the author
Megan Tran

Texas Young Leaders Advocacy Council

Megan Tran is a Houston, Texas native and served as the 2023 summer communications intern at NPCA. She is currently an undergraduate student at the University of Texas at Austin where she is majoring in Plan II Honors, English and sociology.