Thinking of exploring a national park by yourself? An experienced solo traveler — and NPCA staff member — offers pro tips to make the most of your park visit.  
As an independent person with a penchant for doing things just because someone tells me I can't, going to national parks by myself has been one of the greatest experiences in my life, offering me solitude as I appreciate the wonders of our natural world.
That said, solo traveling to some of America's most remote places has also taught me that you don't have to be highly independent to challenge yourself to try something new and enjoy it.
From Crater Lake to Death Valley, Canyonlands to Channel Islands, I've spent the last five years exploring national parks solo. Here's what I've learned — and appreciated — through my time alone in the outdoors.
1. No one else knows it's your first time.
It's easy to get in your own head when you're setting up camp on your own, and I definitely wondered at first if my neighbors were judging me.
I quickly learned that way more people are exploring by themselves than I first thought — and they're pretty welcoming.
On my first trip to Zion, on my way up to Angels Landing I met a widow in her 70s who quickly became my buddy. Along the way, a man in his 30s joined our delegation (he was there for a bachelor party but no one else in his group had wanted to make the hike).
We distracted each other from thinking about just how high up we were, and at the top took plenty of photos to document the day.
2. National parks really are the great equalizer.
You automatically have something in common with everyone you meet on the trail: You love spending time in parks. I've met so many people I probably wouldn't have had reason to talk to if we'd met under different circumstances, people with life experiences and political beliefs far different from my own. Yet we formed meaningful, albeit temporary, community with each other.
I had people bring me meals or invite me to their campfire when they saw me alone at my campsite — and how often will you talk to retirees you aren't related to or join a group of strangers for an impromptu jam session? These conversations are always special to me, and honestly probably wouldn't have ever happened if I had a group of friends with me.
3. You don't need quite as much gear as you think.
I started out as a long-distance backpacker prepared for every situation — from summiting Mt. Whitney to casual group hikes with friends and family. It seemed obvious that I would just use my backpacking gear when I started going to parks, but I quickly found out that the ultralight gear I used when hiking 15-mile days often didn't suit my needs while I was at a campsite — it was too light. I wanted a balance between the minimalism of backpacking and bringing excessive equipment with me.
Fancy cooking gear and complicated gadgets can be fun and interesting to use, but I've found staples — like a good cast iron pan and a classic Nalgene bottle — beat out the more expensive stuff almost every time. Fewer pieces and moving parts always means your gear is sturdier and less likely to break or fail when you need it. That's not to say gear will always solve your problems or hold up to the test — even the best tent won't make sleeping out in 50 mph winds at Death Valley cozy (that's when you sleep in your car!). Which brings me to my next piece of advice…
4. Do your research.
There's a reason "do your research" appears on most trip planning listicles. Every national park is really its own little ecosystem with ebbs and flows in conditions throughout the seasons. A few minutes of research would've saved me from planning that Death Valley trip for April, the windiest month in the park.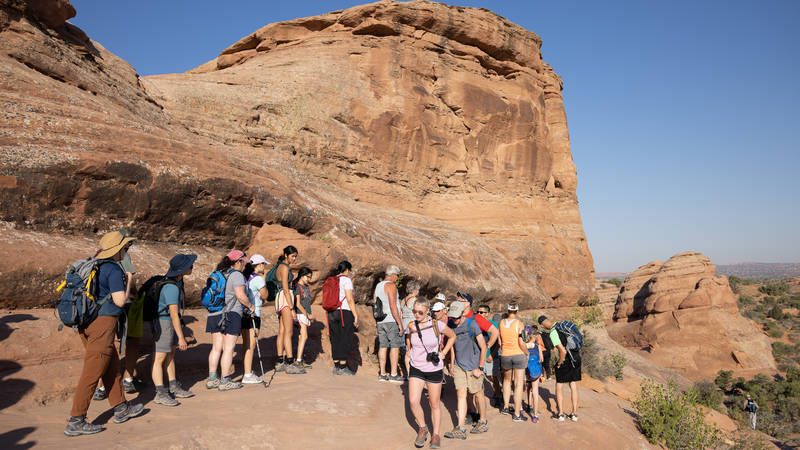 Know Before You Go
As millions of people continue to find and explore our national parks each year, some ― including Glacier, Rocky Mountain and Arches ― are working on solutions. Here's what to…
See more ›
Besides doing your best to avoid floods, blizzards, wildfires and gale force winds, when you're traveling by yourself, it's even more important to know where your resources are. You might not have cell service in many parks, so saving offline maps with bookmarked grocery stores, gas stations and visitor centers can save you a lot of trouble.
Always have a backup plan so you don't have to compromise your own safety if anything changes unexpectedly. Whether it's pouring rain the night you planned to sleep under the stars or if someone is paying you unwanted attention at your campsite, it's a lot easier to leave if you know where you can go.
5. Test your equipment.
Please don't pitch your tent for the first time in a national park. Practice setting up your campsite in your backyard, test run your meals in your kitchen, and check that the batteries in your headlamp have been replaced since your family camping trip in 2006.
Break in your boots well before your departure date — and make sure they're appropriate for the trails you're interested in. You might not need hiking boots as rugged as you think, or you might need stronger traction if a trail is muddier or snowier than originally planned. At the end of the day, you need to know you can rely on your equipment and be ready to think on your (properly outfitted) feet.
6. Safety first — your loved ones will appreciate it.
A satellite communication device, such as the Garmin InReach I use, is indispensable. It will run you $300-700, but I'll never travel solo without one. It has an SOS feature that can help get emergency services to you within a few hours in a worst-case scenario. I've luckily never had to use the SOS feature, but I have used one of its other communication options: You can send preset or custom messages to friends or family, even when you don't have cell coverage.
This brings great peace of mind so I can tell my parents I'll text when I get to my campsite, and that they should hear from me by 2 p.m. — and while my plans have a habit of changing, this bit of technology helps my family sleep a little easier.
7. Pick the right park at the right time.
Zion was the perfect park for my first solo trip — you can be back in town pretty quickly, and there are tons of people around so you never feel truly alone. That was a comfortable first experience for me, and as I've grown more confident, I've started looking for more remote experiences.
When I went to Grand Canyon in November (with snow on the ground!) I didn't see another person for two or three days. If that kind of seclusion doesn't appeal to you, look at going a little closer to peak season. It really just depends what you're looking for — there's no right or wrong experience.
8. No one is keeping score.
If you feel lonely or unsafe, no one is keeping track of how many hours you spent by yourself. Leave! Go walk around a grocery store, take yourself for coffee at a diner, head home if you're feeling ready.
You don't win anything by sleeping in a tent by yourself for the sake of it. You're the one who gets to decide how to have a good time.
Stay On Top of News
Our email newsletter shares the latest on parks.
About the author
Abbey Robertson

Senior Manager, Corporate Partnerships & Cause Marketing

As the senior manager of corporate partnerships and cause marketing, Abbey strategizes, collaborates with and stewards partners from end to end to create compelling, engaging campaigns in support of NPCA's mission.