84% of respondents indicated they would like to have a reservation system in place for future visits to Arches
MOAB, UTAH – New national park visitor use data released today from Utah State University (USU) reflects positive results from 2022, the first year of timed entry access to Arches National Park. An 89% majority of survey respondents successfully acquired a timed entry ticket for their visit. Of that number, 98% were able to enter on their selected day.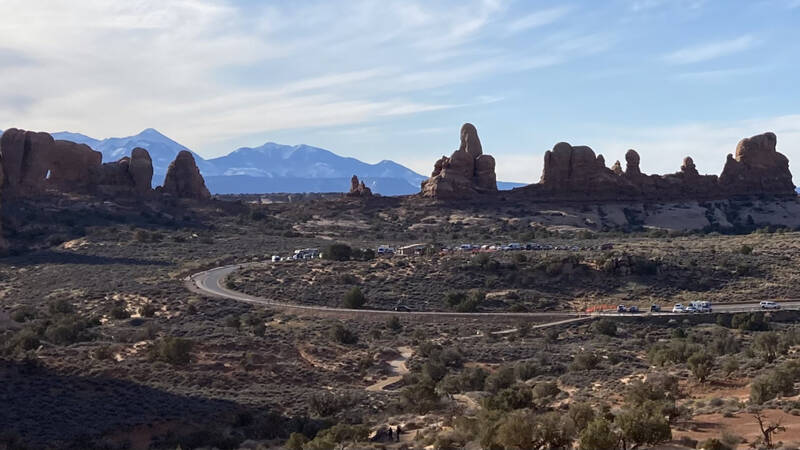 Report
This Utah State University report provides the findings of a study of visitor experiences with the pilot timed-entry system implemented in Arches National Park in 2022.
See more ›
USU received more than 500 completed visitor surveys during the summer of 2022 when researchers intercepted visitors at the park's popular Delicate Arch, the Windows and Devils Garden trail heads.
"This study shows that many visitors to Arches National Park had a positive experience with the pilot timed entry system," said Iree Wheeler, PhD student at Utah State University. "Congestion and crowding were alleviated, and a majority of visitors prefer a reservation system for future trips to Arches National Park. Like any new program there are areas for refinement over time, including increased information distribution to raise awareness for the requirements."
Other highlights from the study include:
84% of respondents indicated that they would like to have a reservation system in place for future visits.
78% of visitors were aware of the timed entry system before arriving in the area surrounding Arches.
Respondents reported that the timed entry system improved their Arches experience overall, either making their experience somewhat or much better (57%) or meeting their expectations (38%).
88% of respondents indicated no impacts to their experience, if/when required to select an alternate day to visit the park.
Respondents gave the timed entry system good reviews, rating most components of the system and their experience navigating it as good or excellent (mean of 4.16-4.47 on a 5-point Likert scale).
Most timed entry tickets for Arches are secured three months in advance, while the park also opens a select number of tickets for purchase one day in advance. Before Arches National Park implemented its pilot timed entry system, overcrowding compelled park staff to temporarily close the entrance gates 140 times between April 1-October 31, 2021.
"The USU data suggests not only are visitors determined to visit special, irreplaceable places like Arches National Park, but they will adopt and adapt to new ways of accessing it," said Erika Pollard, Southwest Associate Director for the National Parks Conservation Association (NPCA). "It's also encouraging to see a 14% increase in support for managed access systems, in comparison to USU's 2021 study at Glacier National Park. In Moab and beyond, support from local businesses, advocates, and tourism partners is essential for long-term success at Arches and other parks adopting new ways of visiting."
The 2022 USU study followed research conducted at Glacier National Park in 2021, during the first year of ticketed entry there. Based on input from 519 visitors interviewed in the Glacier study, 70% supported the timed entry system for future visits, seeing it as an acceptable management alternative.
Both USU research studies were supported with funding from NPCA.
# #
About the National Parks Conservation Association: Since 1919, the nonpartisan National Parks Conservation Association has been the leading voice in safeguarding our national parks. NPCA and its more than 1.6 million members and supporters work together to protect and preserve our nation's most iconic and inspirational places for future generations. For more information, visit www.npca.org.