This historic, bipartisan 2020 legislation has made big improvements in our national parks. As NPCA calls on Congress to extend this critically needed source of funding for deferred maintenance and repairs, these five parks showcase how this investment makes a difference. 
For nearly three years, the Great American Outdoors Act has provided billions of dollars in funding to fix our national parks' crumbling roads, decaying buildings, outdated water systems and other repair needs. Already, this bill has funded hundreds of repair projects across the National Park System, supporting thousands of jobs that are contributing $6.3 billion to the economy.
While this historic legislation has helped our parks tackle their deferred maintenance, it will not address all of the $22 billion estimated backlog of park repair needs. NPCA and our members and supporters are urging Congress to extend the Great American Outdoors Act's maintenance and repair funding for at least an additional five years to ensure our parks can continue to welcome visitors and protect the natural and cultural resources that tell our nation's history.
Building on the progress already made, here are five more projects that are breaking ground at national parks across the country because of the dedication of thousands of passionate advocates who demanded that Congress fix our parks and the hundreds of bipartisan lawmakers who heeded our call.
1. Natchez Trace Parkway – Tennessee, Alabama and Mississippi
Road improvement
Natchez Trace Parkway is one of our country's most scenic drives. With 15 million annual visitors, it is also one of the 10 most visited park units. Winding nearly 450 miles through parts of the South, this road roughly follows the historic route of the Old Natchez Trace trail, a travel corridor used by Native Americans over thousands of years, followed by European settlers, soldiers, future presidents and traders of enslaved people. Visitors can explore natural and historic sites, including paths for hiking, biking and horseback riding. The road is also a major commuter route for millions of people who live in neighboring communities. However, vehicle traffic is taking a toll on the parkway's original 75-year-old pavement. The surface is deteriorating, creating uneven and dangerous driving surfaces.
Through a $105 million investment from the Great American Outdoors Act, approximately 50 miles of the Natchez Trace Parkway will be repaved. Multiple public access routes and parking lots also will be fixed. The GAOA investment also will leverage an additional $54 million in grants from Federal Highway Administration's Nationally Significant Federal Lands and Tribal Projects Program to rehabilitate another 83 miles. Total investment will repair pavement along one-fifth of the parkway, providing safer conditions for motorists and cyclists for up to 40 years.
2. Rocky Mountain National Park – Colorado
Improved campground utilities
Straddling the Continental Divide, Rocky Mountain National Park offers awe-inspiring views of mountain peaks that range from 7,800 feet to more than 14,000 feet. The park offers more than 300 miles of hiking trails and is one of the country's top wildlife-viewing destinations featuring elk, bighorn sheep, bobcats, coyotes and over 280 bird species.
Many visitors take advantage of the park's hundreds of wilderness campsites and five front-country campgrounds. Moraine Park is the largest of these campgrounds and is open year-round. It typically serves more than 30,000 campers annually and has 244 sites that can accommodate RVs, vans and tents. But the existing infrastructure for water, sewer and electricity has not been updated since it was first built in the 1960s.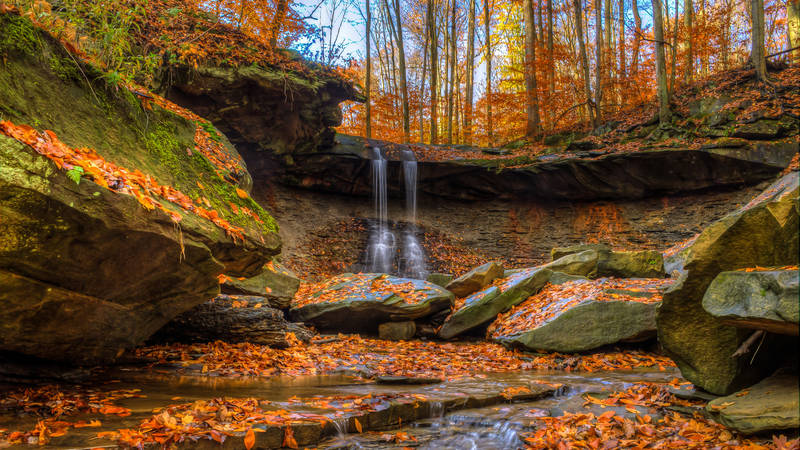 Blog Post
On the two-year anniversary of the Great American Outdoors Act, parks around the country are seeing big, tangible improvements as a result of this historic bipartisan victory.
See more ›
Waterline leaks and breaks are common, and poor drainage along roadways leads to campsite flooding. These problems create unsafe conditions, not to mention disappointed campers — and the park has brought in less revenue from campground fees as a result.
Through a $31.9 million investment from the Great American Outdoors Act, this system will be updated. The project will also increase accessibility, rehabilitate a ranger station, add food storage lockers and concrete pads to campsites, and improve roads and parking. Electrical service will be added to approximately 60 RV campsites, and overhead electric powerlines will be moved underground, improving the views for everyone.
3. Glacier Bay National Park – Alaska
Improved staff housing
Located on the coast of southeast Alaska about 100 miles northwest of Juneau, Glacier Bay National Park and Preserve encompasses 3.3 million acres. A half-million visitors each year explore its snowy mountain peaks, narrow fjords, bays, harbors, scattered islands, temperate rainforest of spruces and hemlocks, and numerous glaciers.
Many visitors opt to stay at Glacier Bay Lodge, which provides the only in-park overnight accommodations, food service and other amenities. However, a shortage of housing for concession employees has led to staff to use otherwise rentable cabins, reducing revenue for the park. Existing employee apartments do not meet safety, fire and accessibility codes. The buildings are also poorly insulated and inefficiently heated.
Through a $16.7 million investment from the Great American Outdoors Act, three existing dorms will be demolished and replaced with one multi-purpose building that will lower operation and maintenance costs and provide a safe, accessible and energy-efficient living space for staff. The project will also replace buried fuel and propane lines at risk of leaking. The cabins where the staff now live can be rented to park guests, increasing lodging income.
4. Statue of Liberty – New York
Fort Wood repairs
The Statue of Liberty overlooking New York Harbor and the city skyline has long been a symbol of liberty, freedom and democracy. This monument was the first sight of America for U.S. immigrants arriving by boat, and it continues to welcome more than 3 million visitors each year.
Long before the statue was dedicated in 1886 and then transferred by President Franklin D. Roosevelt to the National Park Service in 1933, Liberty Island was a strategic part of New York's harbor defense system. A massive stone fort in an 11-pointed star design, later named Fort Wood, was constructed between 1808 and 1811. The harsh environment in New York Harbor, along with storm surges and rising seawaters, have taken a toll on the 200-year-old fort, leaving about 50,000 square feet of walkways in disrepair.
Through a $22 million investment from the Great American Outdoors Act, historic Fort Wood will be protected. Its exterior levels will be waterproofed, and walkways will be upgraded to improve drainage, public access and safety. These repairs should last 20 years, making conditions safer for millions of visitors.
5. Hot Springs National Park — Arkansas
Preserved bathhouses
Nestled in the heart of downtown Hot Springs, Arkansas, Hot Springs National Park has a rich and colorful past. Ancient thermal springs, mountain views, incredible geology, forested hikes and abundant creeks — all in the middle of town — make Hot Springs a unique and beautiful destination.
Bathhouse Row, a strip that was designated as a National Historic Landmark District in 1987, consists of eight bathhouse buildings constructed between 1892 and 1923. Hot Springs National Park has a successful historic leasing program that has brought new life to downtown. Today, visitors can order a beer at Superior Bathhouse Brewery, which uses thermal spring water as its primary ingredient; stay overnight at the Hale Hotel, which has thermal water piped into its tubs; and enjoy thermal pools and spa treatments at the Quapaw Bathhouse. Other buildings house the park visitor center and the Hot Springs National Park Cultural Center.
Stay On Top of News
Our email newsletter shares the latest on parks.
Through a multi-million-dollar investment from the Great American Outdoors Act, two more historic bathhouse buildings will be more accessible, safe and energy efficient for visitors: the Maurice Bathhouse and the former Libbey Memorial Physical Medicine Center. Decades of decay make them unusable without major rehabilitation. The Maurice project will include replaced roofing, as well as new electrical, HVAC and fire suppression systems. The foundation of the medicine center will be stabilized, and window and roof repairs will stop water infiltration. When the work is complete, the park can lease these structures to private businesses, bringing more income to the Park System.
An update on Acadia's GAOA success
Last summer on the two-year anniversary of the Great American Outdoors Act, I reported on nine success stories made possible through this Congressional funding, including a new maintenance complex for Acadia National Park.
NPCA was happy to be a part of groundbreaking celebrations at Acadia April 27 for this building, which has received $32.6 million through the Great American Outdoors Act.
The maintenance facility will replace an unsafe, undersized structure built in 1963 and will have 32,000 square feet of workshops, equipment storage, meeting rooms and offices. The facility will allow for more efficient park maintenance operations and resource protection and support the elimination of $4.4 million of deferred maintenance and repairs across the park.
The Park Service expects the facility to be operational in fall 2024.
This story has been updated from its original version.
About the author
John Garder

Senior Director of Budget & Appropriations, Government Affairs

John Garder is Senior Director of Budget & Appropriations at NPCA. He is a budget analyst and researcher who advocates for more adequate funding for national parks to diverse audiences, including Congress, the White House, and the Department of the Interior.