The third video in a new series showcases community activist Araceli Hernandez and her work to increase access to outdoor spaces in her community.
Through a new video series in partnership with Nature Valley, NPCA celebrates the historical and cultural heritage of our Hispanic and Latino communities — while honoring a few of the people who preserve national park sites and other public lands.
The series features three videos highlighting profound park experiences by national park advocates, including Araceli Hernandez. Inspired by the transforming nature of her first national park visit to Yosemite, she now focuses her career on providing equitable access to nature.
In addition to Hernandez, this video features Los Angeles artist Adriana Barrera who paints a custom piece of art celebrating Hernandez's work and the significance of the Santa Monica Mountains to the community of Los Angeles, California. The art piece is revealed to Hernandez for the first time in the video.
Here is a behind-the-scenes look into the filming of this video and the people and park site it celebrates.
Located in the backyard of Los Angeles, Santa Monica Mountains National Recreation Area is the world's largest urban national park. As a resident of the greater Los Angeles area, I know firsthand the benefits of having access to the park's more than 500 miles of trail and abundance of surprisingly wild spaces so close to the city.
On our drive to meet the film crew in the Santa Monica Mountains, we cruised along the scenic Pacific Coast Highway, enjoying iconic views of the Southern California coastline before turning inland to drive up to the mountainous park. We met the film crew at the National Park Service's Circle X Ranch, a former Boy Scout camp tucked in the canyons above Malibu that offers ample opportunities for recreation.
Although Hernandez grew up in the San Fernando Valley adjacent to the park, she told us that she first encountered national parks while scrolling through social media one day. A photo of Yosemite National Park caught her eye.
"It just made me really curious, and I started to look it up. I actually had no idea about national parks — the difference between national parks, national forests. I didn't even know where Yosemite was and found out 'oh – it's in the same state that I live in!'," she said.
Hernandez told us that right away she started to think about how she could get there. At the time, she didn't drive, so she plotted a nine-hour route to the park using public transportation. It also happened to be just before her birthday, so she told her family not to get her gifts that year and instead join her on a trip to Yosemite. Not only did that trip inspire her future love of public lands, but it also left a mark on her family. She shared that they've gone back together several times to continue exploring since that first visit.
Seeing other Latinos represented among park staff was powerful for her, and she aims to model this career path for her nieces and nephews, too.
Wanting to learn more after her experience in Yosemite, Araceli participated in a public lands advocacy training led by Nature For All, a nonprofit organization dedicated to connecting Los Angeles residents with the benefits that nature provides. After meeting park rangers and others in the field who looked like her, she began to imagine a career path in park protection. She now leads the organization's Leadership Academy Program and Community Transit Program.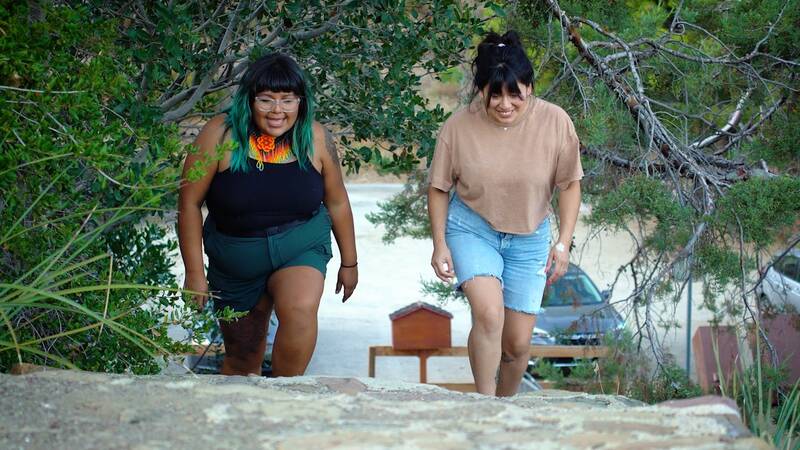 Video Series
Watch the full video showcasing Araceli Hernandez's experience and learn more about NPCA's partnership with Nature Valley and its impact.
See more ›
She shared that seeing other Latinos represented among park staff was powerful for her, and she aims to model this career path for her nieces and nephews, too.
"It was by seeing people doing this kind of work, and by knowing and going to these places that kind of prompted me [to do] the work I'm doing now," she shared.
Hernandez is also the founder of 818hikes, which began with a zine aiming to reduce barriers to nature. Specifically, it featured information about local trails accessible to residents in the San Fernando Valley by bus. She shared a copy of the publication with us — and we found suggested hiking trails with corresponding transit information, packing checklists and responsible visitation advice such as bear safety tips and reminders about Leave No Trace principles.
Exploring parks close to home, like Santa Monica Mountains, has changed her perspective on public lands, she said. It has given her a greater reminder of people's connection to nature and the benefits it brings to communities like Los Angeles.
"The significance of having the Santa Monica Mountains and a really big, open space near a really big, urban space like Los Angeles is having access to clean air and clean water. According to the 2016 Parks Needs Assessment, more than half of Los Angeles lives over half a mile from green spaces and doesn't have access — we can't just walk outside our door and breathe clean air, or run around in the grass, as an example. So having spaces like the Santa Monica Mountains that are free and accessible allow for our mental health since that's really connected," she said.
Storytelling through art
Barrera, also a native of Los Angeles, is an illustrator, painter and graphic designer whose work often features the intersectionality of city life and wildlife. She uses her art to showcase the nature that exists within Los Angeles at places like the Santa Monica Mountains to amplify her community's connection with the outdoors.
"I have a passion for nature and California native plants, but I just love my city of Los Angeles as well and just kind of marrying the two is what I really love to do. Nature is in the city, and I love to highlight that — that's really what drives my art," she said.
Like Hernandez, Barrera shares a special connection to Santa Monica Mountains. After graduating high school, she participated in a youth employment service through the National Park Service called SAMO Youth. It sparked her love for the park. After graduating from California State University Los Angeles, she returned to SAMO Youth as a supervisor, with the goal of inspiring the next generation to see the beauty of the nature that surrounds the city of Los Angeles and feel connected to these public lands.
"[Araceli's story] felt so familiar to my story. Barriers come in many forms and when she was talking about Transit to Trails and the zine she created, I was like 'Okay, yeah! She's using her art to inspire her community to go out into nature and explore, and that's exactly what I'm doing, too," she shared.
About NPCA's Partnership with Nature Valley
Together, NPCA and Nature Valley are celebrating and bringing awareness to spaces and stories within nature to help people discover new and meaningful ways to explore our national parks. These efforts are supported by a donation from Nature Valley, which advances the permanent protection of places that celebrate and bring awareness to the historical and cultural heritage of our Hispanic and Latino communities.
About the author
Alana Garibaldi

Manager, Corporate Partnerships & Cause Marketing

As the manager of corporate partnerships and cause marketing, Alana connects like-minded companies to NPCA's work, creating collective impact for our parks.