Winter 2023
Electrifying Parks
Will national parks build enough electric vehicle charging stations to meet the growing demand? An EV devotee sets out for Yellowstone to get some answers.
Last year, we brought home our first electric car, a plucky 2012 Nissan Leaf we found on a used-car lot in Spokane, three hours from our house in Missoula, Montana. My husband and I had been drooling over the idea of an electric vehicle for months but couldn't afford one of the newer models. So we picked up a first-generation Leaf and quickly became EV believers.
I love not burning gas (and not paying for it). I love how low-maintenance the car is. It's smooth, zippy and really fun to drive. And it came with a new hobby: trying to figure out exactly how far our EV could take us. Early on, as I was perusing the map of charging stations on the ChargeHub app, a constellation of lightning-bolt icons in northwest Wyoming caught my eye — charging stations in Yellowstone National Park? Could we possibly road trip to one of our favorite destinations in the Leaf?
GLACIER POWER
Klondike Gold Rush National Historical Park in Alaska has taken "going green" to new heights. The park site's fleet of electric vehicles plugs into the town's hydroelectric system to charge. Rather than a traditional reservoir and dam system, however, this hydropower starts as glacier meltwater and is funneled down a mountain using gravity. Learn more here.
To my great disappointment, no. Our EV has a maximum range of about 70 miles. That might be enough to travel between the charging stations inside the park, but maybe not: Range varies by driving conditions, and going uphill zaps the battery faster. No matter, because we couldn't even drive to Yellowstone itself. The nearest charging station to Missoula heading southeast on I-90 is 118 miles away — too far for a 10-year-old battery. Reluctantly, we ended up taking a regular gas car to Yellowstone in September. But my experience is getting less common every day. EV technology has evolved rapidly over the last decade: Most new models boast at least 200 miles of range, and many can go more than 300 miles on a single charge. If the parade of Teslas we saw in the park is any indication, the national park EV road trip is already entirely possible.
With their remote locations, vast spaces and the limited-to-nonexistent public transit options to reach them, many national parks require a car to visit. But as we've known for decades, gas-powered cars create significant carbon emissions, which is bad news for the global climate. National parks themselves face mounting threats from climate change, from sea level rise in the Everglades to thawing permafrost at Denali National Park. At Grand Teton National Park and Yellowstone, researchers predict hotter days, reduced snowpack, and more frequent and intense wildfires, which lead to increased air pollution from smoky skies. The less carbon we emit, the more manageable these changes will be.
That's where EVs come in. They generate significantly fewer carbon emissions than gas cars and spew zero tailpipe exhaust. (They're not carbon-free, though, as most utilities are still burning fossil fuels to produce the electricity used to power the cars.) In addition, EVs have immediate benefits. They're quiet, preserving the natural soundscape, and they don't produce local air pollution — a major plus at parks where lines of cars idle in entrance lines or bear and bison jams.
It's the Wild West from an EV charging standpoint.
"The national parks are all about environmental stewardship," said Alicia Cox, executive director of the Yellowstone-Teton Clean Cities Coalition, a nonprofit affiliated with the Department of Energy that is dedicated to advancing the use of alternative fuels. Providing charging infrastructure should be a crucial piece of that mission. All EV drivers watch the range estimator on their cars with rapt attention: This dashboard number displays about how many more miles the car can go until the battery is depleted. If you can't reach the next charging station before that number zeroes out, you're stuck — at least for a while.
Seattle driver Mary Purdy knows "range anxiety" well. In September, Purdy and her husband took their 6-year-old Nissan Leaf, which gets a max range of 95 miles, up to Olympic National Park's Hurricane Ridge, an alpine zone at the top of a steep, winding road. "As we were ascending, the miles [on the range estimator] were just going down and down," she said. "We reached the visitor center with 11 miles left. I was having an anxiety attack, 'We're going to be stranded!'" Thanks to an EV's ability to recharge itself on downhills, Purdy's car made it to the nearest charging station in a gateway town. Still, "the visitor center absolutely should have EV stations to ensure that you can enjoy as much of the park as possible," she said.
Right now, pulling off an electron-powered road trip takes prep work. "You have to plan — it's not like you're going to find a gas station at the corner," said Deb Van Geest, a Tesla Model Y driver from Ontario I met at the trailhead to Grand Canyon of the Yellowstone's South Rim. She'd prebooked a campsite at Fishing Bridge RV Park and used an adapter that lets her plug into an RV electrical hookup, a trick that turns equipped campgrounds into de facto charging stations. Ryan Nelson, a Tesla owner from South Dakota, told me he'd plotted out and screenshotted the locations of all the park's chargers ahead of time and chose his lodging according to the nearest stations. As more infrastructure becomes available, these trips will be easier.
NPCA AT WORK
Planning a national park road trip with your electric car typically involves a bit of online sleuthing to plot out charging stations along your route and within the parks. To help, NPCA has designed a map that puts everything you need within a click. With just a pan and a zoom, you can determine that Rocky Mountain National Park, for example, has zero in-park charging stations, but that the gateway of Estes Park counts nearly a dozen, including one just outside the park entrance.
The map, which pulls from federal databases, also details which parks offer public transit, such as the shuttle at Zion National Park. Making that information more widely available to visitors is critical to combating traffic woes in many of the most popular national parks, said Karen Hevel-Mingo, NPCA's director of sustainability and climate change. She's working with other staff members and allies to think through how to expand park access for visitors of all income levels and physical abilities without sacrificing park resources.
Recently, NPCA successfully fought for legislation that would help the Park Service replace some of its aging buses with electric ones. Not only will electric shuttles alleviate congestion on roads and free up more visitors to take in the sights, but they'll also help make park skies healthier for all. A win-win.
—Katherine DeGroff
Parks are taking steps in the right direction. Currently, 27 national parks, from Biscayne in Florida to Yosemite in California, offer a total of 100 EV charging stations to the public, according to Jennifer Madello, manager of the National Park Service's park facility management division. Most are so-called Level 2 stations, which can fully top up an EV in four to 10 hours (making them ideal for people spending substantial time at a single destination, particularly overnight guests), with some direct-current fast chargers, which juice up a car in less than an hour (perfect for road trippers on the go). Yellowstone's Level 2s are sited throughout the park at major destinations with hotels, and chargers in the gateways of West Yellowstone and Gardiner in Montana greatly expand the area's EV capacity.
That's a good start, but the parks have work to do. "We've got enough options at the moment to meet the demand," said Dylan Hoffman, director of sustainability for Yellowstone National Park Lodges, "but demand is going to explode." He's already seen the use of one of the chargers in the park's Mammoth area skyrocket 572% from 2017 to 2021, for example. And experts expect the 2022 Inflation Reduction Act, with its incentives to make buying an EV more affordable, to supercharge the U.S. market. Power infrastructure to match will be essential to make an EV park road trip not only feasible but enjoyable. Imagine cruising into Old Faithful with 20% battery power, only to discover you're fifth in line for one of the area's only two charging ports. Hoffman hasn't heard many complaints about EV drivers jostling for plugs, but Yellowstone isn't yet set up for a crush of battery-powered vehicles: The park's chargers don't offer reservations or set time limits. While in the park, I saw a gas car parked in one of Canyon Village's precious EV spots, seemingly without consequences. "It's the Wild West from an EV charging standpoint," he said.
Park officials recognize the need for updated infrastructure, but "it's not straightforward — just go and put a charging station over there," noted Lynn Chan, project manager of Yellowstone's sustainability program. Park staff must consider everything from electrical capacity to preserving historic buildings to how much light a charger emits in places dedicated to protecting dark skies. And the installation of charging stations often involves trenching for electrical cords, which requires going through an environmental compliance process. Still, Chan said Yellowstone is now looking at adding fast chargers in select locations.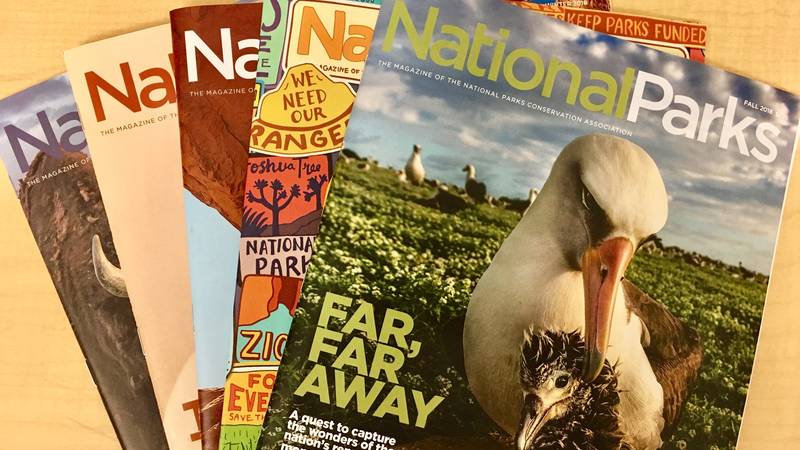 Subscribe to
You can read this and other stories about history, nature, culture, art, conservation, travel, science and more in National Parks magazine. Your tax-deductible membership donation of $25 or more entitles…
See more ›
Money is another major hurdle. The Park Service is currently working on a systemwide plan to expand EV charging, Madello said, but "our biggest challenge is a lack of funding to do this." Thus far, many parks have turned to outside help to foot the bill: A partnership with BMW paid for 100 charging stations built in and near various park sites between 2017 and 2019, and Yellowstone funded its chargers, installed between 2015 and 2018, through a Department of Energy grant facilitated by the Yellowstone-Teton Clean Cities Coalition.
If current trends hold, you'll soon be as likely to spot a Ford F-150 Lightning or Chevy Bolt as a white-tailed deer in a national park. Falling prices and rapidly improving battery technology point to a coming surge of EVs on the road, and the parks are pushing to meet the challenge. Just a few years ago, EV chargers in the parks were a nice-to-have amenity, said Cox of the Yellowstone-Teton Clean Cities Coalition. "In the past year, the conversation has switched, and it's an essential."
Our Leaf can't handle a park road trip right now, but without a doubt, our next car will be able to pull it off.