Members of the Ancestral Lands Conservation Corps at work in Bears Ears National Monument. ©DONOVAN QUINTERO
At Bears Ears National Monument, a crew of young men from the Pueblo of Zuni is caring for the cliff dwellings their ancestors built 800 years ago.
"Uh-oh, I shouldn't have looked down," said Darian Seowtewa with a chuckle. The 20-year-old from the Pueblo of Zuni, New Mexico, was standing on a narrow patch of sandstone, perched between a 13th-century masonry wall and an 800-foot drop.
The archaeological site that he and his crew were working at stretched out for a quarter-mile along a ledge, overlooking Bears Ears National Monument's sweeping landscape of petrified sand dunes and juniper-carpeted plateaus. It was a hot week in July in southeastern Utah, and laughter from Seowtewa and the crew echoed through the canyon.
They were working to stabilize Ancestral Puebloan structures built by their ancestors long ago. Thirty-year-old Kendrick Nahohai, the crew leader, laid on his belly with his feet pointed downslope toward the cliff. He rolled a bit of clay into a ball, squeezed it in his hand, then pressed it between stone blocks in the wall to replace missing mortar. With his thumb, he adjusted the texture so that it matched the look of the original mortar.
"See, it doesn't look like any work has been done," he said. "Less is more."
Nahohai, Seowtewa and three other young men from the Pueblo of Zuni comprised Crew 642 of the Ancestral Lands Conservation Corps. The program, a modern incarnation of the 1930s-era Civilian Conservation Corps, helps connect young Native Americans with public lands — or, more precisely, with the homelands of their ancestors, who lived here long before the concepts of public and private lands existed.
The crew's project is part of a larger effort to increase the role Native Americans play in the protection and management of their ancestral lands, and it also reflects the government and nonprofits' greater willingness to incorporate Indigenous voices into that work. In recent years, this movement has celebrated significant achievements, from the designation of Bears Ears National Monument to the selection of Deb Haaland as secretary of the Interior Department and that of Chuck Sams as director of the National Park Service. Both are the first Native Americans in their respective positions.
This increased focus on collaboration has also paved the way for Tribes to bring their own perspectives and expertise into the fields of archaeology and archaeological restoration. Historically, white academics have conducted most of the studies and excavations of ancient sites in the Southwest. They have done important work, but often with a disregard for — and little understanding of — Indigenous culture, said independent Hopi archaeologist Lyle Balenquah.
"Many academics would come, study and leave and then build nice careers for themselves without any reciprocity back to the communities they were researching," said Balenquah. "We were the vanishing Indian, you know, and Western academics had the right and privilege to come and study us because we were on our way out, I guess. We're still trying to deal with those repercussions and misinformation."
Correcting misinformation and fostering Indigenous perspectives are at the heart of the corps's rationale. The program provides participants with a much-needed paycheck and aims to teach them hands-on skills and strengthen their connection to the land, their communities and each other.Perhaps it might even steer them toward a new, conservation-oriented career path.
"For many of these crews, this is the first time that they've ever had a safe space or felt appreciated or part of something larger than themselves," said Corps Director Chas Robles. "The entire country, and certainly Indigenous people, we have a lot of healing that needs to happen. Getting young people out on the land is one of the best ways I know to foster that."
In addition, many Native Americans have only heard about their ancestral lands through oral histories. "Being able to experience it firsthand and go back to your community and relate that these places really exist, this tangible proof, it helps the community as a whole," said Balenquah.
The Ancestral Lands Conservation Corps started in 2008 under the banner of the Southwest Conservation Corps, and it became an independent program in 2021. The organization has four offices in New Mexico and one in Arizona, and participants include Native Americans and Chicanos. In 2021, the corps counted more than 200 paid participants and 60 volunteers and offered a range of programs for 8-year-olds to 30-somethings, from hiking outings to Grand Canyon river trips. Still, much of the corps's work is centered around historic preservation and environmental conservation projects, such as trail maintenance and habitat improvement in the federal and Tribal lands of the Southwest.
Crew 642 worked for six months, with one-week deployments supervised by various professionals. Their assignments included projects at Grand Canyon National Park, Glen Canyon National Recreation Area, El Morro National Monument and Pueblo of Zuni. At Bears Ears in July, they were working with Balenquah, archaeologist Shanna Diederichs and two members of her staff from Woods Canyon Archaeological Consultants Inc.
The site they were shoring up is one of the most fragile in the area. Despite its remote location, it gets damaged by visitors leaning on walls to peer through windows, backpacks scraping against doorways and foot traffic. National Parks magazine is keeping the description of the site intentionally vague so as not to attract additional visitors and exacerbate the existing damage.
Before any work could take place, the crew drove up and down a high-clearance rocky road at night during a rainstorm three times to haul in all their gear. They couldn't set up their base camp that night because of lightning and slept sitting up in the truck instead. The next morning, they hiked the 2-mile slickrock trail to the work site — an arduous trip they would make every day.
That first day, the crew sat in an alcove around a natural spring to cool off after the hike. Water seeped through the sandstone ceiling, nourishing some ferny green plants before trickling down to a little pool inhabited by a few water striders. The crew joked about their difficult "commute" and introduced themselves.
"Keshi Ko'don De:wa'nan A:deya:yeh? Ho' Kya'bu:li leshina. Hom melikya shi'inneh Darian Seowtewa leshina. Hom Annode:weh Mu'bitchi:kwe deyan Dowa:kwe awan Cha'le," said Seowtewa, who is fluent in Zuni.
His formal introduction translates to, "Hello, how is your day going? My Zuni name is Kya'bu:li, and my government name is Darian Seowtewa. My clans are Parrot and Child of a Corn."
Each of the other men followed suit. Then before getting to work, they gathered around the pool, bowed their heads in silence and performed a brief ritual that ended with splashing the water four times.
The ritual "is Łu:wahleh'mak'kya," said Mckenzie Niiha, 21. "When we get to natural water sources, before we fill up our jugs and water bottles, we pray to it and ask it to bless other people with it in times of drought and bring rain where it's needed. That's just something that pretty much all of our grandfathers taught us, especially when we use water. Don't just take it."
It was Crew 642's second trip to this site. The crew's main objectives on both trips were to replace missing mortar and backfill soil around the structures to stabilize those in danger of falling over the cliff. Visitors usually aren't aware they are causing damage, but foot traffic pulverizes and softens the sediment along the trail, which quickly washes away, leaving new erosion channels that undercut the structures.
As the crew plugged away at their tasks, Diederichs worked on rerouting part of the trail, a project she started last year with another Zuni crew. They were called in to do emergency stabilization work when some of the structures were in imminent danger of collapse.
"People were walking over intact roofs, middens, and plastered floors and plazas," said Diederichs. "People were demolishing it left and right."
To fix the problem, they strategically placed rocks where they didn't want people to walk, so visitors would naturally adjust their course to less vulnerable areas. So far, it's working.
Nahohai said that it is important to him to see the site preserved, but that the Zuni also believe the structures are not meant to survive forever. "Eventually they'll go back to where they were from, back to Mother Earth," he said. "But for now, we want to have these ties from our [ancestral] homes. We're the descendants of these people."
This belief in impermanence is one reason the federal directive here is not to restore the dwellings to their original state, or even to stop the natural process of weathering and deterioration. In contrast with some well-known sites that have been extensively restored, such as Mesa Verde's Cliff Palace, the main goal here is to mitigate the damage caused by visitors.
Tribal consultation has also led to a change in the policy on the materials used to stabilize and restore sites. "Historically, preservation work was conducted mostly using foreign materials­ — steel rebar, wire mesh, cement — materials not compatible with the organic material that is born out of the earth," Balenquah said. "From a Hopi perspective, the structure has a life cycle. It's meant to serve a purpose, then when the inhabitants no longer require it, it's allowed to turn back into the soil. The use of these materials is against that philosophy."
Using the correct terminology also matters to Balenquah, who would like to drop terms such as "ruins" and "abandoned" because Zuni, Hopi and other Tribes believe their ancestors' spirits still live at ancient sites. "Those are completely derogatory terms for us, the descendants," he said. "It implies they no longer have energy associated with them or they are no longer tied to a people."
Zuni elder Octavius Seowtewa is also working to correct past missteps. For the last several years, he's been visiting sites around the Four Corners region with the Zuni Cultural Resources Advisory Team to assess them and look for cultural clues that archaeologists might have missed. He sometimes also provides insight and guidance to the Friends of Cedar Mesa and World Monuments Fund, which advocates for the protection of historically significant sites around the world that are threatened by everything from natural forces to human conflict and mining. On the afternoon of the first day, he crossed paths at the site with his nephew, Darian Seowtewa, and the rest of the crew.
When he arrived, the crew enthusiastically showed off their workmanship, and the elder Seowtewa encouraged them and shared some spiritual history and construction know-how. He pointed out how the yucca strips between pillars added stability by reinforcing the mortar, and how each variety of wood used, from ponderosa pine to Douglas fir and aspen, had its own mechanical and spiritual purpose in the architecture.
To the elder Seowtewa, these aren't just bits of archaeological trivia but matters of deep cultural significance. The Bears Ears region is part of the Zuni origin and migration story. According to Zuni history, it is where they came from after emerging from the Grand Canyon. To the Zuni, these dwellings and the area's plants, animals, rocks, and thousands of petroglyphs and pictographs all contain connections to the past.
A:SHIWI AND THE GRAND CANYON
The A:shiwi people's connection to the Southwest region extends from time immemorial, according to elder Octavius Seowtewa. Watch this video to hear Seowtewa talk about his people's origin story, their tie to the Grand Canyon and their annual pilgrimage down the mighty Colorado River.
"This whole Bears Ears is a place to learn," said Octavius Seowtewa. "Each little piece of information is important because they were people just like us. They never wanted to forget how they came out of the Fourth Underworld, so they left information for us, for their children, to come back and understand."
The Zuni, or A:shiwi, crew live 240 miles away in New Mexico, but their roots in Bears Ears go back at least 1,000 years, and possibly back to Paleolithic hunter-gatherer times. There is a petroglyph of a mammoth in the area, and ceilings of some of the alcoves in the region have been blackened by at least 12,000 years of human campfires.
Corn agriculture began in southeastern Utah around 500 B.C., and in 700 A.D. local people started building masonry structures. Based on archaeological evidence and oral histories, it was a generally peaceful period.
But in the 1200s, something changed. The rains became weak, and the springs dried up. A long-lasting drought meant fewer crops and scarce resources, and the social fabric of the tight-knit Ancestral Puebloan cultures began to unravel. Dwellings became more fortified.
"Everything's off kilter for their last 100 years," said Diederichs. "People are fighting for territories and not staying very long. There's no rock art. No structure modifications like you'd see in multi-generational living. There is very little big game left like deer and bighorn sheep. Even the turkeys were eaten out. In those last 30 years, it's all about rabbits. I'd call it almost a refugee situation."
So the Ancestral Puebloan peoples — whose descendants make up more than 20 Tribes today, including Hopi, Zuni, Acoma and Pueblos along the Rio Grande — migrated south to what we know now as New Mexico and Arizona.
Archaeologists think the Numic-speaking hunter-gatherer Utes (Nuchu) rolled in from the Great Basin a century later, and in the 1500s the Navajo (Diné) arrived (though some oral histories suggest both groups were here well before then), working their way down from the tundras of Canada. The Navajo found the dwellings and later named the departed people Anasazi, which has a disputed meaning that either translates to "ancestral others" or "enemy ancestors." The term is now considered derogatory by some Tribes and is gradually being replaced with Ancestral Puebloan on interpretive signs, as well as in textbooks, academic papers and mainstream media articles.
In the 1600s, the dwellings were rediscovered by the Spanish (who renamed the Diné the Navajo), and then by English-speaking settlers in the 1800s. It wasn't long afterward that those colonists and the U.S. government decided they wanted to own the land — and not share it. Meanwhile, the plundering of Ancestral Puebloan sites became aggressive. Collectors, universities and museums all had a hand in it.
"A real atrocity was the insatiable American appetite for curiosities in the late 1800s," said Diederichs.
With more than 100,000 archaeological and cultural sites, Bears Ears, which is managed by the U.S. Forest Service and the Bureau of Land Management, remains vulnerable to looting and vandalism to this day. In addition, uranium mining, oil and gas drilling, cattle grazing, recreational off-roading, and construction of access roads and utility lines all have threatened culturally and environmentally sensitive sites, as well as the plants, minerals and water that are essential to Indigenous medicine, food and religious ceremonies.
It was powerful to see the respect visitors showed them and the site after realizing they were likely talking to descendants of the people who lived here over 800 years ago.
To try to mitigate these threats, the Hopi Tribe, Navajo Nation, Ute Mountain Ute Tribe, Pueblo of Zuni and Ute Indian Tribe formed the Bears Ears Inter-Tribal Coalition in 2015. They petitioned the Obama administration to use the Antiquities Act to protect the region as a national monument. NPCA Southwest Regional Director Ernie Atencio first heard about the idea about a decade ago when the Southern Utah Wilderness Alliance asked its volunteers in New Mexico (including Atencio) to advocate for the new monument while meeting with decision-makers.
"The conservation community seemed a little dismissive about it," Atencio said. "I don't think anybody had seen Tribes make a proposal like that, much less a coalition of Tribes that have historically not always gotten along. It was a foreign concept in many ways. The Inter-Tribal Coalition took the Antiquities Act, a law of the nation that had been disenfranchising and repressing them for centuries, for their own benefit to protect their sacred places."
At the coalition's urging, Obama created Bears Ears National Monument during the last gasps of 2016. Less than a year later, the Trump administration slashed its size by 85%. Following a public outcry and dogged campaigning by the coalition and its allies — including NPCA — the Biden administration essentially restored the monument's original boundaries in 2021.
"In the last five years, I've seen the conservation community really start to respect Tribal authority and wisdom," Atencio said. "We look to them to lead our work in a lot of ways, and that's part of what Bears Ears has created, that greater deference conservation organizations have for Tribes and Tribal sovereignty."
Engaging young Indigenous people, such as those of Crew 642, in historic preservation and environmental conservation is another piece of the puzzle, said Robles. Some of the corps alumni may become leaders who will work not just for the betterment of their communities, "but toward the broader goal of trying to help us return to a healthy, balanced state that recognizes our place in the natural world," he said.
Two members of Crew 642 are already planning to pursue outdoor or nature-oriented professions. Niiha wants to work as a falconry veterinarian, rehabilitating injured raptors. Because of his work on the corps, Kalton Tucson, 25, has decided to switch career paths from the culinary arts to natural resource management and environmental science.
On the ground, Diederichs has seen another benefit of employing Indigenous crews: Their presence often has a noticeable impact on visitors. "It was powerful to see the respect visitors showed them and the site after realizing they were likely talking to descendants of the people who lived here over 800 years ago," she said. "I can recite backcountry ethics until I'm blue in my face, but once they hear it's important to young descendants, it changes people's attitudes instantly."
ABOUT THE PHOTOGRAPHERS
Donovan Quintero is a Diné (Navajo) photojournalist and reporter who has been covering stories about environmental issues affecting the Navajo Nation. He is currently on staff at the Navajo Times newspaper. 
Steve Alberts is a photographer who accompanied Karuna Eberl on this assignment. He is the co-author of their book, "Quixotic Key West & the Lower Keys Travel Guide."
Though Balenquah's official duty is to teach the crew stabilization techniques, the conversation often wanders beyond the workings of mortar and trail erosion. "I try to combine the science with whatever cultural background they are coming from," he said. "It's about letting them know that the things we do within our cultures are a privilege and a responsibility. It took a lot of dedication and sacrifice of our ancestors for us to be able to call ourselves Hopi, Zuni, Navajo. So we owe it to them to continue this."
Throughout the week, the five young men's spiritual relationship to the site was often at the forefront of conversations. They talked about feeling the positive spirit of their ancestors, and how much it felt like home.
On one lunch break, as everyone sat in the alcove around the pool, Jonathon Hannaweeke, 20, said he hopes to start a psychology practice someday and open a clinic for children from broken homes, substance abusers and others who have fallen on hard times. Part of his approach would be taking them to sites like the one he worked on at Bears Ears, so they could feel the type of connectedness he feels.
"I want them to always remember our people are strong, and we're still here no matter what we go through," he said.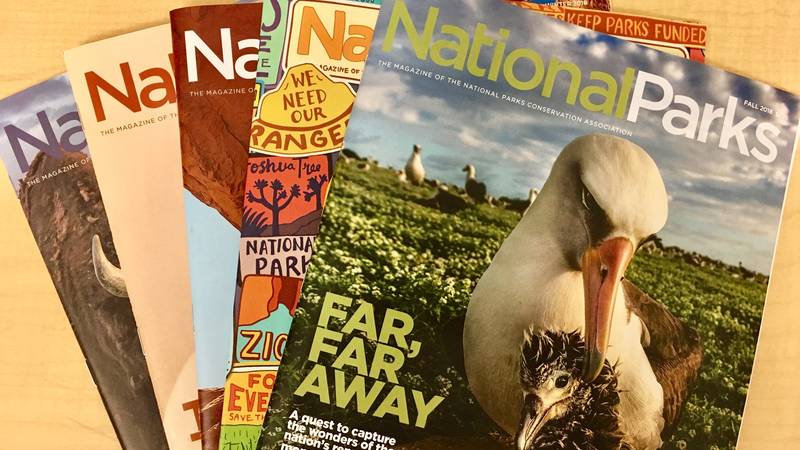 Subscribe to
You can read this and other stories about history, nature, culture, art, conservation, travel, science and more in National Parks magazine. Your tax-deductible membership donation of $25 or more entitles…
See more ›
Everyone nodded, then fell silent. We listened to the hummingbirds sampling flowers and the swallows chirping above on the cliff. A pair of ravens rode the updraft from the canyon floor. The water striders skipped on the surface of the pool.
Niiha broke the silence. He said he was worried that the younger kids in Zuni are growing more distant from their culture.
"Our prayers, our songs, our ceremonies, those are the three main things we want the kids to keep doing," he said. "A lot of our youth, they're switching over to electronics. That's what saddens me. They don't let their imagination take them places. Here, you can sit here for hours imagining what it would be like back then."
The conversation livened up, as everyone speculated about what life would have been like on the ledge 800 years ago. Grinding corn for food, playing games, trying to keep the children from running off the cliff.
"For sure they were not afraid of heights," said Niiha.
Laughter, once again, filled the canyon.
About the author
Karuna Eberl

Karuna Eberl writes about wildlife, history and adventure from the sandbars of the Florida Keys and the high country of Colorado.