PHOTOGRAPH BY WAYNE CARR, COURTESY OF THE GRAHAM AND PAMELA LEE COLLECTION
Photographer Jun Fujita and his Voyageurs cabin are getting a second look.
It had taken decades, a 500-mile drive and a 20-mile boat ride to get there, but on this small island in Voyageurs National Park located just a few miles from the Canadian border, Graham Lee was as close to his great-uncle as he ever would be.
Jun Fujita, a news photographer, poet and artist, had died just a couple of years before Lee was born, but as a boy Lee had listened avidly to his family's recounting of Fujita's adventures and marveled at his photos. "He was always kind of there," said Lee. He was an adult, though, when his Fujita obsession took hold of him. He inherited a box of Fujita's photo negatives, and that set Lee on a quest to learn more about one of the most fascinating — yet least known — Japanese American figures of the 20th century.
Lee, a 55-year-old computer specialist, graphic designer and writer based in Wisconsin, started poring through newspaper and historical archives, looking for interviews, letters and, especially, photographs. Some of the ones he found depicted a cabin on an island on Rainy Lake, in the wild north of Minnesota, where Fujita spent many summers in the 1930s. The island had become part of Voyageurs National Park when the park was created in 1975, so Lee reached out to Mary Graves, then the park's chief of cultural and natural resources, and in July 2013, Lee and his wife, Pam, spent two hours exploring the island and the cabin with Graves and another ranger.
"Truly, it was a magical experience," Lee said. "It was like walking back in time, like walking in his footsteps."
Fujita was born near Hiroshima, Japan, in 1888. As a teenager, he traveled to British Columbia with a camera to cover the timber and salmon fishing industries for his uncle's newspaper back in Japan. After doing various jobs in Canada, he moved to Chicago where he graduated from high school and started training as an engineer. Perhaps to help pay the bills, he took a position as a photographer at the Chicago Evening Post. He didn't look back.
Though English wasn't his native language and he didn't know how to drive, he often found himself at the right place at the right time. On July 24, 1915, the SS Eastland passenger ship rolled over at the dock, killing 844 people. The Evening Post's editors frantically tried to locate Fujita, the paper's only news photographer, so he could capture one of the biggest tragedies in Chicago's history. "They were looking for him, but he was already there," said Lee, who is working on a Fujita biography. Fujita distinguished himself in his coverage of the racial violence that broke out in Chicago in 1919, photographing the murder of a Black man named John Mills by a white mob. He also photographed the rich and famous, from Albert Einstein to Al Capone, and socialized with some of the best-known writers. "Ernest Hemingway and Faulkner would come to town and say, 'Where's Jun at?'" Lee said. It's also around that time that he met Florence Carr, Lee's great-aunt. The two hit it off immediately after they met at a gathering of a local poetry society.
But while Fujita enjoyed the excitement of big city life, he also relished getting (very far) away from it. In 1928, Carr bought the island on Rainy Lake, probably because Fujita thought the purchase was more secure in the name of his partner, who was white. (In the 1940s, some 120,000 Japanese Americans lost their property as they were forcibly relocated to incarceration camps.) He built most of the cabin himself shortly after the land purchase and apparently modeled several features, including the moderately pitched roof, after Japanese homes of the time.
Morning Woods
by Jun Fujita
A static mood, in the morning woods,
Wet and clear —
In a majestic pattern, leaves are spellbound
By a fawn, ears perked.
Every summer, he made the long trip from Chicago to the 4-acre island with his camera and his typewriter in tow. Fujita favored a Japanese poetry style known as tanka, but he wrote the 31-syllable-long pieces in English. Several of his poems were published in Poetry magazine alongside work by luminaries such as Carl Sandburg and Ezra Pound. Though it's not certain he wrote any of his poems at the cabin, the subject matter of many of his pieces suggests that he did. Fujita also took advantage of his location to shoot commercial photographs for his clients, including a boat motor company. He spent much of his remaining time writing letters to Carr, taking pictures and fishing. "He may have introduced sushi to the area, which may have been a shock to some people," Lee said.
As a man of Japanese descent, Fujita stood out in the north woods. Lee said Fujita was usually able to deflect prejudicial attitudes, but eventually those may have gotten to him. His island was known to locals as "Jap Island," and anti-Japanese sentiment increased in the years leading up to World War II. "I do think there were incidents at the cabin that made him uncomfortable," Lee said. After the Pearl Harbor attack, Fujita was labeled an "enemy alien," and he was forced to close his commercial photography studio. He avoided a worse fate thanks in part to his marriage to Carr in 1940 and the support of his former newspaper editor, but he never returned to the cabin after the early 1940s. He held on to it for more than a decade, maybe hoping that the climate would improve, before selling it in 1956. He continued to live in Chicago until his death in 1963 at age 74.
The Fujita cabin has never been much of a destination in the park. The cabin did not even appear on the park's map, and the site was not publicized. That is starting to change. Erik Ditzler, who started working at Voyageurs in October and quickly became a Fujita enthusiast himself, is hoping to organize an exhibit of Fujita's photographs at the park. And Fujita's cabin, which the park bought in 1985, is in line for an overdue makeover. Thanks to funding secured by the Voyageurs Conservancy in conjunction with the National Park Foundation, the cabin will be restored to its 1930s appearance, and signage explaining Fujita's significance will be added to the site. "That was a story that needed to be told," said Megan Noetzel of the Conservancy.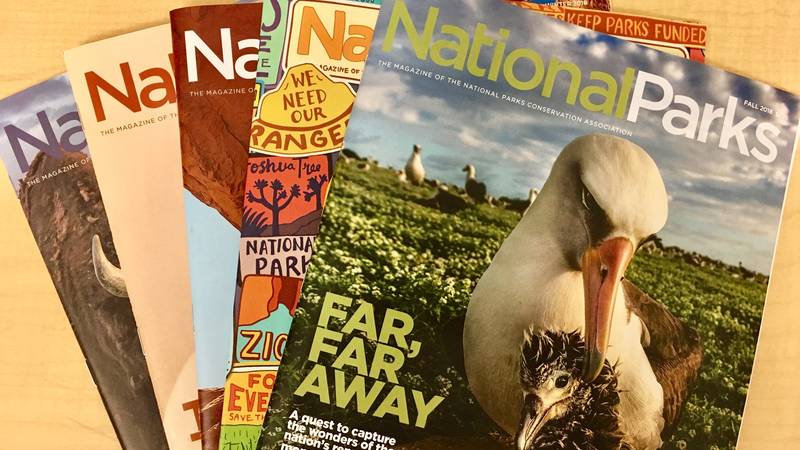 Subscribe to
You can read this and other stories about history, nature, culture, art, conservation, travel, science and more in National Parks magazine. Your tax-deductible membership donation of $25 or more entitles…
See more ›
This year's restoration is set to be completed in early fall and will be performed by two crews from the Northern Bedrock Historic Preservation Corps, a Minnesota-based nonprofit that gives young adults the chance to experience the outdoors and gain historic preservation experience, from window restoration to masonry. No prior experience is required. "In some cases, we're teaching them how to hold a hammer," said Jill Baum, the corps' executive director. The crews will remove an addition built by people who owned the cabin after Fujita, replace deteriorated logs and fix up the roof. They will work under the supervision of a park preservation carpenter. "It is a big project," said Ditzler, the ranger. "We don't want to use modern materials to repair a 100-year-old cabin."
The locals who turned on Fujita may not have realized how much they owed him. In the 1920s and 30s, a business magnate proposed building a series of dams within the Rainy Lake watershed, which would have forever altered the region's landscape of lakes and islands. Conservationist Ernest Oberholtzer opposed the project vigorously, but he needed beautiful pictures of Rainy Lake to convince decision-makers of the need to preserve it. He reached out to Fujita, who not only let him use his photographs but connected him with prominent newspaper editors.
"Voyageurs may not exist if his photographs hadn't influenced people to protect the area," Ditzler said.
For more information about Fujita, visit instagram.com/fujitabehindthecamera/.
About the author
Nicolas Brulliard

Senior Editor

Nicolas is a journalist and former geologist who joined NPCA in November 2015. He writes and edits online content for NPCA and serves as senior editor of National Parks magazine.