Spring 2021
Musical Mountaineering
A tuneful duo spreads joy one alpine allegro and sunrise sonata at a time. 
Standing at a trailhead just outside North Cascades National Park at 3 a.m. one September morning, Anastasia Allison and Rose Freeman surveyed their packs to confirm they had the essentials. Compass, headlamp, sunscreen, first-aid kit, knife, matches, map, food, water, extra clothes. Check. Violin, lightweight keyboard and recital dresses. Check, check and check.
Two hours later, Allison, a violinist, and Freeman, a pianist, stood barefoot atop a granite slab performing "Amazing Grace" in the most majestic of musical halls: a 6,650-foot-high saddle in the mighty Cascade Range. As the duo played at Maple Pass, the rising sun pierced a gray cloud, which crashed over a far ridge like a sea wave. Before long, the glacial-scoured mountains and alpine meadows were bathed in light.
"There is something special that you cannot articulate about music and nature being combined," said Allison, a former ranger who used to play her violin while walking campground patrols and hosting interpretive programs. "It's the most delicious combination of the things that we love most in our lives: music, wilderness and friendship."
Allison, 40, and Freeman, 29, initially connected on social media and later met at a coffee shop in Mill Creek, Washington, where they discovered a mutual love of mountaineering and playing music outside. "We each had the spark to play music in the wilderness ever since we were little girls," said Freeman, whose day job is teaching piano. "Being in nature and playing music connected us with ourselves and the world around us in a way that nothing else could."
They first performed as the Musical Mountaineers in 2017 after coming up with a strict set of concert guidelines: They would plan their mountaintop gigs at the last minute on account of the moody Pacific Northwest weather. They would choose uncrowded hikes, perform at dawn and avoid publicly announcing their concerts to honor the leave-no-trace ethic that frowns upon large gatherings in the wild. They also agreed not to accept payment for their al fresco concerts, which they saw as a passion project rather than a moneymaking venture.
"Our music is an offering to the world around us," said Allison, the founder of an outdoor gear start-up. "When people listen to our music, we want them to feel a deep sense of belonging. We want them to listen to the music and see the beauty of nature and know that it is a reflection of who they are."
For one of their first concerts, atop Sauk Mountain, the Musical Mountaineers performed "Ashokan Farewell," a somber waltz, with the 10,781-foot Mount Baker presiding in the distance. Since then, they've performed more than 40 times around the Evergreen State and at the black-sand beaches of Northern California's Lost Coast. While Allison and Freeman have played classical music and devotional hymns such as "On Eagle's Wings" and "Morning Has Broken," they favor simple improvisations on account of the fierce winds they often encounter, which can flip music book pages (or sometimes even tip over Freeman's keyboard stand). The Musical Mountaineers, who perform during all four seasons, also have had to contend with swarms of mosquitoes, frigid temperatures, deep snow and sudden rain showers — conditions Freeman takes in Zen-like stride. "When we play music, we can be resilient in that moment no matter what's happening around us," she said. "We don't ignore the challenges, but recognize them and still press forward, being there for ourselves and others."
Stumbling upon Allison and Freeman in the backcountry is a bit like seeing a double rainbow. Their alpine allegros often elicit waves of gratitude and joy. Julie Metz, a middle school teacher in Bellevue, Washington, was moved to tears when she and her husband happened upon the Musical Mountaineers playing in the Mount Baker-Snoqualmie National Forest on a hike celebrating her 50th birthday. The experience prompted Metz to create a classroom theme that year that she hoped would encourage students to figure out what excites them and share their gifts. She called the curriculum "What's in Your Backpack?"
"A piano in a backpack on a mountaintop doesn't initially make any sense at all," Metz explained, "but if you take what you have to give the world and you put it out there, it's going to make the world a more beautiful place."
Along with inspiring a small number of lucky passersby, Allison and Freeman also reach listeners through their social media channels, where they have thousands of followers. (The musicians are active on Instagram and have 150 videos on YouTube, most of which they filmed themselves.) Rebecca Austin, a registered nurse from Washington who has known the duo for years, regularly plays their YouTube videos for patients she treats. "I've started numerous tough IVs while the patients sit in awe, watching their videos," Austin said. "It's a favorite nursing trick I keep up my sleeve, which always leaves patients feeling upbeat and happy."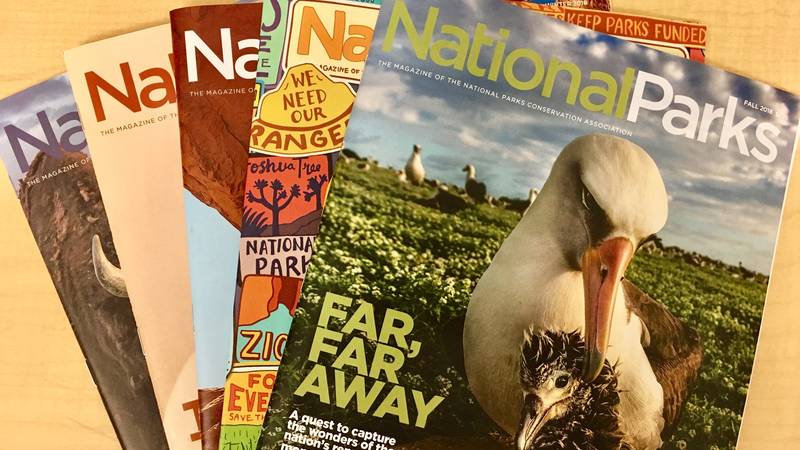 Subscribe to
You can read this and other stories about history, nature, culture, art, conservation, travel, science and more in National Parks magazine. Your tax-deductible membership donation of $25 or more entitles…
See more ›
Occasionally, the Musical Mountaineers perform indoors. To date, they've played benefits at such spots as Seattle's famed Benaroya Hall and Mount Rainier's historic Paradise Inn, raising money for conservation groups from the North Cascades Institute to Washington's National Park Fund. Those concerts have been on hold during the COVID-19 pandemic, but the duo has adapted to restrictions during the last year by uploading previously unreleased videos, giving talks, playing virtual concerts and sharing their work on Insight Timer, a meditation app. In the future, Allison and Freeman hope to play outdoor concerts at Olympic, Zion and Canyonlands national parks, among others.
That September morning at Maple Pass, Allison and Freeman played the final notes of "Amazing Grace," then waited while the sound gradually evaporated. The stillness and silence at the end of their performances are always a powerful part of the experience of playing, they said. "It's as if music hasn't really stopped, but becomes where we are," Freeman said. "It soaks into the landscape, and we're even more aware of the birds, the soft gentle breeze, and the gift of life around us."
Allison hopes the people who see them play will be inspired to follow the joy in their own lives. "Musical Mountaineers is built around the idea that everyone can bring their unique 'music' into the world. What lights someone up inside? What are they passionate about? What hidden ideas have they kept in their heart?" Allison asked. "We want to inspire people to dream big and bring more good into the world."
About the author
Kevin Grange

Kevin Grange is an author and paramedic living in Jackson Hole, Wyoming. He won a 2013 Lowell Thomas Award for his National Parks magazine story, "Sacred Water." He has worked at both Yellowstone and Yosemite and is the author of "Lights and Sirens: The Education of a Paramedic."