A handful of parks around the country saw record-breaking visitation last year due in part to the pandemic, while others were shut down almost entirely. A few strategies can help visitors avoid crowds and be mindful of safety as we enter a second year of COVID restrictions.
Last week, the National Park Service released its visitation numbers for 2020, painting a mixed picture of how the pandemic is affecting the park system, with some places overwhelmed by crowds while others were largely or totally inaccessible.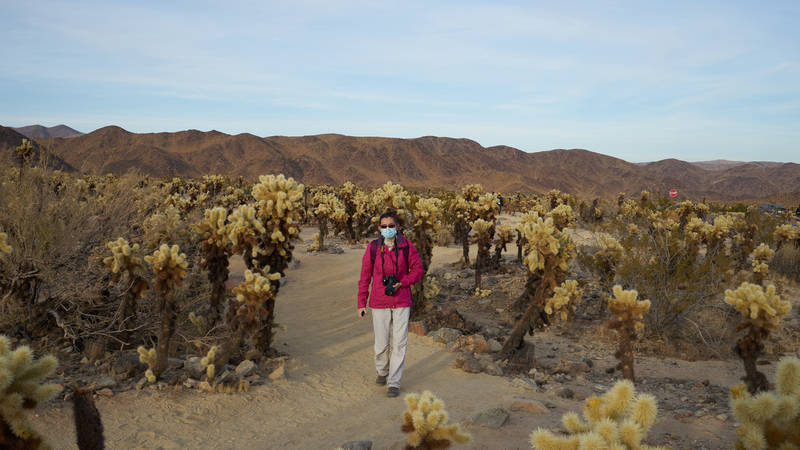 Blog Post
Staff and visitors must now wear masks in federal buildings and facilities, as well as at outdoor attractions where distancing isn't possible.
See more ›
According to the data, the National Park System hosted just over 237 million recreational visits in 2020, down 27.6% from 2019, with 94 million fewer visits than the system's peak visitation in 2016, the year of the Park Service's centennial. The 2020 numbers are the lowest since 1980, reflecting the realities of pandemic-related safety precautions, which NPCA has strongly supported, to protect public safety and park staff. According to the Park Service, 66 park sites were closed for two months or more, and 12 remained closed at the end of the year.
Despite the widespread closures, 15 parks broke visitation records in 2020, thanks to another trend — people's deep desire to get outside in a year marked by lockdowns and quarantines.
Most of the sites with record crowds were smaller parks with less name recognition outside of their local communities, such as Fort Caroline National Memorial in Florida, Little River Canyon National Preserve in Alabama, Petroglyph National Monument in New Mexico, and Saint Croix National Scenic Riverway in Minnesota and Wisconsin. Although places like Rocky Mountain and Zion received media headlines for their influxes of tourists, the appeal of parks was far more widespread than well-known destinations like these.
Normally, when the Park Service releases these annual visitation statistics, the news sparks curiosity about where tourists most wanted to spend their vacations, highlighting the country's most beloved places. This year, however, the factors involved were less about popularity and more about access.
For example, Great Smoky Mountains has long held the top spot as the most visited national park in the country, as it did again in 2020, with only a slight decrease in overall visits despite being totally off-limits to tourists for most of the spring season. But the park that has held second place for 30 years, Grand Canyon, experienced even more widespread closures last year, due in part to severe COVID transmission rates in the nearby Navajo Nation. It was therefore good news that Grand Canyon's visitation dropped by more than half, from 6 million visitors in 2019 to 2.9 million in 2020 — this may have helped slow the spread of the virus at a time when people near the park were suffering.
Park Service officials are continuing to enforce a mask requirement in national park buildings and facilities and places where distancing is not possible, urging people to "recreate responsibly." But what does that look like when conditions on the ground vary so significantly from park to park?
Here are a few strategies to consider for planning a safe trip.
1. Go beyond basic precautions. Of course, visitors must wear face masks and maintain distances of 6 feet or more from people not in their own households. Keep in mind that pandemic conditions can affect recreational safety, too, as many first responders and healthcare facilities have been stretched thin with COVID concerns. So, don't push yourself beyond your comfort zone. Rescues could take longer, and emergency care facilities could be operating beyond normal capacity.
2. Be mindful of communities near parks, especially Native American reservations and small towns whose healthcare facilities could easily become overwhelmed. Parks on the Navajo Nation — Canyon de Chelly National Monument, Navajo National Monument and Hubbell Trading Post National Historic Site — remain closed due to pandemic concerns. Avoid traveling to areas that have been especially hard-hit by the virus.
3. Be flexible about which parks you visit. Consider visiting lesser-known parks to avoid crowds, but also keep in mind that many smaller parks are becoming increasingly crowded and may have fewer staff and resources available to handle influxes of people. For example, Capitol Reef National Park has long been the least visited of Utah's "mighty five" national parks, but as Arches, Zion and other big-name tourist destinations have become more and more crowded, so has Capitol Reef, and it has fewer staff to handle the extra people. Consider going farther off the beaten path to less-visited spots such as the state's numerous national monuments, which offer equally spectacular views with fewer people. Likewise, visitors seeking alternatives to Great Smoky Mountains' busy trails may find places such as the Blue Ridge Parkway and Shenandoah National Park similarly packed. Consider going a bit farther, to places such as Cumberland Gap National Historical Park or Big South Fork National Recreation Area, to enjoy the mountains, forests and bluffs in a quieter setting.
4. Be adaptable during your visit. Consult park websites ahead of time to understand what closures are in place and be prepared to change plans if conditions on the ground change, such as unexpected road or trail closures. Be ready to do more of your own trip planning if visitor centers are inaccessible and seek out less popular hikes or less busy times of day to avoid crowds. Also be prepared to pack out your own trash, as many visitor services are reduced.
Stay On Top of News
Our email newsletter shares the latest on parks.
5. Plan visits to beaches and other overcrowded attractions off-season. From Assateague Island to Sleeping Bear Dunes to Lake Mead National Recreation Area, many parks with beaches and swimming areas were jam-packed last year, including riverfront parks such as Delaware Water Gap National Recreation Area and Buffalo National River. Consider going to the beach in the cooler months or at less-crowded times, such as the middle of the week — or simply skip the sand and water this year in favor of a different type of trip.
6. Be a good example for newbies. Some land managers are encountering an uptick in first-time visitors who may not know what to expect in terms of services and conditions and may be less familiar with things like trail and campground etiquette. If someone is not following appropriate guidelines or could use help, understand that they may not be as knowledgeable as you are. Make sure you're prepared and know the rules so you can help others. To the extent we can all be patient and welcoming and reinforce safety guidelines outdoors, the better the park experience will be for everyone.
About the author
Jennifer Errick

Managing Editor of Online Communications

Jennifer co-produces NPCA's award-winning podcast, The Secret Lives of Parks, writes and edits a wide variety of online content, and manages NPCA's style guide.