A hundred years after her death, the Park Service created a new national monument earlier this year to honor Underground Railroad conductor Harriet Tubman, who helped bring dozens of enslaved Americans to freedom and fought for equal rights for all people. Not only is this park a testament to her remarkable legacy, its 25,000 acres also encompass beautiful natural areas for wildlife-watching, hiking, biking, and paddling.
President Obama designated the Harriet Tubman Underground Railroad National Monument last March, just days after the 100-year anniversary of Tubman's death. The park includes large portions of the Blackwater National Wildlife Refuge in Dorchester County, Maryland, where Tubman spent much of her early life, as well as the home site of Jacob Jackson, a free black man who helped Tubman in her efforts to free others. Although more extensive visitor services are planned for 2015, the area has an array of historic and natural attractions currently open to tourists.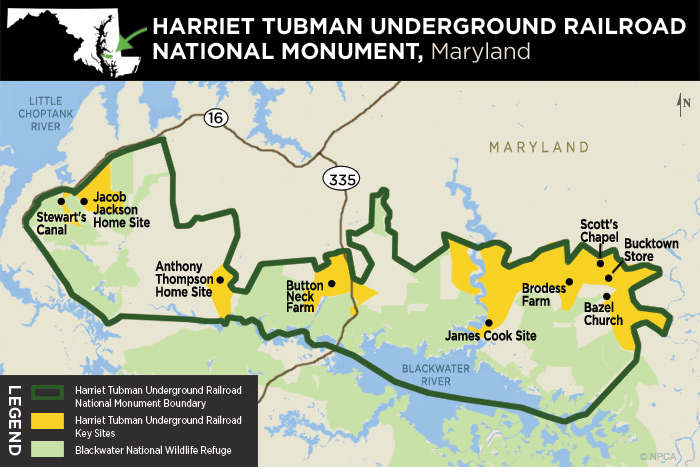 After escaping from brutal slave owners in 1849, Harriet Tubman returned to rescue family members and bring them first to Philadelphia, Pennsylvania, and later to Auburn, New York, via the Underground Railroad. She risked her life to make multiple trips back to Maryland, bringing others to safety until the Civil War erupted in 1861. During the war, Tubman served as a Union nurse, scout, and spy, even helping to conduct an assault on Confederate plantations in 1863 that freed even more enslaved Americans.
"There was one of two things I had a right to: liberty or death. If I could not have one, I would take the other, for no man should take me alive," Harriet Tubman famously offered as her reasoning for making her brave escape, adding, "I should fight for liberty as long as my strength lasted." Tubman's lifelong fight for liberty earned her widespread fame and the admiration of luminaries such as Frederick Douglass.
Stewart's Canal is a seven-mile waterway that was dug by hand by enslaved and free blacks between 1810 and 1832. The canal allowed the wealthy Stewart family to float its logs and other products to ships at local wharves. Harriet Tubman worked with her father in timbering operations nearby and developed many of her outdoor skills in this area of Dorchester County. When Tubman's brothers escaped to freedom in 1854, they chose to go by the family name Stewart as their aliases.
Prior to President Obama designating the national monument, the state of Maryland created a state park commemorating Tubman's legacy which will eventually operate in partnership with the national park. The Choptank River Heritage Center is one of more than 30 tourist destinations along Maryland's Harriet Tubman Scenic Byway and shares stories of the town of Denton, Maryland, during the Civil War. Enslaved African Americans worked in shipyards here on the Choptank River. (Learn more about these destinations and plan your own driving tour at www.harriettubmanbyway.org.)
The wetlands, creeks, swamps, and forests of the Blackwater Wildlife Refuge have changed little from the landscape that Harriet Tubman experienced in the early years of her life; knowing the terrain was essential for survival during her escape. Today, nearby Cambridge, Maryland, features a Harriet Tubman Museum and Memorial Garden, a one-room schoolhouse established for black children after the Civil War, a courthouse where enslaved Americans were once sold, and a visitor center with a wealth of information on Tubman and her legacy.
The waterways in and around the Harriet Tubman Underground Railroad National Monument once supported thriving maritime industries, including shipbuilding, sail making, and blacksmithing. Free black sailors, or "Black Jacks," often formed secret communication networks along the coast and brought news to enslaved communities. Today, visitors can explore the area by boat via several different paddling trails through the wildlife refuge.
Blackwater National Wildlife Refuge was established as a sanctuary for birds in 1933 and is located on the major migratory route known as the Atlantic Flyway. Visitors can see a variety of waterfowl and other birds and wildlife, including Canada geese, peregrine falcons, bald eagles, ducks, tundra swans, and flocks of snow geese (shown here).
Each month, NPCA puts together a photo feature exploring the amazing sites in our National Park System. To get these features delivered to your inbox each month, sign up for Park Notes, NPCA's newsletter.
About the author
Jennifer Errick

Managing Editor of Online Communications

Jennifer co-produces NPCA's award-winning podcast, The Secret Lives of Parks, writes and edits a wide variety of online content, and manages NPCA's style guide.