Black LGBTQ people have long made history in America. Why don't we know the names of these people and places?
The stories of LGBTQ people are some of the most underrepresented in the National Park System. Of the 419 park sites across the country, only Stonewall National Monument in New York specifically honors LGBTQ history. Within this already scant interpretation is another, even more marginalized group — the Black LGBTQ community.
Black LGBTQ people have always been a part of history, yet few of us remember their names. People such as Ma Rainey, Stormé DeLarverie and Amaza Lee Meredith have made extraordinary contributions to American culture, but discrimination, including homophobia in Black historical preservation, has largely erased their stories.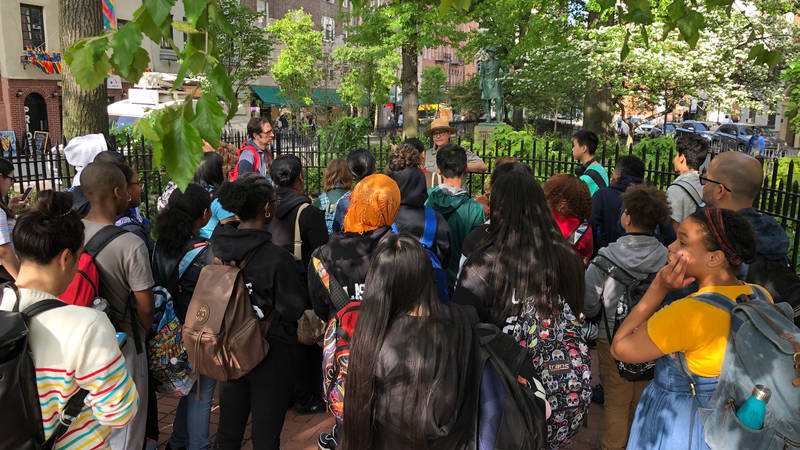 Blog Post
Students connect virtually with their history at Stonewall through NPCA Zoom programs.
See more ›
When we bury this history, we rob Black and queer people of heroes to look up to and connections with the past to inform their identities and sense of self-worth. With suicide rates and attempts significantly higher among LGBTQ youth than their heterosexual peers, it is especially critical that we give our youth real opportunities to understand and connect with their own history.
In 2016, the National Park Service studied LGBTQ sites of national importance to examine the possibility of including them in the park system. The study identified six sites of particular importance to the Black LGBTQ community. These sites, which are all on the National Register of Historic Places, represent only a small glimpse into the queer Black experience in this country, and it is important that we experience this sliver of a much larger history.
Our federal government has discriminated against Black LGBTQ people in myriad and often brutal ways. That one federal agency is now beginning to recognize these sites is incredibly powerful and affirming.
Bayard Rustin residence, New York, New York
Defying stigma and stereotype, Bayard Rustin was an openly gay man who served as an integral part of the Civil Rights Movement of the 1960s. Rustin was essential in organizing the Freedom Rides of the early 1960s, the Southern Christian Leadership Conference and the 1963 March on Washington. He worked closely with all of the major civil rights organizers at the time, including A. Philip Randolph, Ella Baker and Dr. Martin Luther King Jr. However, he was a socialist and a gay man at a time when both were widely considered unacceptable. Rustin, a close associate and advisor to Dr. King in the early 1960s, saw his role diminish as King and other civil rights leaders found his political views and sexual orientation to be increasingly problematic. Despite this, his uncompromising strength and integrity shaped the civil rights struggles and victories of the 1960s and provided the foundation for the civil rights battles of today.
Residence of Gertrude "Ma" Rainey, Columbus, Georgia
"Ma" Rainey, the "Mother of the Blues," was unabashedly vocal about her sexuality in the early 1900s. As an influential musician and one of the earliest blues artists to record her performances, she explicitly expressed her sexuality through the lyrics of her songs. In her famous song "Prove It on Me Blues," she sings: "Went out last night with a crowd of my friends, they must've been women, 'cause I don't like no men." Although she was hardly subtle, retrospective interpretation of Rainey and her music consistently washes over her love of women — a reflection of post-jazz-era homophobia in Black preservation movements, not of attitudes at the time, when she enjoyed broad popularity and acceptance. Her famous mentee Bessie Smith (known as the "Empress of Blues") also had many relationships with women while adopting a heterosexual persona for the public, as did other popular artists at the time, including Alberta Hunter, Josephine Baker and Ethel Waters.
The Apollo Theater, New York, New York
This theater is not known for being the venue of the first racially integrated drag performance in history — but it should be! This world-renowned site is the most famous performance venue associated with Black entertainers and an icon of the American jazz explosion and the Harlem Renaissance, though many do not know its deep ties to LGBTQ history. Nearly every Black LGBTQ entertainer throughout the 20th century performed at the Apollo. Throughout the 1960s, a performance called "25 Men and 1 Girl" made its way onto the famous stage, featuring drag king Stormé DeLarverie, who later stood up against police brutality at the Stonewall uprising in 1969.
Azurest South, home of architect Amaza Lee Meredith, Petersburg, Virginia
A pioneer of her time as one of the nation's few Black female architects, Amaza Lee Meredith constructed her poetically named home on the campus of her alma mater, Virginia State University, a historically Black university, in 1939. She grew up in the 1890s with a white father and a Black mother, and her family unfortunately suffered the social ramifications of the interracial marriage, her father eventually committing suicide. Her father's skills in carpentry must have struck a chord with Meredith, as she left her job as a teacher to express herself artistically through architecture. Her talent blossomed as she built homes for family and friends, and she eventually created "Azurest North," an African American resort community in Sag Harbor, NY. After Meredith's death, relatives learned about her relationship with her companion, Dr. Edna Mede Colson, a former dean of the university, when they discovered a room reserved entirely for Colson in Meredith's home.
Residence of Langston Hughes, Harlem, New York
Many of us think of Langston Hughes as the prolific poet famous for works such as "The Negro Speaks of Rivers" and "Not Without Laughter." But, in addition to being one of our nation's greatest literary heroes, he was also a man hopelessly in love. While alive, Hughes remained private about his social life; however, historians have uncovered countless hints, sometimes called "gay codes," within his poems expressing his attraction to men. In his sixties, it is believed that he fell madly in love with singer Gilbert Prince, writing several secret love poems to a man he called "Beauty." Though timing would suggest that Prince was the subject of these poems, the identity of his Beauty remains a mystery. Hughes traveled widely but always returned to Harlem, his work becoming near-synonymous with the area. He also established the Harlem Suitcase Theater in 1935 to showcase plays acted, directed, written and produced by Black locals. He spent the last 20 years of his life at his Harlem residence, the only place he occupied for a long period of time.
The Dunbar Apartments, home of Countee Cullen, New York, New York
If the walls of this apartment complex could talk, they would be the biggest gossip in the city. The Dunbar Apartments were home to many exceptional Black activists and artists, including famous poet, novelist, children's writer and playwright Countee Cullen. He is best known for his books "Color," "The Black Christ" and "Copper Sun" and was heavily influenced by other famous writers of the Harlem Renaissance, including Langston Hughes and Claude McKay. Many believe Cullen to have had a passionate affair here with Harold Jackman, a prominent socialite in Harlem's gay community and known as one of the most attractive men in Harlem. Though there is no proof of whether Cullen's relationship with Jackman was sexual, their relationship was intense to the point where a local publication, the Harlem World Magazine, even wrote that you "cannot talk about Cullen without talking about Jackson."
About the author
Elliot Richardson

Former Cultural Resources Analyst, Government Affairs

Elliot advocates for the historic and cultural resources preserved by our National Parks. When he was 14 he hiked Mt. Katahdin and cried the entire way down. Elliot has stuck to only visiting historical parks ever since.